Information Courtesy Care2 and Lisa Drayer, Organic Spa magazine
There are a lot of reasons to be stressed these days. So finding healthy comfort foods can do more than simply provide a moment of peace and calm during an internal storm: they can boost energy levels and keep you looking fantastic. Stock your kitchen with these stress busting, beauty enhancing foods and beverages:
Oatmeal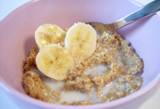 Carbohydrates help your body produce serotonin, a mood-enhancing neurotransmitter responsible for calm, relaxed feelings. Sugary carbs cause serotonin levels to rise, but also lead to a surge of insulin that lowers blood sugar and zaps your energy. To avoid this effect, eat whole grains such as oatmeal. The fiber in oatmeal will keep you slim, as it provides a feeling of fullness without contributing any calories. Try it for breakfast with a sliced banana.
Sweet potatoes

Sweet potatoes are another starchy food that boosts serotonin levels, keeping you calm and content. Their orange color comes from beta carotene, a free radical scavenger that protects your skin from sun damage. Try a delicious sweet potato soup or enjoy a baked sweet potato topped with cinnamon.
Dark chocolate

It's hard to deny this crave-worthy food's relaxing effects, especially due to chocolate's feel-good chemicals anandamide and phenylethylamine. Dark chocolate provides beauty benefits due to its high flavanol content, which has been associated with more hydrated, soft skin according to recent research. Enjoy one-ounce portions (about 150 calories), to avoid overindulging.
Chicken soup

A recent study from the University of Nebraska Medical Center found that chicken soup helps reduce the body's overall stress: it contains a number of substances, including an anti-inflammatory mechanism that could ease the symptoms of upper respiratory tract infections. Broth-based chicken soup keeps your weight in check too: Enjoying it before a meal can help you consume fewer total calories for the entire meal.
Green tea

Substitute green tea for coffee to keep stress at bay. You'll feel less jittery when you cut back on caffeine; plus, green tea contains theanine, an amino acid that promotes relaxation. The antioxidant EGCG in green tea fights sun damage and helps rev up your metabolism to keep you from packing on the pounds. Stir in a teaspoon of honey to boost tea's soothing effects.
Wild salmon

Eating wild salmon a few times a week can calm the mind when there's not enough time to hit the spa. The omega-3 fatty acids in salmon help fight depression (including post-partum depression) and prevent stress, according to preliminary research. It keeps skin soft and smooth, by fighting inflammation that can lead to dry scaly skin and acne.
Walnuts
You might consider walnuts during times of stress—especially if you're in "fight-or-flight" mode: Walnuts contain L-arginine, an amino acid that is converted into nitric oxide, a chemical which allows blood vessels to relax. This helps overall circulation, including delivery of nutrients to skin cells. Walnuts are the only nut that contain a significant amount of omega-3s in the form of alpha-linolenic acid (ALA), an essential omega-3 fat necessary for smooth, supple skin.
Blueberries

Reach for blueberries the next time you crave something sweet. Blueberries are ranked number one for antioxidant activity according to USDA researchers; plus, anthocyanins in blueberries (bluish-red pigments) keep the collagen in your skin in tact. Blueberries also offer a healthy dose of potassium, which helps lower blood pressure. Mix them in with yogurt and sprinkle with granola for a delicious parfait.
Yogurt

One cup of plain, low-fat yogurt supplies about 450 milligrams of calcium—an important beauty mineral associated with strong bones, good posture and a beautiful smile. Protein in yogurt serves as a building block for strong skin, hair, and nails. Research also suggests that a high calcium intake can help reduce the risk of PMS and alleviate PMS symptoms.
Milk

Consider a glass of warm milk before bed the next time your thoughts are racing from a stressful workday. Choose fat-free or one-percent to gain the beauty benefits of calcium and protein without all of the fat. You'll experience a rise in body temperature that will calm your nerves and ease your body into a restful night's sleep.
Finally, try these recipes from The Beauty Diet by Lisa Drayer:
Black & Blue Yogurt Parfait

2 cups non-fat plain yogurt
1 teaspoon vanilla extract
1 cup blackberries
1 cup blueberries
1/4 cup toasted walnuts, chopped
Combine the yogurt and vanilla until blended. To assemble the parfaits, place 1/4 cup blackberries in the bottom of a parfait glass. Top with 1/4 cup yogurt, 1/4 cup blueberries, and another 1/4 cup yogurt; top with 1 tablespoon walnuts. Repeat with the remaining 3 parfait glasses.
Yield: 4 servings (1 parfait each)
Per serving: 138 calories; 7 g protein; 19 g carbohydrates; 3 g fiber; 12 g sugars; 5 g fat; 0.5 g saturated fat; 0 trans fat; 2.5 mg cholesterol; 68 mg sodium; 170 mg calcium; 0.7 g omega-3 fats; 598 IU vitamin A; 17 mg vitamin C; 3 mg vitamin E; 0.5 mg iron; 0.5 mg zinc

Download this recipe.
Sweet Potato-Leek Soup

1 tablespoon extra virgin olive oil
1 bunch leeks, trimmed and sliced (2 1/2 cups)
1 1/2 pounds sweet potatoes, peeled and cubed
1 teaspoon fresh thyme leaves, chopped
1 14.5-ounce can low-sodium fat-free chicken broth
1 quart water
3/4 teaspoon kosher salt
1/2 teaspoon freshly ground black pepper
2 tablespoons chopped fresh chives for garnish
1/4 cup low-fat plain yogurt for garnish
Heat the oil in a large saucepan until hot but not smoking. Add the leeks and cook until softened, 5 minutes. Add the sweet potatoes and thyme and cook until the sweet potatoes turn bright orange and begin to soften, about 8 to10 minutes. Add the broth and water and bring to a simmer. Cook for 20 minutes or until the potatoes are very soft. Remove from the heat and puree with a hand blender. Return to a simmer, season with salt and pepper, and cook until slightly thickened, 5 minutes. Garnish with chives and a dollop of yogurt.
Yield: 4 servings (11/2 cups each)
Per serving: 190 calories; 6 g protein; 34 g carbohydrates; 4.5 g fiber; 11 g sugars; 4 g fat; 0.7 g saturated fat; 0 trans fat; 1 mg cholesterol; 582 mg sodium; 109 mg calcium; 0.1 g omega-3 fats; 21,893 IU vitamin A; 25 mg vitamin C; 2.2 mg vitamin E; 2.4 mg iron; 0.5 mg zinc

Download this recipe.
Dark Chocolate Brownies

1/3 cup sugar
2 tablespoons unsweetened cocoa powder
1/8 teaspoon kosher salt
1/4 cup low-fat plain yogurt
1/2 teaspoon instant coffee (very optional)
1 teaspoon warm water
1 egg
1 ounce dark chocolate (60 percent cacao), melted and cooled
2 tablespoons flour
Non-stick cooking spray
Preheat oven to 350°. Combine sugar, cocoa powder, salt, and yogurt in a medium bowl and whisk until smooth. Dissolve the instant coffee in the warm water and whisk into the yogurt mixture. Whisk in the egg and then the chocolate. Stir in the flour until just combined. Divide between 4 muffin cups, sprayed with non-stick cooking spray. Bake until the edges are set and the center is soft but not wet, 18 to 20 minutes. Let cool completely.
Yield: 4 servings (1 brownie each)
Per serving: 148 calories; 4 g protein; 26 g carbohydrates; 2 g fiber; 20 g sugars; 4 g fat; 2 g saturated fat; 0 trans fat; 54 mg cholesterol; 90 mg sodium; 40 mg calcium; 0.01 g omega-3 fats; 69 IU vitamin A; 0.1 mg vitamin C; 0.1 mg vitamin E; 1 mg iron; 0.5 mg zinc

Download this recipe.
---
Contribute to the Cook'n Club!
DVO would love to publish your article, prose, photography and art as well as your cooking, kitchen and nutrition tips, tricks and secrets. Visit the Newsletter Submission / Win Win for All section in our Forum for more information and details.
---
---