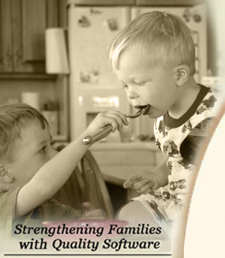 Cook'n Club Home
Subscribe Now!

Cook'n Forum
HomeCook'n Archive
Give-Aways

Another post from the Cook'n Club Forum:

What a treat to have this board here. I can't wait to watch it grow, and have absolutely no doubts that it will be a wonderful place where we can come back over and over again.
The Newsletter - the Forum - Thanks so very much!

MudMouse


Volume I - February 20, 2009
Lower Your Blood Pressure With Vitamin C
& Other Natural Approaches
by Alice Osborne

A study has linked high blood levels of vitamin C with lower blood

pressure in young women. The study involved almost 250 women. They entered the trial when they were 8 to 11 years old, and over a 10-year period, their plasma levels of ascorbic acid (vitamin C) and blood pressure were monitored. Both their systolic and diastolic blood pressure readings, were found to be inversely associated with ascorbic acid levels.

Previous research had already linked high plasma levels of vitamin C with lower blood pressure among middle-age and older adults.
(Sources: Reuters December 30, 2008; Nutrition Journal December 17, 2008; 7:35)
The point here, is that blood pressure CAN be reduced without dangerous drugs!
Typically, optimizing your diet (see "No More Blood Sugar Blues")—which will normalize your insulin levels—is the most effective route to return your blood pressure to normal levels.
Cardiovascular exercise and tools like Emotional Freedom Technique (EFT), which helps negate the effects of stress on your life, are also important.
Other recommendations that can help bring your blood pressure under control include:
Eliminate caffeine

Consume healthy omega-3 fats, such as krill- or fish oil and ground golden flaxseed

Get a daily dose of sunshine to optimize vitamin D levels. Sun exposure causes the body to produce vitamin D. Lack of sunlight re¬duces vitamin D stores and increases parathyroid hormone produc¬tion, which increases blood pressure. Vitamin D deficiency has also been linked to insulin resistance, which can raise blood pressure.

Get a good night's sleep

Get plenty of exercise (here it is again)

In addition to vitamin C, other natural supplements that can help improve your blood pressure include:


Grape seed extract – another powerful antioxidant that has been shown to reduce blood pressure by an average of 8-12 millimeters. The antioxidant capacity of grape seed extract comes from proanthocyanidins. Scientific studies have shown that the antioxidant power of proanthocyanidins is 20 times stronger than vitamin C and 50 times stronger than vitamin E.


Olive leaf extract – One recent study found that supplement users taking 1,000 mg of olive leaf extract per day showed a substantial dip in their blood pressure, in addition to lowered levels of LDL cholesterol. The active agent responsible for the hypotensive action of the olive leaf is oleuropein, which acts as an antioxidant and helps relax and dilate your blood vessels. All this said, here are some great ways to get more vitamin C into your diet: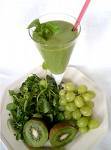 First, try Alice's GREEN SMOOTHIE (see "No More Blood Sugar Blues). It is LOADED with vitamin C and proanthocyanidins from the seeds in the grapes that are included in the drink—and non-processed by the way—all in a natural state.


High 'C' Salsa
(also low in sodium, high in fiber and complex carbohydrates)



4 to 6 green chilies, skinned, chopped or 3 to 5 (4 oz.) cans chopped chilies
1 med. red onion, chopped
2 tbsp. chopped cilantro
1 tbsp. fresh lime juice
1 or 2 jalapeno chilies, chopped
4 ripe tomatoes
2 med. cloves garlic, minced
2 tbsp. olive or vegetable oil

Combine all ingredients in non-metallic bowl and allow to sit for at least an hour before serving. The taste gets better the longer it "marinates". Serve with chips as a dip, as salsa over foods, mix in with eggs and cheese for an omelet or mix in with cooked rice. Approximate Nutrients per Serving: Calories - 134, Carbohydrates - 16 grams, Fiber - 1.9 grams, Protein - 3 grams, Fat - 7 grams, Vitamin 3 - 191 milligrams, Sodium - 10 milligrams.



Download this recipe.
Lightly Steamed Veggies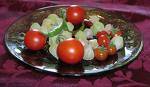 Broccoli
Cabbage
Cauliflower
Tomatoes
Green peppers
Brussels sprouts
Depending on how many you are serving will determine amounts of each vegetable used. Lightly steam this combination for a delicious and vitamin C power-packed side dish to any dinner or lunch.
Some less common sources are; red and black currants, sweet red peppers, persimmons, Kakadu plums, Camu Camu, parsley, kiwi fruit (again, see "No More Blood Sugar Blues" for a green smoothie that uses kiwi and other juice drinks that call for parsley), guavas, papayas and rose hips.
Avocado Salad with Grapefruit-Cumin Dressing
Recipe Courtesy
OceanSpray

Dressing:
6 tablespoons Ocean Spray® 100% White Grapefruit Juice (or any grapefruit juice)
1/4 cup mayonnaise
1 small garlic clove, minced
1 1/4 teaspoon ground cumin
salt and pepper
Salad:
8 cups lightly packed mixed salad greens
1 cup julienned jicama
1 cup sliced red bell pepper
3 avocados, sliced
Place dressing ingredients in blender container and blend until smooth.
Toss salad greens lightly with dressing and arrange on a platter. Top with jicama, red bell pepper and avocados. Drizzle vegetables lightly with dressing. Reserve any remaining dressing in the refrigerator for another use.
Makes 6 servings

Download this recipe.
---
Contribute to the Cook'n Club!
DVO would love to publish your article, prose, photography and art as well as your cooking, kitchen and nutrition tips, tricks and secrets. Visit the Newsletter Submission / Win Win for All section in our Forum for more information and details.
---