Do you know the difference between pancake syrup and maple syrup? Pancake syrup is the kind you find at the supermarket with, let's say, a logo of a log cabin or a favorite aunt on it–and is primarily made of not-very-maple-y corn syrup and high-fructose corn syrup. Maple syrup is made of, ta da, maple syrup.
In a case of unusually clear labeling laws, only pure maple syrup is allowed to be called maple syrup–any product that is less than 100 percent maple is usually referred to as imitation maple syrup, pancake syrup, or just syrup. Canadians sometimes refer to imitation maple syrup as sirop de poteau (pole syrup), because it tastes like it might have been tapped from telephone poles.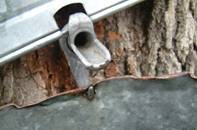 It takes approximately 40 gallons to produce one gallon of syrup–as of December 2008, the average wholesale price for a gallon of pure maple syrup is $44 (like everything, the cost has probably gone up). This said, we openly admit this product is expensive. But considering the health benefits to eating real food, we feel the price is worth it. And since a little goes a long ways, a smallish bottle, often found on sale, could perhaps make indulging in this product doable.

REAL maple syrup should be stored in a cool place until opened. Once opened it must be refrigerated. For long-term storage, pure maple syrup retains its flavor best when kept in the freezer. Maple syrup will not freeze solid and can be poured into smaller containers for use. If you purchased syrup in tin containers, it is recommended, after opening, that you pour it into clean, odor-free glass jars (like canning jars) and then put those into the refrigerator or freezer.
Information Courtesy Care2.
In case you'd like to give REAL maple syrup a try, here are a few recipes, courtesy of the Massachusetts Maple Producers Association:
Maple-Glazed Butternut Squash

1 medium butternut squash, peeled, seeded, quartered, cut into half-inch slices
4 tbsp. maple syrup
¼ tsp. ground mace
2/3 cup water
Place all ingredients in a large saucepan. Bring to a boil, then simmer for 15 minutes, or until the squash is tender. Reserving the cooking liquid, transfer the squash with a slotted spoon to a heated serving dish. Boil the cooking liquid until it is thickened, then pour it over the squash. Serves 4.

Download this recipe.
Maple & Balsamic Vinegar Dressing
1 tsp. dry mustard
1 tsp. cilantro
3 tbsp. balsamic vinegar
2 tbsp. maple syrup
1 tbsp. lime juice
1 clove garlic, minced
1 cup extra-virgin olive oil
½ tsp. salt
¼ tsp. black pepper
Mix together the first six ingredients. Whisk in oil until dressing is emulsified. Salt and pepper to taste. Refrigerate to store for several weeks.

Download this recipe.
Maple Apple Pie

5 cups sliced apples
½ cup sugar
2 tbsp. flour
½ tsp. cinnamon
dash of salt and nutmeg
¼ cup maple syrup
½ cup sour cream
pastry for double crust 9" pie
Combine dry ingredients and sprinkle 2 tbsp. of it over bottom of piecrust. Add the rest to apples, along with maple and sour cream and stir. Turn into pie and cover with lattice top. Bake at 425°F for 15 minutes, then bake at 325°F for 45 minutes longer or until nicely browned. Remove from oven and cool.

Download this recipe.
Hot Maple Apple Cider

6 cups apple cider
¼ cup maple syrup
1 orange peel cut into strips
1 lemon peel cut into strips
2 cinnamon sticks
spice bag & string
6 whole cloves
6 whole allspice berries
Pour cider and syrup into large pot. Place spices and peels in center of a spice bag and tie up with a piece of string. Drop spice bundle into liquid and heat over moderate flame for about 10 minutes. Remove spice bag and discard. Ladle maple cider into mugs and serve warm. Optional: garnish with a stick of cinnamon for stirring, float thin slice of lemon or orange or whipped cream on top.

Download this recipe.
Maple Bread Pudding
Serves 4 to 6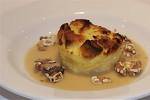 3/4 cup maple syrup
1 tsp. lemon juice
3 slices bread without crusts
2 eggs
2 cups milk
1 T. butter
1/4 tsp. salt
1/2 cup nutmeats or raisins
1/4 tsp. vanilla
Pour maple syrup in top of double boiler. Butter each slice of bread and cube. Add to syrup. Add nuts or raisins and lemon juice. Beat together eggs, milk, salt and vanilla and pour over bread mixture. Do not stir. Set over gently boiling water. Cook 1 hour. This makes its own sauce. Spoon it over each serving.

Download this recipe.
Maple Oatmeal Drops
Makes 4 Dozen Cookies

1/2 cup (1 stick) butter
1 3/4 cups all purpose flour
1/2 cup firmly packed brown sugar
1 tsp. baking soda
1/2 tsp. ground cinnamon
1 egg
1/2 tsp. ground ginger
1/2 cup maple syrup (dark)
1/4 tsp. salt
1/3 cup dairy sour cream
1 1/4 cups rolled oats (quick)
In a small bowl or mixer, cream butter and sugar until light and fluffy. Add egg, maple syrup and sour cream. Beat well. Mix flour, baking soda, cinnamon, ginger and salt. Add to creamed mixture. Stir in oats. Drop by spoonful on greased pan. Bake at 375°F 8 to 10 minutes. Sprinkle cinnamon and sugar.

Download this recipe.
---
(If YOU have a smart idea, won't you share it? Life is so much easier and we accomplish so much more when we pool our resources. And after all, we're all in this together. So email
patty@dvo.com
or
alice@dvo.com
with YOUR Smart Ideas!)
---
Contribute to the Cook'n Club!
DVO would love to publish your article, prose, photography and art as well as your cooking, kitchen and nutrition tips, tricks and secrets. Visit the Newsletter Submission / Win Win for All section in our Forum for more information and details.
---