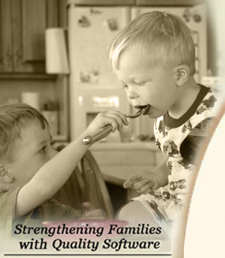 Cook'n Club Home
Subscribe Now!

Cook'n Forum
HomeCook'n Archive
Give-Aways

I have spent the last 2 hours reading your newsletter and wonderful recipes. I have already printed a whole bunch I want to try. I love them because they are using ingredients one has on hand. I love that and just wanted you to know how much we appreciate all your hard work in putting together this newsletter. Thank you very much.

Anna

Volume I - February 23, 2007
Get In Shape, Knock Out Your Appetite
by Alice Osborne

Get In Shape, Once and For All, In 3 Easy Steps


Last week: Step 1: Banish Wheat From Your Diet
This week: Step 2: Knock Out Your Appetite


"Most diets will tell you to avoid fats. But did you know that some essential fats help you feel full and can even reduce your appetite?" asks Dr. Susan Lark. It's true. Fiber is also known for this. One of our favorite foods--flaxseed--packs a one-two punch providing both of these good things.

It's full of omega-3 fatty acids and an excellent source of fiber--it's considered one of nature's most perfect foods. Plus, the essential oils in flax may also help do wonders for your skin. Dr. Lark says that she is such a fan of flax that if she were stranded on an island, and had to choose one food to survive on, she'd choose flaxseed hands down.

Flaxseed is a small seed that resembles a sesame seed. It can be used in a variety of ways--but it must be milled or ground for the nutrients to be released. We use a small electric coffee grinder for this purpose. Dr. Lark recommends four to six tablespoons daily, alone or sprinkled on food. Milled flax tastes great in hot or cold cereal, on salads, pasta, or in shakes and smoothies.

If this idea interests you, here's a wheat-free, flax-loaded muffin recipe you might try (from the website www.ameriflax.com):

Orange Bran Flax Muffins

Download this recipe.

Yields 18 Muffins


1 1/2 C Oat Bran
1 C Rice, millet, amaranth or quinoa flour
1 C Flaxseed* (ground)
1 C Natural Bran
1 Tbsp. Baking Powder
1/2 tsp. Salt
2 Whole Oranges (washed, quartered, seeded)
1 C Brown Sugar
1 C Buttermilk
1/2 C Canola Oil
2 Eggs
1 tsp. Baking Soda
1 1/2 C Raisins

In large bowl, combine oat bran, flour, flaxseed, bran, baking powder and salt. Set aside.
In a blender or food processor, combine oranges, brown sugar, buttermilk, oil, eggs and baking soda. Blend well.
Pour orange mixture into dry ingredients. Mix well.
Fold in raisins
Fill paper lined muffin tins almost to the top.
Bake at 375°, 18-20 minutes or until toothpick inserted comes out with a few crumbs.
Cool in tins 5 minutes; remove to cooling rack.
Next week: Step 3: Shift Into High Gear--A Healthy, Safe Way to Rev Up Your Metabolism

---
Contribute to the Cook'n Club!
DVO would love to publish your article, prose, photography and art as well as your cooking, kitchen and nutrition tips, tricks and secrets. Visit the Newsletter Submission / Win Win for All section in our Forum for more information and details.
---
---