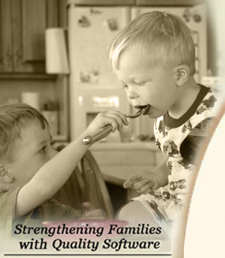 Cook'n Club Home
Subscribe Now!

Cook'n Forum
HomeCook'n Archive
Give-Aways

I have spent the last 2 hours reading your newsletter and wonderful recipes. I have already printed a whole bunch I want to try. I love them because they are using ingredients one has on hand. I love that and just wanted you to know how much we appreciate all your hard work in putting together this newsletter. Thank you very much.

Anna

Volume I - February 16, 2007
Get In Shape, Once and For All, In 3 Easy Steps
by Alice Osborne


The "Many Lives of a Can of Biscuits" Contest is officially over! We need a little more time to test each and every recipe. Give us another week or so and we'll have the winners for you!

Now, onto another topic:

"Get In Shape, Once and For All, In 3 Easy Steps"

Step 1: Consider Banishing Wheat

"One of the most common food allergens and a major cause of false fat in many people, women especially, is wheat," says Dr. Susan Lark. Wheat contains a protein called gluten, which is difficult to break down, absorb and assimilate…all of which can trigger fatigue, depression, bloating and intestinal gas.

The good news is, it's now easier than ever to steer clear of bloat-inducing wheat. This week, try substituting breads made with rice, millet, amaranth, quinoa, or soy and oat. Try crackers made with rice or potatoes and pasta made with rice, quinoa, or buckwheat. There are plenty of delicious options in your health food store or healthy aisle of your supermarket, and many great recipes available on www.LivingWithoutWheat.com.

You just may find with this one simple step, you can digest your food properly, rather than letting it sit in your gut and wreak havoc with your digestive process and waistline. With this simple step you could be well on your way to shedding any unwanted pounds!

If this idea interests you, here's a bread recipe you might try (from the San Francisco Chronicle):



Download this recipe.
Almond and Rice Flour Bread with Poppy Seeds
1/2 cup whole almonds, with skins
1 1/2 cups brown rice flour
4 teaspoons baking powder
1/4 teaspoon salt
3 teaspoons poppy seeds
1/2 cup plain low-fat yogurt
1/2 cup water
1 large whole egg
1 large egg white
2 tablespoons vegetable oil

Place almonds and 1/2 C of flour in food processor bowl; grind to a fine meal-the flour will prevent the nuts from turning oily. Add remaining rice flour, baking powder, salt and 2 tsp poppy seeds; process briefly.

Combine yogurt, water, whole egg, egg white and oil in a 2-cup measuring cup. With processor running, pour liquid ingredients through feed tube over flour mixture, processing only till mixed. Transfer batter to prepared pan. Sprinkle with remaining poppy seeds; bake 55 min. Makes one 18-oz loaf. Preheat oven to 350 degrees F. Butter an 8 x 4-inch loaf pan



---
Contribute to the Cook'n Club!
DVO would love to publish your article, prose, photography and art as well as your cooking, kitchen and nutrition tips, tricks and secrets. Visit the Newsletter Submission / Win Win for All section in our Forum for more information and details.
---
---