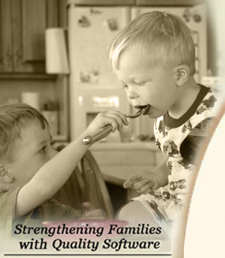 Cook'n Club Home
Subscribe Now!

Cook'n Forum
HomeCook'n Archive
Give-Aways

I have spent the last 2 hours reading your newsletter and wonderful recipes. I have already printed a whole bunch I want to try. I love them because they are using ingredients one has on hand. I love that and just wanted you to know how much we appreciate all your hard work in putting together this newsletter. Thank you very much.

Anna

Volume I - February 16, 2007
2007 The Year Of The Pig
by Patty Liston


On February 18, 2007 the Chinese will celebrate the Year of the Pig, according to their calendar. What better time to introduce family and friends to some simple Chinese cooking, along with interesting facts.

So break out those little paper umbrellas and pig out on Chinese food! OK...I (Dan) added that last part...and ruined Patty's sweet article. I couldn't resist! This is what she wrote: So break out those little paper umbrellas and celebrate by sharing the following information as you sip on Egg Drop Soup.


If you were born in 1923, 1935, 1947, 1959, 1971, 1983 or 1995 - you were born under the sign of the pig. Like the pig, you are highly regarded for your chivalry and pureness of heart, and you often make friends for life. For pigs in 2007, any recent setbacks or obstacles can be overcome so look forward to a year in which to really shine, either personally or professionally.
Many traditional dishes include ingredients that hold important meaning. Plan your Chinese New Year menu to incorporate these most auspicious foods.

Dumplings: Wealth
Lettuce: Prosperity
Noodles: Longevity
Oysters: Receptivity to good fortune
Seaweed: Good luck
Whole Fish: Abundance, togetherness




Download this recipe.
Chinese Egg Drop Soup
4 cups prepared chicken stock, plus 2 tablespoons
1/2 teaspoon grated fresh ginger
1 tablespoon soy sauce
1 tablespoon cornstarch
2 eggs, lightly beaten
2 green onions, chopped, including ends
Salt and white pepper, to taste


Bring soup stock, grated ginger and soy sauce to a boil. In a small cup, make a slurry by combining the cornstarch and 2 tablespoons of chicken stock. Stir until dissolved. Slowly pour in the cornstarch mixture while stirring the stock, until thickened. Reduce heat to a simmer. Pour in the eggs slowly while stirring the soup in the same direction. The egg will spread and feather. Turn off the heat and add the green onions. Season with salt and pepper, and serve immediately







---
Contribute to the Cook'n Club!
DVO would love to publish your article, prose, photography and art as well as your cooking, kitchen and nutrition tips, tricks and secrets. Visit the Newsletter Submission / Win Win for All section in our Forum for more information and details.
---
---