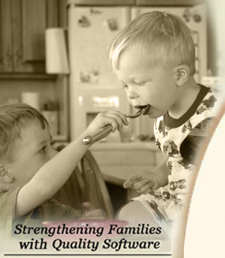 Cook'n Club Home
Subscribe Now!

Cook'n Forum
HomeCook'n Archive
Give-Aways

I have spent the last 2 hours reading your newsletter and wonderful recipes. I have already printed a whole bunch I want to try. I love them because they are using ingredients one has on hand. I love that and just wanted you to know how much we appreciate all your hard work in putting together this newsletter. Thank you very much.

Anna

Volume I - November 24, 2006
A New Twist to Leftovers
by Patty Liston


Get a group of women together after any holiday, and the conversation turns to "leftovers". Ever eager to share our recipes for recycled turkey, we pride ourselves in hearing those five magic words, "I never thought of that!" after the recitation of our latest left-over ideas.

Ah-h-h yes, the recipe cards that contain the latest turkey stew, turkey soup, turkey soufflé, turkey burrito, turkey spaghetti, turkey roll, turkey quiche, and everyone's favorite, just plain re-heated turkey with re-constituted gravy, deserve a filing drawer of their very own.

While your friends re-hash (turkey hash!) their left-over favorites, may we suggest that you stop the conversation cold by introducing a new topic: left-over pumpkin pie. Yep, time to start a new filing drawer.

Take left over pumpkin pie and separate pumpkin from crust.
Put pumpkin in a bowl, and crust on a plate.
Break up crust and put in bottom of ramekin cups (the number of cups will be determined by the amount of pie you have left over)
Stir pumpkin filling and spoon over broken crust in ramekins until each cup is almost full.
Sprinkle a generous 1 Tbsp of sugar over pumpkin
Place filled ramekins on baking sheet
Broil in oven until sugar caramelizes. (Watch carefully so the sugar does not burn!)
Serve your pumpkin Brule!
Anyone can talk turkey, but pumpkin pie? Yes, we know--you never thought of that!





---
Contribute to the Cook'n Club!
DVO would love to publish your article, prose, photography and art as well as your cooking, kitchen and nutrition tips, tricks and secrets. Visit the Newsletter Submission / Win Win for All section in our Forum for more information and details.
---
---