We have all enjoyed a number of fun contributions by Linda, one of our most loyal Cook'n Club Members. Here are some of her recent posts with photos:




Dinner in a Pumpkin
I made the Dinner in a Pumpkin recipe for Halloween and it turned out very good; well, with a couple of modifications. I just should've carved the face a little higher up on the pumpkin. However, the skewer did the job just like I thought it would.

Anyway, here is the recipe with my notes for changes and additions. The whole family liked it this way, even Picky Kid!

1 small to medium size pumpkin. Get one with a short stem, or cut the stem to about 1-2", or it burns in the oven. Use a kitchen skewer or other pointy object to score a face in the pumpkin.
1 onion, chopped
2 Tbs. vegetable oil OR spray the pan with non-stick spray, I used no oil.
1 1/2 to 2 pounds ground beef - I used 1lb and it was perfect.
1 1/2 cup cooked rice
2 Tbs. soy sauce
2 Tbs. brown sugar - I couldn't find the brown sugar, so used raw cane sugar; same amount, same flavor.
1 (4 oz) can mushrooms, drained
1 (10 3/4 oz.) can cream of mushroom soup
1 (8oz) can sliced water chestnuts (Optional, I didn't add these.)
I added a package of finely shredded cabbage, about 6 cups. Cover, stirring frequently, until cabbage is limp, but not fully cooked.
Cut top of pumpkin off and clean out the seeds and stringy stuff only.
Make face on pumpkin with a sharp pointy object, like a skewer.
Saute onion in oil, add meat and brown I like starting the beef first and add the onions when the beef is nearly done.
Drain grease. (Use lean ground beef and non-stick spray and there's nothing to drain.)
Add soy sauce, brown sugar, mushrooms and soup.
Add rice and optional chestnuts. Stir in shredded cabbage, cover, cooking over med heat, stirring occasionally, for about 10 minutes.
Spoon into pumpkin and top with "lid".
Place pumpkin on cookie sheet (I put a piece of foil under the pumpkin, just in case, but it wasn't needed.) and bake at 350 degrees for one hour. It took an additional 20 minutes to get the pumpkin fork-tender.
Use scooped out pumpkin as squash. The kids like it with butter and brown sugar.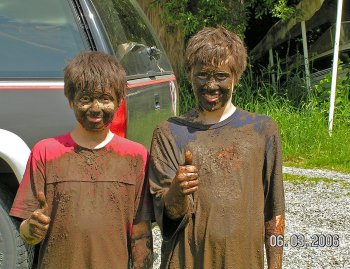 My son (on the left) and a friend found a little 'swamp' early this spring and went "swimming". What they didn't think ahead was not being let into the house like this. And, we have a deep well that's very cold… I did take pity on them shivering after being hosed down and let them run into the house for a hot shower.

Linda D
Thank you Linda...we love you!!
---
Contribute to the Cook'n Club!
DVO would love to publish your article, prose, photography and art as well as your cooking, kitchen and nutrition tips, tricks and secrets. Visit the Newsletter Submission / Win Win for All section in our Forum for more information and details.
---
---