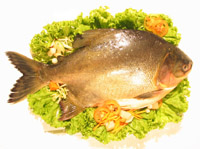 Do you want your hair to shine, your nails to grow and your skin to stop being dry, your joints to stop aching and how about the prospect of better brain and eye function as well as a myriad of other health related benefits? Well then – go with Fish!
Fish contains Omega 3 fatty acids. This is not just any fatty acids, this is polyunsaturated fatty acids. As much as you might hope that you could obtain all these great benefits from hamburgers, French fries, pie and ice cream, it won't come close to happening. The saturated fats that come from these types of food are not healthy for you and should be eaten only in moderation.
Your body can't live without fat. Even your brain is 60% fat (we could get some great jokes going right about now). Healthy fat is needed in all your cells in order to function and a continuous supply of these fatty acids are needed in order for your body to function at its optimum. Since your body doesn't naturally produce essential fatty acids on their own, you need to be supplying them to your body on a regular basis.
The American Heart Association recommends two servings of cold-water fish a week. The following recipes: (Walnut Crusted Salmon, Zesty Shrimp Alfredo and Fish Tacos with Mango Salsa) will help provide your body with some of the ever needed essential fatty acids. Remember, they are called
essential
for a reason, but if you just aren't a seafood lover you can use fish oil supplements. Some of the other sources of Omega 3 fatty acids are flax seeds, walnut, almonds and dark leafy greens.
Seafood can be served in such a great variety of ways. Fish definitely offers superior nutrition and diversity to your menu.
Walnut Crusted Salmon Salad
1 cup finely chopped Walnuts
2 teaspoons dill
6 Tablespoons bread crumbs
1 Tablespoon fresh grated lemon peel
1 Tablespoon olive oil
½ teaspoon fresh ground pepper
2 Teaspoons Dijon mustard
1 Pound salmon fillet
Preheat Oven to 350 degrees. Brush the top of the salmon with Dijon mustard.
Mix: The chopped walnuts (or pecans) with the bread crumbs, lemon rind, dill and pepper.
Add: the oil and mix thoroughly with a fork. Press the crust mixture onto the mustard basted salmon to one side only, wrap in plastic wrap and refrigerate for 20-30 minutes. This will help the crust to adhere to the fish. Place the salmon on a baking sheet and bake for about 20 minutes or until the salmon flakes with a fork.
Spicy Alfredo Shrimp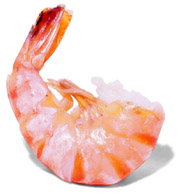 16 large shrimp
2 ½ Tablespoons of butter
1 Tablespoon of Cajun spice
On Medium heat cook the shrimp in the skillet with butter and Cajun seasoning, until the shrimp turn pink. If you are using already cooked shrimp, it only takes a minute to warm the shrimp thoroughly. Prepare two packages of Alfredo sauce according to the instruction on the package. Add the sauce to the spicy, buttered shrimp. Serve this over Linguini or Angel hair pasta.
I use the packaged Alfredo mix because it is lighter than homemade or bottled and seems to enhance the Cajun flavor.
Fish Taco's with Mango Salsa
1 pound of cod or other firm white fish
Salt and pepper
2 ½ cups cabbage
2 teaspoons vinegar
Tortillas
Cook the fish in a 350 degree oven – 10 minutes per inch of thickness of fish. When it is flakey and opaque it's done.
Finely chop the cabbage and sprinkle with vinegar and salt (1 teaspoon). You can substitute the cabbage with shredded iceberg lettuce.
Heat the tortillas in a skillet until warm or wrapped up in a paper towel in the microwave for 20 seconds. (Make sure you keep them warm.) "Cookin" sells a great tortilla warmer. After assembling the fish taco, add a heaping helping of Mango Salsa and enjoy! You can also substitute the fish with shrimp.
Tyson's Mango Salsa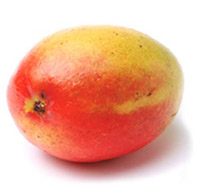 1 fresh pineapple (peeled and cored)
2 large mangos
1 medium red pepper
1 medium red onion
2 jalapeno peppers (take out seeds)
½ cup chopped cilantro
¼ cup freshly squeezed lime juice
Finely chop all of the ingredients and squeeze ¼ cup lime juice. This recipe tastes best if you can leave it in the refrigerator overnight so the flavors can mix well with each other. This makes a lot, so make sure you have some tortilla or pita chips around.
---
If you have any additional tips that you'd like to add, please post them on the
Cook'n Club Forum
(if you're a
Cook'n Club Member
)...or e-mail them to
Dan@dvo.com
.
---
Join the Cook'n Club!An unbeatable value with exclusive benefits for members only.
Enjoy articles like this and many other benefits when you join the Cook'n Club.