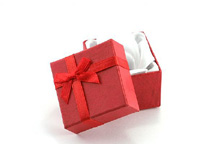 Do you want to give a unique gift that can be made with ingredients you probably already have on hand? This little gift will certainly make the receiver smile. Homemade fortune cookies with fortunes specific to the receiver are fun and easy. Have a little family time, enjoy some hot chocolate and sugar cookies and have a brainstorming session to see who can come up with just the right fortune.
Everyone will have lots of fun suggesting clever and insightful fortunes. I guarantee your family will come up with lots of ideas that will be perfect for the receiver. Although these are easy to make it's a good idea to try them once before you actually do them as gifts, just so you can get the hang of it. Fortune cookies can also be used as a clever to use as an invite to a party. Biscotti are also out of the ordinary gifts. They have a wonderful shelf life, making them perfect for sending through the mail.
Fortune Cookies

3 egg whites
¾ cup sugar
1 cup flour
½ cup melted butter
2 Tablespoons water
¼ Teaspoon almond extract
1/8 Teaspoon vanilla
Print out or handwrite fortunes and have them ready to place in cookie. Preheat oven to 375 degrees. Make sure your oven is hot. Line the cookie sheet with parchment paper or grease with butter. Whip the egg whites and sugar in a large bowl until frothy (not stiff) – approximately one minute on high speed. Stir in cooled, melted butter. Add one at a time; vanilla, almond extract, water and flour. The batter should resemble a thin pancake batter. Spoon 1 tablespoon of batter on the cookie sheet and spread out in 3 – 4 inch circles (try to be consistent). I use the back of a metal spoon in a tapping motion to spread out the batter. Cook no more than 3 – 4 at a time. You have to hurry and fold them when they come out of the oven. Bake the batter for approximately 7 minutes or until the edges begin to brown about ½ inch around the edge. The middle of the cookie will remain lighter in color.
Using a spatula, quickly remove the cookies one at a time. While holding the cookie in your hands, place the fortune in the middle and fold the cookie in half. Now with the cookie still in your hands, put your thumbs on the middle fold and pull the ends together into a moon shape. The open side of the fortune cookie should be on the outside. Place them in a muffin tin to hold shape while cooling. Let them set out for several hours.
Fortune cookies are easy to package. I found small containers that look like Chinese take out that have festive holiday prints on them.
The smallest I found was a 3" x 3" x 4", just about the size for a couple of fortune cookies. The boxes also come in much bigger sizes. Cellophane bags or tins also work well.
Biscotti
Biscotti are considered an Italian biscuit cookie. They are twice-baked giving them a
long shelf life
(about 12 weeks) and are
perfect for sending in the mail
. Nothing tastes better with a cup of hot chocolate than Biscotti. Coffee drinkers love them as well. They're the perfect dunking cookie. You can be very creative with Biscotti.
Start with a basic recipe and adding a variety of mixings. For instance, for the holidays, you might want to add pistachios and Craisins using a red and green theme. Another way to change things up a bit is to dip half the cookie in chocolate. Biscotti are fun to give because they are well liked by most people and can be eaten any time of the day and if you don't get to them right away they are still delicious. In fact, they are always better a day or two after they are baked. Biscotti are made from a basic dough recipe in which you can add your choice of flavorings, nuts, fruits or chips.
Classic Biscotti
½ cup of vegetable oil
3 large eggs
1 cup sugar
1 Teaspoon vanilla
1 Teaspoon almond extract
3 ¼ cups all purpose flour
1 Tablespoon baking powder
¼ Teaspoon salt
1 cup coarsely chopped nuts of your choosing (if using almonds, toast them first)
This dough is quite heavy and works best in a stand-up mixer but you can also do it by hand. Preheat oven to 350 degrees. Grease cookie sheet or line with parchment paper. In a mixer or large bowl, mix together the oil, eggs, sugar, vanilla and almond extract. Blend well. Combine the flour and baking powder. Divide dough into 2 pieces; form each into 12" x 4". Don't get to technical with the size. Flatten the top of the log.
Bake for 30 minutes, until golden brown. Remove from the baking sheet to cool on a rack. When the cookie is cool enough to handle, slice each crosswise into ½ inch thick slices. Place the slices cut side up and put them back on the cookie sheet. Bake for an additional 5- 10 minutes on each side. Cookies slices should be lightly toasted. They will harden as they cool.
This recipe makes about 3 ½ dozen cookies depending on how thick your slices are.
---
* DVO welcomes your kitchen hints and cooking or nutrition questions! Email us and we'll post your hints and Q/A's in upcoming newsletters! *