Holiday Entertaining
Puttin' on The Ritz
By Jeanne Wolfley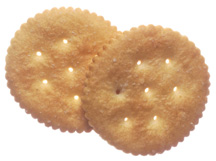 Puttin' on the Ritz was slang during the 1930's for dressing very high fashion or being very high society. The expression was inspired by the swanky Ritz Hotel. A place were high society would hobnob with each other. Many people of all different ages still remember the song or at least the connotation of what Puttin' on the Ritz" means.

Life is much more casual that it was in the 30's. We still, however, enjoy entertaining in a classy yet inexpensive way. This can be done with the help of the resourceful Ritz cracker. I must admit that for me, Ritz crackers are the crème de crème of crackers. Most of the suggestions or recipes that I give you will be perfect in any setting.

I can't imagine starting the Holiday Season without Ritz crackers in the pantry. You never have to worry about having leftover Ritz crackers. They are great straight from the box, you can crush them up and put them on top of any casserole, use them for coatings for chicken, etc…. You can even make a mock apple pie with them. I have some ideas for what to put on my Ritz. What are you going to put on your Ritz? These ideas will be great to bring to a party or give as a neighborhood gift.

Chocolate Peanut Butter Ritz Cookie

I had this cookie at a party. A nineteen year old girl had made them. I tried them just to be nice. Nice Surprise!!

Ritz crackers
Peanut butter
Chocolate candy coating (follow melting instructions on package)

Spread a small amount of peanut butter between 2 Ritz crackers. Dip the peanut butter crackers in chocolate candy coating. Let sit on wax paper until the chocolate coating hardens.

Another variation of the Chocolate Peanut Butter Ritz Cookie

Ritz crackers
Peanut butter
Marshmallow cream
Chocolate candy coating (follow melting instructions on package)

Spread one cracker with peanut butter the other with marshmallow cream. Dip in chocolate coating. Let sit on wax paper until chocolate coating hardens.

Another variation is to dip half the cracker in chocolate and sprinkle with finely chopped peanuts.



Making Ritz crackers into cookies are great, but they certainly have other uses as well. Nothing is better than a Ritz with a dip!

Shrimply Delicious Dip

1 (5 ounce) canned shrimp (drained)
a cup mayonnaise
1 (4 ounce) cream cheese (softened)
½ teaspoon Worcestershire sauce
1/8 teaspoon onion salt

Mix the softened cream cheese with the mayonnaise. Add Worcestershire sauce and onion salt. Mix in the shrimp and serve.

Grandma's Shrimp Cocktail Dip

8 ounce of cream cheese
1 bottle of cocktail sauce
½ pound of fresh salad shrimp

Spread the softened cream cheese with a fork on the platter you will use to serve the dip. Pour bottle of cocktail sauce over cream cheese and cover with rinsed salad shrimp.

Ranch Cheese Ball

2 (8 ounce) cream cheese (room temperature)
1 package ranch dressing mix
½ cup of milk
½ cup of mayonnaise
2 cups of cheddar cheese finely chopped
½ cup finely chopped nuts (pecans, walnuts or sliced almonds)

Combine the ranch dressing mix, milk and mayonnaise in medium sized mixing bowl. Mix until smooth. Add cheddar cheese and cream cheese. Mix together well. Form into a ball and roll in the nuts. Wrap in plastic wrap and refrigerate until firm.

Festive Asiago and Parmesan Dip

8 ounces of Asiago cheese
8 ounces of Parmesan cheese
1 Tablespoon minced garlic
1 Tablespoon chopped fresh basil
2 Tablespoon chopped red pepper
2 Tablespoons chopped green onion
1 ½ Teaspoons of ground black pepper
1 ½ cups extra virgin olive oil

Place small chunks of the cheese in a food processor or blender and process until the cheese is granulated. Add the garlic, black pepper, green onion, basil, red pepper. Slowly add in the olive oil. Serve at room temperature.

Brie Cheese and Crackers

Place a thin slice of brie cheese and with a dollop of cranberry relish, apricot preserve or a thin slice of apple on a Ritz cracker.

Ricotta Walnut Spread

9 ounces of Ricotta cheese
1 ½ Tablespoons honey
¼ teaspoon of salt
4 ounces finely chopped walnuts or almonds

Mix the ingredients and serve on a Ritz cracker.





---
Join the Cook'n Club!An unbeatable value with exclusive benefits for members only.
Enjoy articles like this and many other benefits when you join the Cook'n Club.