All the smells, sights, sounds, and tastes of Christmas are wonderful. There is very little about December that I don't like, but sometimes too much of a good thing can leave you feeling a bit overwhelmed. For that reason I want to share some of our favorite family ideas for hearty, not-so-sweet, and maybe even healthy (yes I said THAT word when talking about Christmas treats) snacks, treats, and gifts.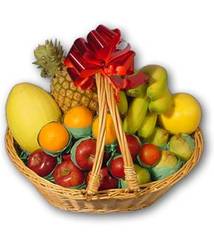 1. Fruit Basket –
There, we got that healthy stuff in there! Yes, it is sweet, but fruit gives your body a much needed boost during the winter months when we sometimes don't get enough. They make great gifts because you can adjust them for your budget and taste. If you have a smaller budget, buy fruits that are more in season and use a smaller basket. If your budget is a bit larger you can increase the size of the basket and add different fruits and maybe even some more exotic fruits. Not only that, but there is little quite as pretty as a nice, bright fruit basket!
2. Cheese Ball and Crackers –
There are cheese ball recipes for about every taste out there. They are fun to make and can be tailored to personal tastes. Pair it with some yummy crackers and it makes a great snack when you have just had enough chocolate (if that is really possible). This recipe offers a simple place to start.
Easy Ranch Cheese Ball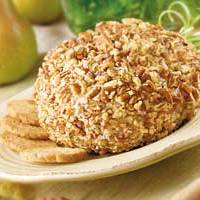 16 ounces Cream Cheese -- softened
1 package Ranch salad dressing mix
1 cup shredded cheddar cheese
Bacon Bits
Combine salad dressing,cheese and cream cheese. Form into a ball.
Roll in bacon bits. Refrigerate until 10 minutes before serving.
Serve with crackers.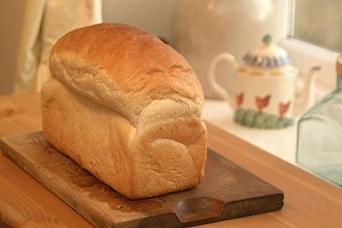 3. Homemade Bread and Jam, Honey Butter, or Apple Butter –
Again, the possibilities are endless with this option. You decide the size of loaf, the recipe, and what, if anything, to top it with. There are as many choices out there as there are bakers in their kitchens! So cook up your favorite and bag it up for your friends! Here is a yummy recipe for Apple Butter:
Apple butter is like a thicker and spicier version of applesauce. It is great on toast, crackers, cornbread, pancakes etc., or over ice cream. Make it as plain or as spiced-up as you like. This recipe is a good starting place. If you don't want to bother with canning, just freeze whatever apple butter you won't be using within a week.
Apple Butter
Container: large pans, half-pint jars with lids suitable for canning
Prep Time: 30 minutes
Cook Time: 45 minutes
4 pounds apples -mix several varieties, if possible
2 cups sugar
1 cup apple cider or water
pinch salt
1 teaspoon cinnamon
1/2 teaspoon cloves
1/2 teaspoon allspice
1 lemon (optional)
If you will be canning the apple butter, get suitable jars, lids and rings ready. In a large pot or water bath canner, cover jars with water and boil 10 minutes. Turn off heat and drop lids in.

Peel, core and cut up the apples. Combine with the cider or water and cook until the apples are soft.

Add sugar, salt, spices and, if using, the juice and zest from a lemon. Continue to cook over low heat, stirring frequently to prevent sticking, until the mixture is very thick. (Test by scooping up a heaping spoonful. The mixture should keep its rounded shape and not flatten out.)

To process: with tongs, remove a jar from the hot water, fill it to 1/2 inch from the top with apple butter, wipe the rim clean and retrieve a lid from the hot water. Put the lid on, snug down a ring and return the filled jar to the pan of hot water. Continue until all jars are filled and/or the butter is gone.

Return the pan of filled jars to the stove. Add more hot water if necessary to completely cover jars, then cover the pot and bring to a boil. Boil for 10 minutes. Allow to cool somewhat (or completely); carefully remove jars to a dry surface. Cool completely before removing sealing rings. Check for seals following lid manufacturer's instructions. Freeze any that don't seal or refrigerate and use soon.

4. Amish Freindship Bread Start – A little more work, but the end product is so very delicious! This is a great recipe!

Friendship Bread Starter

1 (.25 ounce) package active dry yeast
1/4 cup warm water (110 degrees F/45 degrees C)
3 cups all-purpose flour, divided
3 cups white sugar, divided
3 cups milk

1. In a small bowl, dissolve yeast in water. Let stand 10 minutes. In a 2 quart container glass, plastic or ceramic container, combine 1 cup flour and 1 cup sugar. Mix thoroughly or flour will lump when milk is added. Slowly stir in 1 cup milk and dissolved yeast mixture. Cover loosely and let stand until bubbly. Consider this day 1 of the 10 day cycle. Leave loosely covered at room temperature.
2. On days 2 thru 4; stir starter with a spoon. Day 5; stir in 1 cup flour, 1 cup sugar and 1 cup milk. Days 6 thru 9; stir only.
3. Day 10; stir in 1 cup flour, 1 cup sugar and 1 cup milk. Remove 1 cup to make your first bread, give 2 cups to friends along with this recipe, and your favorite Amish Bread recipe. Store the remaining 1 cup starter in a container in the refrigerator, or begin the 10 day process over again (beginning with step 2).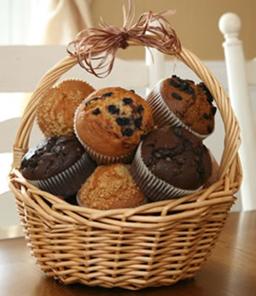 5. Muffin Basket – Delicious for snacking or breakfast, muffins are a wonderful treat. You can go with classics like blueberry, change it up with zucchini or carrots. Or get the best of both worlds and put an assortment in the basket and tie a ribbon around all that flavor!

Chocolate Zucchini Muffins

3 eggs
2 cups white sugar
1 cup vegetable oil
1/3 cup unsweetened cocoa powder
1 1/2 teaspoons vanilla extract
2 cups grated zucchini
3 cups all-purpose flour
1 teaspoon baking soda
1/2 teaspoon baking powder
1 teaspoon salt
1/4 teaspoon ground cinnamon
1/4 teaspoon ground nutmeg
1/4 teaspoon ground cloves
1/4 teaspoon ground cardamom

1. Preheat oven to 350 degrees F (175 degrees C). Lightly grease or line two 12 cup muffin tins with paper liners.
2. In a large bowl beat the eggs. Beat in the sugar and oil. Add the cocoa, vanilla, zucchini and stir well.
3. Stir in the flour, baking soda, baking powder, salt, cinnamon, nutmeg, cloves and cardamom. Mix until just moist.
4. Pour batter into prepared muffin tins filling 2/3 of the way full. Bake at 350 degrees F (175 degrees C) for 20 to 25 minutes. Remove from pan and let cool on a wire rack. Store loosely covered. Serves 24.

Sweets are wonderful, but if you have had an overload of all things sweet these ideas may get you thinking of different gifts you can share with those you love. Whatever you choose to share, include a recipe. I am sure that your friends and family will love what you have given them and want to make it again and again. So, include a fun little recipe card so they can enjoy it! Happy Holidays to you all!!!







---
If you have any additional tips that you'd like to add, please post them on the
Cook'n Club Forum
(if you're a
Cook'n Club Member
)...or e-mail them to
Dan@dvo.com
.
---
Join the Cook'n Club!An unbeatable value with exclusive benefits for members only.
Enjoy articles like this and many other benefits when you join the Cook'n Club.