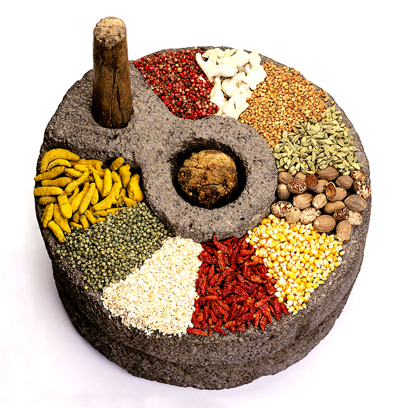 The idea of this article came up when I was trying to think of how to dress up some of my old recipes and make them more interesting. My family loves a little spice. So I am going to give you some ideas on how to make your every day recipes spicy.
Lets start off with breakfast. My family loves eating a good home cooked big breakfast on the weekends. Sometimes we get in a rut of fixing the same old thing Saturday after Saturday. A quick way to spice up your breakfast is hiding in your traditional biscuits and gravy. Try adding a spicy sausage instead of your normal country sausage. Toss a dash of white pepper in your gravy. You know your familyís tolerance of spice so there really isnít an exact science here.
Another simple idea is just a dash of Tabasco sauce on your eggs, wakes you right up! For something really yummy, make a nice cheese omelet and smother it in pork chile verde and sour cream. Its not something I have seen much, but it is super good.
You might not be able handle spice early in the morning. My husband has an iron stomach. But later in the day gives you so many options. One thing I have really embraced is different ways to dress a sandwich. Substitute your normal cheese with a pepper jack. Add jalapeŮos or another variety of peppers to the fresh veggies on your sandwich.
Here is a great recipe for a spicy hamburger. This one is sure to light up the BBQ.
Spicy Hamburgers
Makes 6 servings
2 pounds lean ground beef
2 tablespoons minced green bell peppers
2 cloves garlic, minced
2 teaspoons dried oregano
1 teaspoon paprika
1 teaspoon salt
1/4 teaspoon cayenne
1/4 teaspoon freshly ground black pepper
6 hamburger buns, toasted
Sliced tomatoes
Sour cream
Combine the beef, bell peppers, garlic, oregano, paprika, salt, cayenne, and black pepper. Mix well. Divide the mixture into six equal portions and form into patties. Broil, fry, or grill the meat until all pink has disappeared. Place the burgers on the toasted bun and top with sliced tomatoes and sour cream.
Just to finish things off right, Iíll toss in one spicy desert style beverage. Donít overlook cinnamon when it comes to sweets.
Red Hot Spiced Cider
Makes 4 servings
4 cups apple cider
1/8 cup Red Hots candies
1/4 teaspoon whole cloves
1 stick cinnamon
1/2-inch long whole, peeled gingerroot (lightly smashed)
1/4 teaspoon nutmeg
Bring all ingredients to a boil in a medium saucepan. Reduce and simmer 10 minutes. Strain and serve hot in mugs garnished with a cinnamon stick.
I hope this helps your family rediscover a new appreciation for some of the old stand-by recipes. Enjoy a spicy life!
---
If you have any additional tips that you'd like to add, please post them on the
Cook'n Club Forum
(if you're a
Cook'n Club Member
)...or e-mail them to
Dan@dvo.com
.
---
Join the Cook'n Club!An unbeatable value with exclusive benefits for members only.
Enjoy articles like this and many other benefits when you join the Cook'n Club.