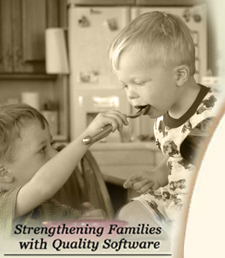 How to
Plan a Thanksgiving Meal
Scan the reader reviews below and share YOUR OWN tips!
How to Plan a Thanksgiving Meal
Monday
Put all recipes into Cook'n (if not already in there). Combine them into a menu and click "List" to make a shopping list.
Hand out food assignments (especially recipes needing oven space).
Clean out the fridge for groceries and leftovers.
Put your turkey (if frozen) into the fridge to thaw.
Find all your platters, gravy bowls, electric knife, attachments to your food processor, etc.
Get tables (leaves) and chairs – table cloths, kiddy table etc.
Tuesday
Shopping Day! Take your grocery list and go shopping.
Wednesday
Cook your pies, desserts and rolls.
Check the TV listing – Game schedules (Dan's tip?)
Clean your bathrooms – mop floors (ask for family help)
Set Tables
Give family members a helping list and delegate!
Cut up relish tray – make yams, Jell-O, cranberry sauce, etc.
Chop stuffing ingredients and put in zip-lock bag
Set out corn bread or bread crumbs for stuffing and cut in cubes (if necessary). Let it stand out all night.
Thursday
Make the stuffing
Wash the turkey and stuff it! Put in the oven.
Dad will make a simple breakfast for the kids (food that requires no dishes or cooking time)
Start rolls – make bread dough and let rise for first time.
Work on whatever you didn't do the night before.
Take a shower and get dressed
Cut your tomatoes and cucumbers
Roll out and shape the rolls – let it raise the second time.
Peel and cut potatoes (put in a pan of warm water). Start cooking 1 hr. before the turkey comes out.
Put the rest of the stuffing in and cook for 1 hr.
When turkey and potatoes are done, get more help!
Cover turkey and let stand for 10-15 min. after taking out of the oven.
Put your rolls and yams in the oven.
Make gravy out of the turkey drippings
Mash the potatoes (Let someone stir the gravy while you mash potatoes).
Take stuffing out of the turkey and mix with other stuffing.
Eat!!!
Friday
Wake up early and shop the sales...don't forget the Black Friday Special at DVO.com (watch for more info tomorrow!)
---
Reader Comments/Tips
// the root to the search folder NO TRAILING SLASH AT THE END! //$root = "/app/apache-2.2/htdocs"; $root = "/home/users/d/dvo/public_html"; // your username for control panel $user = "dvo"; // your password for control panel $pass = "havingfun50"; // enter the address of your website $yourwebsite = "https://www.dvo.com"; // set to true if you want to show Search Execution Time and Items Searched on search results // set to false to disable feature! $stats = false; ?>

---
| | | |
| --- | --- | --- |
| | | |
| Cook'n Recipe Organizer | Recipe Card Binder Set | Ronco Knife Set |