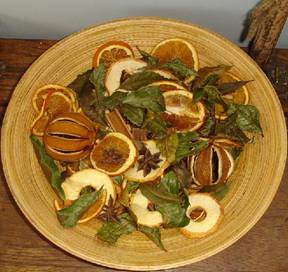 When the temperature cools down and the leaves start to change I find myself craving certain scents and sights. For years I have burned candles to scent my home and keep it from getting that stale smell that sometimes comes after weeks of closed windows and cold weather.
Now I hesitate with candles because with a busy house full of young children I found myself constantly worrying about my kids getting into hot wax and leaving candles burning.
Last year I started trying to find alternatives to fill my home with the wonderful smell of the season even when I am not preparing food. After a quick search on the internet I found several suggestions for home made remedies. I had limited time and ingredients so I took those ideas and headed to the kitchen.
I filled a saucepan with water and one sliced orange, some broken
cinnamon sticks
, and a little
vanilla extract
and set it to boil. Once it started boiling I set it on the very lowest setting and let it simmer for a while. You do need to be careful that the water does not all boil off and make sure to not leave the house while your stove is on, but for a couple hours of delicious scent this is a wonderful, easy, and inexpensive solution.
Other suggestions for scenting your home:
Simmer your favorite potpourri on the lowest setting in your slow cooker.

Add to a pot of water any combination of allspice, cloves, orange peel, ground cinnamon, vanilla extract and fresh ginger, and simmer the mixture slowly on the stove.

Fill a length of panty hose loosely with your favorite spice blend, tie it at both ends and place it inside a hot air vent.

Throw orange or tangerine peels, pinecones or potpourri into your fire.

As strange as they may seem these little secrets can really spice up your home and bring in a wonderful aroma of the season. So as the temperature drops and the leaves change this fall, kick back, cuddle up, and heat up some wonderful aromas in your home.

---
If you have any additional tips that you'd like to add, please post them on the
Cook'n Club Forum
(if you're a
Cook'n Club Member
)...or e-mail them to
Dan@dvo.com
.
---
Join the Cook'n Club!An unbeatable value with exclusive benefits for members only.
Enjoy articles like this and many other benefits when you join the Cook'n Club.