Safe Place for Dough to Rise
Hi

I recently purchased a four pack of the software called The Best of Cook'n and love it. I am however battling ants and can not make yeast style breads without the ants getting into the dough while it is rising. How can I get the dough to rise without the ants getting into it? The ants are in my attic and it is hectic finding places to put the dough that the ants are not bold enough to go.

I just learned you have a disk for kids recipes. I can't wait to add that to my collection. I have four kids, three of which love to be in the kitchen cooking with me. When my baby gets bigger, I am sure she will be in there too. I love the software, it makes cooking so much easier. I can now get rid of all my cookbooks and get everything on my computer. I love being able to print only what I need for that week and have the extra cabinet space for my kids cooking aprons and hot dish holders.

Chris Lopez

---
Hi Chris,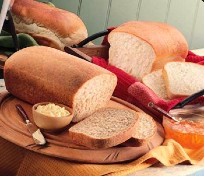 I'm so glad you enjoy the software. I'm also so happy your a Mom of 4!! I have 3 so far, and they also love to help me cook.

Try proofing your dough in the oven. First place a metal 9x13 pan (or whatever you have) of hot water on the bottom rack. Turn the oven to its lowest temperature setting and let it warm up a bit. Then turn the oven off. Place your bowl of dough in the warm oven (or loaves) (cover with a tea towel or plastic wrap to keep it from drying out . . . the water helps keep the dough moist, too. Shut oven and let rise. Then remove from oven, shape into loaves, and repeat for the second rise. When ready to bake, remove dough, preheat the oven, and then bake.

Desi

Email your thoughts to us. Tell us about you and your family, and send us a picture. We'd love to hear from you...and who knows...perhaps you will be the star of the next newsletter!