Tommy Tang's
Modern

Thai

Cuisine
by Tommy Tang
---
---
[This cookbook has been discontinued]
---
NOTE: You must have Cook'n installed to use this download!
---
Over 90 of Tommy Tang's Signature Recipes
easy-to-follow step-by-step instructions
Exotic Thai Flavors Using Standard Kitchen Utensils
Ingredients Easily Found in Supermarkets
New Cook'n Theme included
Save time and money by using Cook'n
Tommy Tang's
Modern

Thai

Cuisine
Every day more and more Americans fall in love with exquisite flavors of Thai cooking. Now, Tommy Tang, celebrated chef and owner of Tommy Tang's restaurants in Los Angeles and New York, shares his flair for creating unique, delectable cuisine from his native Thailand. In Tommy Tang's Modern Thai Cuisine, Tommy presents over ninety of his signature recipes, bringing his delicious creations straight from his restaurants to your kitchen.
Tommy's modern cooking combines elements of Japanese, Indian, American, and European dishes with traditional Thai flavor. Enjoy such delicacies as Thai Egg Rolls, Red Curry Shrimp, Thai Papaya Salad, Spicy Pork Chops with Thai Chili Fish Sauce, and Tommy's special sushi. Sound tricky? While the flavors may be exotic, Tommy has made his recipes as simple as can be. Every dish needs only standard kitchen utensils, and many require only those ingredients easily found in supermarkets. To further help you Tommy provides a glossary of ingredients and a list of sources for obtaining authentic Thai foods. Easy-to-follow instructional illustrations guarantee professional results, while beautiful full- color photographs tempt your taste buds and help you choose the perfect recipe for your next cooking adventure.
If you love Thai food, but have always thought that it was beyond your culinary reach, Tommy Tang is here to change your mind. Let Tommy Tang's Modern Thai Cuisine bring the joy of Thai cooking to your home.
About The Author
Tommy Tang, chef and restaurateur, was born in Bangkok and moved to the United States in 1972. Ten years later, he opened the original Tommy Tang's in West Hollywood, California. With the opening of a second restaurant in New York's Tribeca area in 1986, Tommy became America's first bicoastal chef. Tommy's signature line of spices and seasonings are available in stores throughout the United States and Canada. Tommy also shares his expertise on his PBS cooking show.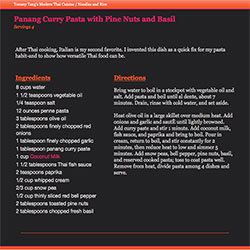 CONTENTS
Introduction
Appetizers:
Angel Wings
Nam Chicken
Thai Toast
Soy Sauce Dip
Manhattan Roll
Spicy Tuna Roll
California Roll
Tiger's Eye
Meekrob
Chicken Sate with Peanut Sauce
Mussel Sate with Ginger Cream Sauce
Volcanic Mussels
Thai Egg Rolls
Crab Spring Rolls with Santa Fe Chili Yogurt Sauce
Thai Wonton
Spicy Wonton with Sweet Tamarind Sauce
Larb
King Cobra
Soups and Salads:
Tom Kha Kai
Tom Yum Kung
Arugula Salad with Rosemary Honey Vinaigrette
Thai Sausage Salad
Warm Spinach Chicken Salad
Mango Salsa
Thai Papaya Salad
Naked Shrimp Salad
Spicy Beef Salad with Lemon Grass Sauce
Vegetables:
Thai Eggplant
Spinach with Black Bean Sauce
Mixed Vegetables
Broccoli with Garlic Oyster Sauce
Spicy Garlic Mushrooms
Brunei Egg Crepes
Noodles and Rice:
Thai Pasta
Panang Curry Pasta with Pine Nuts and Basil
Pad Thai
Santa Fe Chili Pasta
Lard-Na Noodles
Red Noodles
Chicken Noodles Alfonse
Spicy Mint Noodles
Vegetarian Noodles
Seafood Pasta with Curry Cream Sauce
Curry Fried Rice
Pineapple Fried Pasta
Spicy Mint Fried Rice
Duck Fried Rice
Vegetarian Fried Rice
Black Olive Fried Rice
Bangkok Jambalaya
Main Dish Curries:
Shrimp Panang
Red Curry Shrimp
Alaska King Crab Curry
Green Curry Salmon
Panang Chicken
Lamb Mussamun
Main Dish Poultry:
The Original Tommy Tang's Duck with Honey Ginger Sauce
Spicy Mint Chicken
Spicy BBQ Chicken with Sweet Chili Sauce
Lemon Grass Chicken
Dried Chili Chicken
Siamese Chicken with Basil
Main Dish Seafood:
Thai Chili Fish
Grilled Salmon with Kaffir Lime Sauce
Grilled Red Snapper with Rosemary Honey Glaze
Grilled tuna with Roasted Red Bell Pepper Sauce
Spicy Mint Calamari
Soft Shell Crabs with Garlic Ginger Sauce
Malaysian Clams
Santa Fe Chili Oysters
Oysters with Ginger Sauce
Roasted Chili Oysters
Scallops with Mango Salsa
Sunrise Scallops with Ginger Cream Sauce and Red Chili "Flames"
Blackened Scallops with Roasted Garlic Chili Sauce
Spicy Garlic Shrimp
Prik King Shrimp
Shrimp and Asparagus with Roasted Chili Sauce
Tiger Prawns with Cilantro Cream Sauce
Main Dish Meat:
Grilled Fillet of Beef
Spicy Pork Chops with Tahi Chili Fish Sauce
Rosemary Baby Lamb with Curry Yogurt Sauce
Basic Recipes:
Chicken Stock
Lemon Grass Stock
Red or Green Bell Pepper Puree
Tomato Puree
Coconut Milk
Tamarind Juice
Cooked White Rice
Cooked Brown Rice
Sushi Rice
Sushi Rice Stock
---
---
Cook'n Is Several Products in One!