Deep South Dish
From: Best of the Best
Mary Foreman loves to share her Homestyle Southern Recipes - like her mother and grandmother used to make. A popular food blogger and recipe developer, Mary gets millions of unique page views per year to her blog Deepsouthdish.com. She calls on her heritage of good cooking for recipes that all have one thing in common - incredibly great taste! So pull up a chair, grab a glass of sweet tea, and join Mary in dishing up good ole southern recipes from the Deep South USA.
Reviews

"The Comeback Dressing is so tasty on a salad or as a dip. Reminds me of dips that come with appetizers in restaurants. Every, and I mean every, recipe sounds and looks wonderful. As I work my way through this cookbook, I imagine every dish will be a favorite. I love the colorful pictures. This is definitely a book you will enjoy just reading!" --Roni

---
"I have been following Mary Foreman's Deep South Dish blog and Facebook page for several years. I love her Southern/Cajun recipes and I love her folksy, at-home style! This is a beautiful cookbook with her wonderful recipes that remind me so much of the dishes my mother and grandmother prepared when I was growing up in Mississippi. Her recipes for black-eyed peas and special occasion mac and cheese are on my New Year's Day menu every year. Her traditional red beans and rice recipe is great! (She has several recipes for red beans and rice - I use the long version.) Her fall-off-the-bone oven-baked ribs are to die for and so easy to prepare!"
--Kindle Customer
---
"I've been cooking for decades, and can tell by reading a recipe if I'm going to like it or not. These are the recipes I was raised with, and they not only "read" well, but taste delicious when cooked up. There's nothing so nostalgic as old-fashioned Southern cooking, and these are the genuine goodies. What a find!"
--Pat T.
---
"My wife says these are the biscuits she has always tried to make, and the secret is in the preparation,handling,and cooking method - not the ingredients! She just made biscuits and sausage gravy that was out of this world! Imagine a biscuit that is crispy on the outside and light and fluffy on the inside. Man-o-man! Delicious! Best biscuit I've ever eaten."
--CrewCut
---
"I am working my way through this book. So far, everything as been a hit. You have to try the breakfast casserole. I make in on the weekends to feed the 'small army' that is my household. Good news - she (Mary the author) offers tips how to double the recipe for when you have a crowd. Be prepared to do so. Throughout the book, there are plenty of photos to guide you AND suggestions for alternate variations on the main recipe. All of this is helpful. The directions are written in clear and easy English. Also, the directions are step by step and in the order in which they are to be done by the preparer. I can see this as handy for the new cook or for someone (like me) who is looking to expand their repertoire of regional American cuisine. Read her backstory, it is inspiring. If you have questions for her she will answer you quickly. Cannot say enough about the book and the author!"
--SRK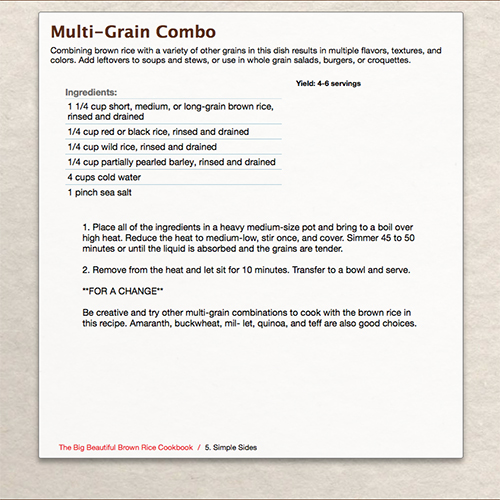 Includes the Handmade Paper Theme
About the Author
Hurricane Katrina hit the Mississippi Gulf Coast with a vengeance in 2005 and after a long and successful career, Mary Foreman found herself without a job after the corporate legal department where she had spent much of her career, uprooted to relocate out west. With a 50th birthday on the horizon, no interest in leaving her Gulf Coast home, and economic strife across the country, finding comparable work locally was a difficult task. No one was hiring, so Mary turned her talents toward something that she had always loved to do. Cook. Having a lifelong desire to also be a writer, shortly after, Mary discovered the world of blogging, and in 2009 after cooking and sharing recipes took over her blogging efforts, she founded her southern recipe blog, Deep South Dish.

Mary is now the author and publisher of DeepSouthDish.com, a wildly popular website drawing millions of readers a month from all across the world, who find a reconnection to their own memories and heritage through Mary's childhood stories, and the classic, homespun recipes connected to them. She is fast to say she is merely a home cook, her only experience coming from the kitchen, and not any formal culinary education. "My mama put a meal on the table, breakfast, lunch and dinner, all of my life, and it didn't come from a box. Sunday dinner meant gathering around the table, sometimes at my grandma's house, and holidays were always a sit down dinner."

"I learned to cook watching both of them and through my own trial and error in the kitchen after I married in the 70s," she said. "Because of these things, I meet Deep South Dish readers right where they are in the kitchen. The only difference is that I now get to teach too, sharing my recipes and old fashioned cooking with folks from all over the world, and because of my experiences, detailed posts and step-by-step photos and instructions, they can understand the creative process, learn techniques and terms, and enjoy the successes, far more than the failures."

"It's no secret that when you cook for someone, that it's an expression of your love for them," Foreman says, "and my blog is simply an extension of that, to a much broader audience. My food is that old-fashioned, made from scratch cooking, the kind of comfort food that brings you home to the memories of your own mother's and grandmother's kitchens." Foreman receives mail regularly from readers that tell her so.

"Deep South Dish Homestyle Southern Recipes" is a collection of those recipes, some from the blog, some exclusive to the cookbook, all well tested and delicious. Intertwined in the cookbook are a few other recipes that are quick, easy and economical, using common, shortcut pantry foods to save time.

A multi-generational southerner whose ancestors have found home in at least four southeast states, Mary's southern roots run deep. She lives with her husband "The Cajun," and multiple four-legged rescue children, on the Mississippi Gulf Coast, where except for several years in New Orleans, she has spent her entire life. She is a mother, and grandmother to three, all of whom also live on the Mississippi Gulf Coast, and she draws those grandchildren into the kitchen every chance she gets.