Over 400 Best Recipes from 64 Minnesota Cookbooks!
From: Gwen Mckee
From the Twin Cities to the Red River Valley, from the shores of Lake Superior to the Prairieland, Minnesotans from big cities to rural farms have eagerly and graciously shared some of their most treasured recipes.

Sixty-four of the leading cookbooks from throughout the Land of 10,000 Lakes have contributed their most popular recipes to create this remarkable collection. Not far removed from Grandma's kitchen, the memories of her cooking can come alive in your kitchen by way of over 400 classic recipes within these pages. Included are such proven favorites as No-Flop Flounder, Edelweiss Torte, Chicken Minnetonka, Pumpkin Cake in a Jar, Swedish Meatballs and Amelia Bedelia's Raspberry Pie.

Each cookbook in Quail Ridge Press acclaimed Best of the Best State Cookbook Series contains favorite recipes submitted from the most popular cookbooks published in the state. The cookbooks are contributed by junior leagues, community organizations, popular restaurants, noted chefs, and just plain good cooks. From best-selling favorites to small community treasures, each contributing cookbook is featured in a catalog section that provides a description and ordering information -- a bonanza for anyone who collects cookbooks.Beautiful photographs, interesting facts, original illustrations and delicious recipes capture the special flavor of each state.


Best of the Best from Minnesota was among the first cookbooks in the acclaimed Best of the Best State Cookbook Series. We are pleased to offer this completely updated edition featuring all-new recipes from a new generation of fine cookbooks.
Reviews

"This cookbook was purchased for a specific purpose, hosting what will become an annual Derby brunch. It is filled will truly classic old recipes, some of which will be useful, some of which, such as a Brunswick Stew recipe that calls for two squirrels will not. This will no become one of my go to cookbooks, but that is not what I purchased it for. Fans of pone, grits, rabbit, squirrel, pimento cheese and bourbon will find it more useful." --Cynthia A. DeCrow

---
"We love this series of cook books. They give endless ideas whats to make. This book provides tastety and not too complex recipies from the horse state. We enjoy this very much. The build up of the book is as all the others for quick orientation - morning - drinks - starters - main - dessert."
--Jorg Eggers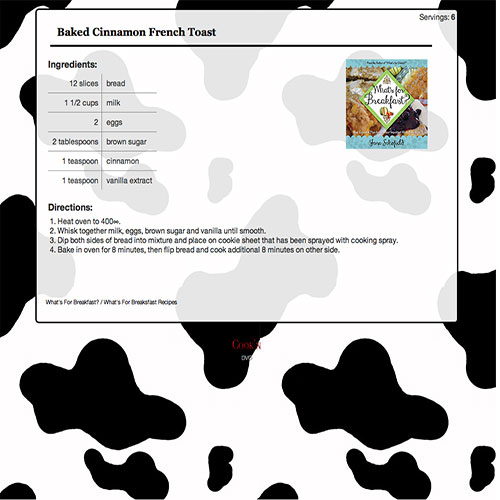 Includes the Cow Pattern Theme
About the Author
Gwen McKee is a publisher with a mission. As the co-founder (with her husband, Barney) and the editor-in-chief of Quail Ridge Press, she has dedicated the past two decades to preserving America's food heritage. Through Quail Ridge Press, Gwen has now accomplished much of this task by creating the 50-volume Best of the Best State Cookbook Series that includes over 20,000 classic recipes. Today Quail Ridge Press is one of the most successful regional publishers, and certainly one of the most thriving publishing houses owned by a woman.

Gwen's interest in preserving "real" American food came naturally. Like most native Southerners, she was influenced by a family immersed in the traditions of Southern cooking and entertaining. Over a period of many years, Gwen collected recipes that were handed down through her family for traditional holidays and reunions.