Louisiana is a party
—and you're invited!
From:Gwen McKee
It's jazz, it's football, it's finding any excuse at all to have a party! Louisiana cuisine is world-famous. There is no other taste quite like the blend of flavors in Cajun and Creole food.

Experience Louisiana's special tradition of wonderful food in your own kitchen with such delicious classics as Crawfish Etouffee, Natchitoches Meat Pie, and Stuffed Eggplant. We've also included some dishes with a new twist—Cream Cheese Bread Pudding, Sweet Potato Biscuits, and Plantation Pecan Crunch.

Seventy-two of Louisiana's leading cookbooks have shared 400 of their most popular recipes to create this remarkable collection. Y'all come on in for some great eatin'!

Best of the Best from Louisiana II is the follow-up to Best of the Best from Louisiana, which remains one of our most popular titles.



Reviews

"So far I've made the microwave roux, which I was DELIGHTED to make and use since it is relatively about 15 times faster than making it in a pan for me, and I've made Grillades (pronounced gree-ahds), with the roux, delicious!! And the Lazy Betty recipe (made my own cake mix though, since I didn't have one) that is super-simple mixture of canned pie filling and cake mix. Looking forward to making sausage rolls and I'm sure I'll find more good recipes as I use this book over time. I like the blurbs in the back of the book, describing the multitude of cookbooks the recipes came from, too, may buy some of them eventually; many I'd never heard of." --StillLife

---
"Book has some great recipes - as all do, but in this series, if you are repetedly liking those pulled from a certain other cookbook or two, they are easily referenced for you to find and use that books full repetoire. I feel like the amount of time spent cooking and eating the food generated by this book is all worth while. But be cautious with where you start when you open it up as it will suck you in and you may lose track of what you went in there looking for ..."
--Robert A. Richmond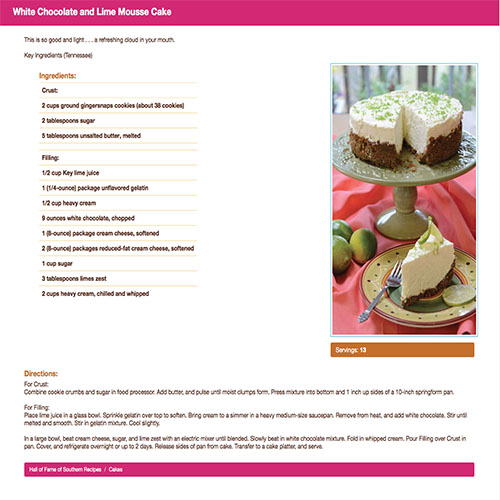 Includes the Southern Recipes Theme
About the Author
Gwen McKee is a publisher with a mission. As the co-founder (with her husband, Barney) and the editor-in-chief of Quail Ridge Press, she has dedicated the past two decades to preserving America's food heritage. Through Quail Ridge Press, Gwen has now accomplished much of this task by creating the 50-volume Best of the Best State Cookbook Series that includes over 20,000 classic recipes. Today Quail Ridge Press is one of the most successful regional publishers, and certainly one of the most thriving publishing houses owned by a woman.

Gwen's interest in preserving "real" American food came naturally. Like most native Southerners, she was influenced by a family immersed in the traditions of Southern cooking and entertaining. Over a period of many years, Gwen collected recipes that were handed down through her family for traditional holidays and reunions.