Best of the Best from Alaska
By: Gwen McKee
Discover the wonder of Alaska...one delicious dish at a time...one fascinating fact at a time. How and what Alaska cooks is incredibly unique! This outstanding new cookbook is a comprehensive collection of the state's most popular recipes, surrounded by the history, customs, grandeur, and enormity that is Alaska.
Fifty-four of the leading cookbooks in Alaska contributed their favorite recipes to this collection that includes more than 350 of Alaska's most popular recipes--Icy Strait BBQ Halibut, Bear Tracks, Moose Kabobs, Salmon Seashell Salad, Blueberry Almond Cheesecake Tunnel, Individual Baked Alaska, and many more--all of which are easy to follow and are edited for clarity and taste.
Alaska is the forty-fourth state to be included in the acclaimed Best of the Best STATE COOKBOOK SERIES.
Best of the Best from Alaska is one of fifty volumes in Quail Ridge Press' acclaimed Best of the Best State Cookbook Series continuing the tradition of Preserving America's Food Heritage.
Reviews
"This book is chocked full of authentic recipes. This book brought back a lot of wonderful memories. That's what makes these books so awesome, it's not just the recipes, but the stories and pictures from all over each specific state. It made this reader want to travel, and try these native dishes." --Kay

---
"I was a little dubious about ordering this cookbook. Alaska isn't famous for it's cuisine. Well, I was very pleasantly surprised! It turns out there's a lot of good cooking in Alaska! With those loooong, cold, winter nights there isn't a lot to do except eat, and Alaskans seem to have figured out that you should eat well! The cookbook focuses on recipes using the wealth of fish, seafood and game available to Alaskan cooks, as well as native fruits and berries. There are many, many tempting recipes for moose, venison, salmon and halibut. Almost all of the recipes (with the exception of the Eskimo recipes included more as a curiosity) are easily adaptable in the Lower 48 using different fish or meat. Check out this cookbook -- you'll be pleased with it, I'm sure!"
--Bridgett Garrett
---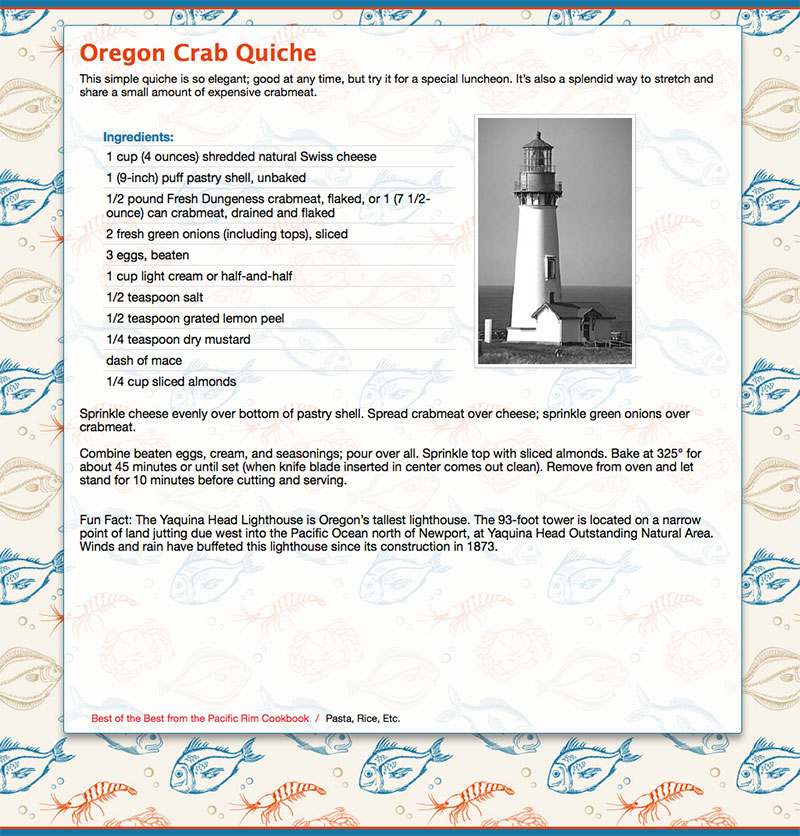 Includes the Sea Food Theme
About the Author
Gwen McKee is a publisher with a mission. As the co-founder (with her husband, Barney) and the editor-in-chief of Quail Ridge Press, she has dedicated the past two decades to preserving America's food heritage. Through Quail Ridge Press, Gwen has now accomplished much of this task by creating the 50-volume Best of the Best State Cookbook Series that includes over 20,000 classic recipes. Today Quail Ridge Press is one of the most successful regional publishers, and certainly one of the most thriving publishing houses owned by a woman.

Gwen's interest in preserving "real" American food came naturally. Like most native Southerners, she was influenced by a family immersed in the traditions of Southern cooking and entertaining. Over a period of many years, Gwen collected recipes that were handed down through her family for traditional holidays and reunions.