---
---
TVGuardian LT Simply mutes phrases with foul language.
New! Works with any HDTV, Standard TV and/or Audio Receiver.
New! Learns standard IR remote control codes to mute both a TV and an Audio Receiver.
New! No HDMI cable connection required for HDTV muting.
New! Smaller than a smartphone.
Connect two video sources: cable or satellite box, DVD Player, Blu-ray Player, VCR.
Strict, Moderate and Tolerant Filter Settings.
Fine-Tune Filtering Options: Offensive Religious References, Sexual References, Hell/Dam.
TVGuardian LT
Simply connect TVGuardian between your TV and your video source.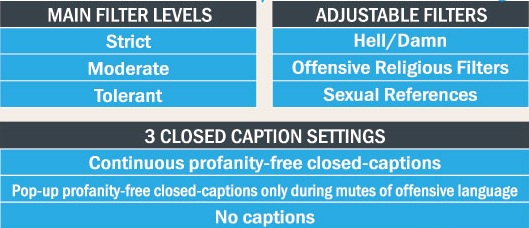 Watch TV Without Profanity! TVGuardian automatically mutes foul language while watching cable & satellite TV; movie channels like HBO, Starz, Showtime, Epix, Pay-Per-View and Video-on-Demand; and most DVDs.
TVGuardian LT is the seventh TVGuardian model since 1998. More than 12 million TVGuardian enabled products have helped families watch TV shows and movies without profanity and foul language!
---
---
Cook'n Is Several Products in One!