Authentic Mexican Tamales
DVO Recipe Center
Serves: 4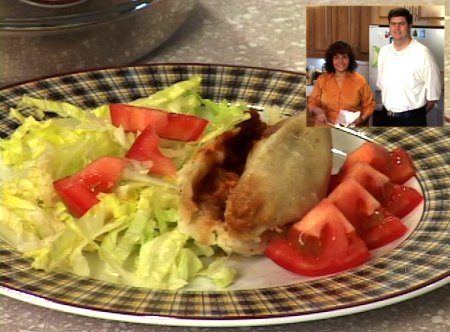 Margarita Romano shows Dan how to make Authentic Mexican Tamales for Cinco de Mayo. Click here (56k) to watch the video. If you have a high speed connection, click here (300k) to see a higher quality video clip.

Margarita makes this recipe from memory and didn't have any amounts written down, so we've done our best to translate it into measurable amounts.

1 bag of Maseca
1 lb Manteca (lard from pork)
1 bag California red dry peppers (about 6 peppers)
1 cup tomatoes, quartered
1/2 cup chopped onions
1 clove garlic
4-5 boneless, skinless chicken breasts salt
2 packages dried corn husks (Ojas de Lote)


First, boil 4-5 chicken breasts in water, and save the leftover broth. Shred chicken, and set aside. Place the dried corn husks in water to soak, then set aside.

Salsa:

Melt 1 spoonful of Manteca (lard) in a frying pan. When the pan is hot, add dried California peppers, then add tomatoes, onions and garlic. Add a little of the chicken broth, enough to moisten the dried peppers. Simmer for 1-3 minutes, stirring occasionally. The peppers don't need to be completely softened, just moistened a bit. Pour the mixture into a blender and blend to the desired salsa consistency.

Pour into a bowl, then add salt to taste.

Tamales:

Pour 3-4 cups of Maseca into a bowl, add about 1 tablespoon salt, then pour in enough chicken broth to moisten it to a doughy consistency. Then dig in with your hands and start mixing it up! Margarita says it doesn't turn out as well if you use a spoon.

After about 1 minute of mixing, add 2 cups of melted Manteca (lard), and mix for another 4 minutes or so to a doughy consistency.

Next, spoon some of the mixture into the softened corn husks (they were soaked in water ahead of time), and coat the inside of the husk with a thin layer of mixture. Add shredded chicken and salsa, then wrap and steam for about 20 minutes.




**Let Cook'n do the math for you. Just enter the number of people you'd like your recipe to serve and then print out the multiplied recipe and shopping list!

Help on downloading recipes
---
OTHER GREAT RECIPES AND ARTICLES
• Huevos al Albaņil (Eggs in Green Salsa)
• Ensalada de Frijoles (Bean Salad)
• Carnitas Tamales (Shredded Pork Stuffed Corn Husks)
• Green Chile Stew
• Taquitos and Guacamole
• Natillas (Meringue islands floating atop custard)
• Cinco de Mayo family fun
• HomeCook'n Cover Page


---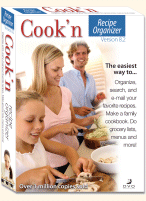 for Windows 9x/2000/ME/NT/XP/Vista

Not sure what to order?

Piles of recipe cards in your drawer?
Download Cook'n today and get organized!
Cook'n Cookbook Software Download - MSRP $99.95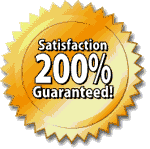 (Save 20%)
Download: $79.95

CD: $79.95



Buy the CD or download the full version of Cook'n right now! Includes over 300 of our best recipes.