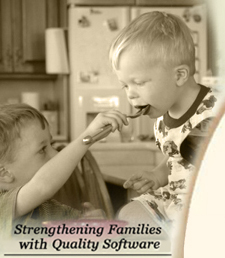 5-Star Rating:

(372)



I am here to say THANK YOU! Your software is great!!! I do feel like a part of the family. When I read the description of the software at your website, I thought it was too good to be true (the price, the ability of the software, etc.). I even called your company by telephone to ask if I understood the promotional information correctly. Upon receiving it and using it, I have discovered that every bit of it is true! (I LOVE the nutritional calculation feature!) Thanks so much for your product and for keeping it affordable, too!

I will look forward to each newsletter!


Debi Self


Contact Info
Check out our latest newsletter!
See our newsletter archive
Cook'n Is Several Products in One!
Recepies from Betty Crocker's Best Loved Recepies Cookbook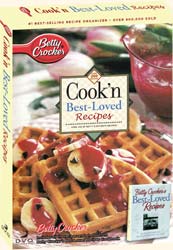 for Windows 95/98/2000/ME/XP/NT/Vista/Vista
---
---
Breakfast Corner: Egg Dishes

Baked Vegetable Omelet
Ham and Egg Brunch Bake
Ham and Cheddar Strata
Potatoes and Eggs Sunny-Side Up
Brunch Oven Omelet with Canadian Bacon
Cheese and Egg Pie with Bacon
Spring Vegetable Frittata
Tomato-Basil Omelet
Country Egg Scramble
** BREAKFAST CORNER **

Breakfast Corner: Pancakes, Waffles, & French Toast

Ultimate Pancakes
Buckwheat Pancakes
Best Buttermilk Pancakes
Oatmeal Pancakes with Strawberry Sauce
Cocoa Pancakes with Strawberries
Banana Pecan Pancakes
Cinnamon French Toast
Surprise French Toast
Mom's Best Waffles
Nut Waffles
Rise and Shine Waffles
Banana and Chocolate Chip Waffles
Maple-Pecan Waffles

Breakfast Corner: Muffins & Sweet Cakes

Brown Sugar Muffins
Apple-Buckwheat Muffins
Praline Peach Muffins
Blueberry Streusel Muffins
Mountain Bran Muffins
Strawberry Muffins
Blueberry Buckle Coffee Cake
Sweet Corn Bread Muffins
Lemon and Poppy Seed Scones
Orange-Currant Scones
Citrus-Banana Compote
French Breakfast Puffs
Cinnamon Biscuit Fans
Almond Puffs
Danish Puff
Sweet Breakfast Rolls
Caramel-Pecan Sticky Rolls
Chocolate Caramel Rolls
Overnight Cinnamon Rolls
Sour Cream Coffee Cake

Lunch Favorites: Sandwiches

Broiled Burgers with Mushrooms and Onions
Grilled Coney Island Burgers
Grilled Teriyaki Burgers
Hamburgers Parmigiana
Beef and Veggie Pitas
Rachel Sandwiches
No-Bake Pesto Chicken Pizza
Deli Turkey Stack
Mexican Layered Sandwiches
Egg Salad Stacks
Summertime Shrimp Rounds
Mozzarella and Tomato Melts
Roasted Vegetable Wraps with Garlic Mayonnaise
Grilled Three-Cheese Sandwiches
Pita Sandwiches
** LUNCH FAVORITES **

Lunch Favorites: Salads

Tarragon-Chicken Salad
Italian Chicken Salad
Turkey Taco Salad
Curried Turkey Salad
Pasta Salad with Salmon and Dill
Seafood-Rice Salad
Shrimp-Pasta Salad Toss
Snappy Seafood Salad
Pesto Macaroni Salad
Vegetable-Pasta Salad
Stuffed Tuna Shells

Lunch Favorites: Soups

Chunky Tomato Soup
Creamy Tomato-Beef Noodle Soup
Vegetable-Beef Soup
Chicken Noodle Soup
Chicken Tortellini Soup
Manhattan Clam Chowder
New England Clam Chowder
Tomato Vegetable Soup with Yogurt
Cheesy Cauliflower Soup
Golden Onion Soup
Cream of Broccoli Soup
Vegetable-Cheddar Cheese Soup
Milestrone with Pesto
Great-Tasting Gazpacho
Wild Rice Soup
Basil Rice Soup
Lentil Soup
Green Pea Soup

Sit Down to Dinner: Meat

Western Meat Loaf
Favorite Meat Loaf
Old-Fashioned Meat Loaf
Family-Favorite Tacos
Sloppy Joes with Potatoes and Onion
Chili
Savory Spaghetti
Meatball Porcupines
Barbecued Beef and Beans
Salisbury Steak
Corn Bread Beef Bake
Impossible Cheeseburger Pie
Beef Enchiladas
Beef Goulash
Fiesta Taco Casserole
Pepperoni Pizza-Hamburger Pie
Mexican Beef and Bean Casserole
Overnight Lasagna
New England Pot Roast
Fajitas
Beefy Baked Chili
Spicy Pepper Steak Stir-Fry
Classic Beef Stroganoff
Pasta with Beef, Broccoli and Tomatoes
Chicken-Fried Steak
Beef Brisket Barbecue
Tender Beef Stew with Dumplings
Beef Burgundy Stew
Country-Style Ribs
Baked Spareribs with Spicy Barbecue Sauce
Wine-Marinated Country-Style Ribs
Wild Rice and Almond-Stuffed Pork Chops
Stuffed Pork Chops
Grilled Honey-Mustard Pork Chops
Pork Chop and New Potato Skillet
Zesty Pork Tenderloin
Pecan-Breaded Pork Chops
Skillet Pork Stew
Ham and Scalloped Potatoes
Honey-Mustard Ham
Impossible Ham and Swiss Pie
Sausage Pie
Three-Bean Casserole
Italian Sausage Calzone
Brats over Creamy Potatoes
Glazed Lamb Chops
Greek Pizza
** SIT DOWN TO DINNER **

Sit Down to Dinner: Chicken & Turkey


Baked Chicken and Rice
Baked Barbecued Chicken
Cornmeal Chicken with Casera Sauce
Chicken Cacciatore
Country Captain
Chicken Pot Pie
Chicken in Cream
Chicken and Dumplings
Chicken in Red Wine Vinegar
Sweet-and-Sour Chicken
Stuffed Chicken Breasts
Fried Chicken
Pesto Raviolo with Chicken
Chicken Spaghetti Sauce
Chicken and Pepper Stir-Fry
Cheesy Chicken Tortellini
Savory Chicken and Rice
Grilled Lemon Chicken
Turkey Tetrazzini
Black and White Turkey Chili
Turkey Divan
Savory Southern Turkey Barbecue
Wild Rice and Turkey Casserole

Sit Down to Dinner: Fish & Seafood

Broiled Salmon with Hazelnut Butter
Southern-Fried Catfish
Grilled Tuna with Salsa
Impossible Tuna and Cheddar Pie
Tuna Noodles Romanoff
Linguine with Red Clam Sauce
Spaghetti with White Clam Sauce
Shrimp Pasta Primavera
Angel Hair Pasta with Shrimp
Marinated Ginger Shrimp
Shrimp Fajitas
Seafood à la Newburg
Scallop Stir-Fry
Shrimp Creole
Savory Seafood Gumbo

Sit Down to Dinner: Hearty Meatless Meals

Cheesy Lasagna
Macaroni and Cheese
Vegetable Lasagna
Manicotti
Penne with Roasted Tomatoes and Garlic
Creamy Fettuccine Alfredo
Pasta with Lemon and Basil
Black Bean Chili
Spinach Phyllo Pie
Bean and Cheese Pie
Classic Cheese Souffle
Whole Wheat Vegetable Calzone
Impossible Broccoli 'n Cheddar Pie
Thin-Crust Pizza
Chicago Deep-Dish Pizza

Super Sides, Smaller Bites & Bread: Sides & Smaller Bites

Golden Corn Pudding
Broccoli with Pine Nuts
Marinated Tomato Slices
Roasted Autumn Vegetables
Vegetables with Lemon Butter
Spinach Gourmet
Stuffed Zucchini
Garlic Smashed Potatoes
Crispy Potato Pancakes
Roasted Rosemary-Onion Potatoes
Creamy Scalloped Potatoes
Duchess Potatoes
Basil-Baked New Potatoes
Farm-Fried Potatoes
Bountiful Twice-Baked Potatoes
Marbled Potatoes and Carrots
Cranberry-Raspberry Salad
Classic Creamy Potato Salad
Cold Cucumber Salad
Country Potato Salad
Seven-Layer Salad
Mandarin Salad
Antipasto Salad
Old-Fashioned Coleslaw
Heartland Three-Bean Salad
Sweet-Sour Coleslaw
Classic Crunchy Coleslaw
Spinach Dip
Hummus
Corn and Pepper Cakes
Hoppin' Johns
Cheesy Grits
Hush Puppies
Spanish Rice
Cranberry-Wild Rice Bake
Oven Hash Browns
Sausage-Cheese Balls
Chicken Pot Stickers
Stuffed Mushrooms
Deviled Eggs
** SUPER SIDES, SMALLER BITES, AND BREAD **

Super Sides, Smaller Bites & Bread: Favorite Homeade Breads

Herb Foccacia
Honey-Whole Wheat Bread
Traditional White Bread
Brown Bread
Raisin-Oatmeal Bread
Almond Honey-Whole Wheat Bread 1.5-pound
Pull-Apart Bread
Sunflower Seven-Grain Bread
Banana Bread
Traditional Corn Bread
Easy Garlic-Cheese Biscuits
Buttermilk Biscuits
Beaten Biscuits
Popovers
Baking Powder Biscuits
Pepper-Cheese Twists
Almond Honey-Whole Wheat Bread 1-pound

Best-Loved Desserts: Cakes & Desserts

Applesauce Cake with Maple-Nut Buttercream Frosting
Williamsburg Orange Cake
Mahogany Chiffon Cake
Strawberry Shortcakes
Best Chocolate Cake with Fudge Frosting
Angel Food Cake with Chocolate Glaze
Velvet Crumb Cake
Bonnie Butter Cake
Pumpkin Cheesecake
Oatmeal Spice Cake with Browned Butter Frosting
Silver White Cake
Hot Fudge Sundae Cake
Bread Pudding with Whiskey Sauce
Cheesecake with Cherry Glaze
Fresh Peach Cobbler
Peach-Custard Kuchen
Rice Pudding
Chocolate Hazelnut Torte
Cranberry-Orange Pound Cake
** BEST-LOVED DESSERTS **
Applesauce Cake with Cream Cheese Frosting

Best-Loved Desserts: Pies, Cookies & Treats

Sour Cream-Raisin Pie
Lemon Meringue Pie
Cherry-Berries on a Cloud
Apple Pie
Impossible Coconut Pie
Strawberry Glace Pie
Chocolate Brownies
Cashew Brownie Bars

Pumkin Pie
Chocolate Chip Cookies
Brown Sugar Drops
Snickerdoodles
Russian Tea Cakes
Lemon Squares
Oatmeal-Raisin Cookies
Deluxe Sugar Cookies
Caramel Corn
Strawberry Ice Cream
Strawberry-Rhubarb Pie
Raisin Crisscross Cookies

BETTY CROCKER: YOUR BEST FRIEND IN THE KITCHEN

* Betty Crocker Your Best Friend in the Kitchen
__ It's In The Bag
__ The First Cookbook
__ Radio Betty
__ Kitchen Tested
__ How Did Betty Get Her Name?
__ First Lady of Food
__ Dear Betty...
__ Betty Crocker Kitchens Resource Center
__ Betty on the World Wide Web
__ Betty's TV Show
__ Home Recipe Test Panel
__ Betty's Kitchen is Just Like Yours!
__ It's Dinnertime--Do You Know Where Your Fondue Pot Is?
__ Search for the Homemaker of Tomorrow
__ Consumer Services Department
__ The First Betty Crocker Cookbook
__ The Spice of Life
__ Betty, Will You Marry Me?
__ Wondra®
__ Betty Crocker's Basic Cookbook
__ Betty's Signature
__ Letters, Letters, Letters
__ The Betty Crocker Kitchens
__ Impossible Pies
__ Bisquick Baking Mix
__ Electric Appliances
__ The Red Spoon
__ With a Sift, Sift Here...
__ Betty Crocker Kitchen Tours? Follow the Red Spoons...
__ Betty Helps Out
__ Betty's Gadgets
__ How Do You Measure Up?
__ Say Cheese!
__ Bountiful Bread
__ High-Rising Flour
__ The "Gold Medal" Flour
__ What Puts the POP in Popovers?
__ Cake Making Made Easy
__ Cake Mix
__ Cake Discovery of the Century
__ Hot Fudge Sundae Cake
__ Expanding Betty's Sphere of Influence
__ Gold Medal Flour Cookbooks
__ Other Betty Crocker Cookbooks
__ Power Grocery Shopping
__ Remodeling the Kitchens
__ The Cookie Jar

GREAT WOMEN, GREAT FOOD

* Great Women, Great Food: Winners A-F
* Great Women, Great Food: Winners G-L
* Great Women, Great Food: Winners M-R
* Great Women, Great Food: Winners S-Z
_Jones, Barbara (B.J.)
_Deutsch, Becky
_Comerford, Betty
_Crocker, Betty
_Kettel, Camille
_Cockrell, Carmelina
_Moses, Carrie
_Licón, Connie
_Putnam, Cora
_Wilson, Correna
_Wright, Cottie
_Nemitz, Dawn
_Hedrick-Pope, Debbie
_Manning, Delores (Sis)
_Vacarro, Delores
_Gordon, Diann
_Edwards, Dorothy Jane (D.J.)
_Murphy, Eddie
_Birks, Elaine
_Drake, Emily
_Lawson, Evelyn
_Baldwin, Fran
_Solum, Gloria
_Devlin, Heidi
_Megel, Jeanne
_Shannon, Jill
_Muthig, Joyce
_Kurtz, Kathie
_Simerly, Kathy
_Pardue, Kristi
_Peterson, Laurie
_Washington, Lillian
_Smith, Linda
_Brannen, Lisa
_Ivory, Loretta
_Zietlow, Marcille (Marci) Faye
_Zach, Margaret (Marge)
_Segura, Margot M.
_Gilbert, Marie
_Guay, Marielle
_Dawdy, Marilyn
_Rechsteiner, Marion Kallfelz
_Baer, Mary
_Brammer, Mary Jane (Dottie)
_Weiner, Mary Lou
_Rowell, Mary
_Busch, Nancy
_Rasmussen, Peggy
_Douglas, Penny
_McBrien, Rose
_Young, Roxyanne
_Chow, Sally
_DeCerce Samantha
_Work, Sandi
_Collins-Burnham, Sandra
_White, Sharon
_Kyburz, Sheilah
_Schwarz, Sofia
_Stauffer, Sue
_Molzan, Susan
_Senes, Susan
_Lewis, Susana
_Hui, Susanna
_Hatch, Teri
_Zimmerman, Thea Palmer
_Haugen, Tiffany
_Kennedy, Waiyee
_Leviner, Julie
_Loftus, Katherine
_Logan, Ann
_McKell, Marie
_O'Neill, Christine Fortré
_Vincent, Jo Ann
_Weitzman, Carol
_Winter-Hartley, Cindy

NUTRITION AND COOKING INFORMATION

* Nutrition Guidelines
* Criteria Used for Calculating Nutrition Information
* Ingredients Used in Recipe Testing and Nutrition Calculations
* Equipment Used in Recipe Testing
* Cooking Terms Glossary

METRIC CONVERSION GUIDE

* Volume
* Measurements
* Weight
* Temperatures

Cook'n Best-Loved Recepies
$19.95
$14.95

(NOTE:

Cook'n

must be installed to use this Recipe Download)
Not sure what to order? Click Here
Click
here
to learn more about the features of the Cook'n engine.
Click
here
to find out what people are saying about Cook'n.