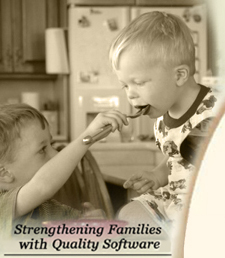 Get the nutritional facts and Analyze the nutritional elements of recipes and menus (even the ones you add!)
Choose between brands to satisfy dietary needs
Cook'n will give you the nutritional facts for any recipe or menu (even the ones you add!). You don't have to be a nutritionist to understand it either -- that's because Cook'n nutrition facts window looks just like the label on a can.

Cook'n has nutrition facts from the labels of 10,000 food products. You can choose between different brands to see what the nutritional effect is. Stop the guesswork among different brands and know which one is most appropriate for your needs.

Now you can plan menus based on dietary needs and tastes. Prepare one delicious meal for the entire family.

for Windows 9x/2000/ME/NT/XP

Not sure what to order?


Piles of recipe cards in your drawer?
Download Cook'n today and get organized!
Cook'n Recipe Program Download - MSRP $99.95

Download: $79.95
CD: $79.95

Buy the CD or download the full version of Cook'n right now! Includes over 300 of our best recipes.
---
---