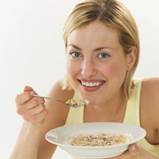 Many people with insulin resistance decide to skip breakfast in order to save on calories, but doing this may actually promote fat storing. After not eating all night, the body is in a fasting metabolic state. In this state, the body will conserve and store more fat. By eating first thing in the morning or very soon after rising, this fasting state is broken and the body is allowed to start burning fat more efficiently.
If you aren't used to eating breakfast, here are some ideas to rev up your morning metabolism engine. Create a perfect breakfast by choosing one item from each column or two items from each column. And remember — small portions go a LONG way!
Mix and Match Breakfasts Perfect for the Insulin Resistant:
High-Protein Foods                                       High-Carbohydrate Foods
2 Tbsp dry-roasted soy nuts                            ˝ English muffin
1 hard-cooked egg                                          1 slice bread or toast
1 soft-cooked egg                                           2 slices light bread or toast
1 egg fried in nonstick oil                               1 slice French toast
1 poached egg                                                 1 4-inch waffle
1 scrambled egg or egg white                         1 4-inch pancake
1 egg-white or egg-white omelet                    ˝ C fruit other than berries or melon (no sugar)
1 C light yogurt                                               1 C berries
1 oz string cheese                                            1 C melon
1 oz reduced-fat cheese                                  ˝ grapefruit
1 oz fat-free cheese                                         ˝ banana
1 C nonfat or 1% milk                                                ˝ C no-sugar-added fruit juice
1/3 C nonfat dried milk                                  Cold cereal (amount: 15 grams carbohydrates)
2 Tbsp peanut butter                                       ˝ C cooked cereal
3 Tbsp nonfat cream cheese                            1/3 bagel
1 oz low-fat sausage or ham                           ˝ C hash brown potatoes
1 oz low-fat Canadian bacon                          1 pkg instant no-sugar-added oatmeal
---
Contribute to the Cook'n Club!
DVO would love to publish your article, prose, photography and art as well as your cooking, kitchen and nutrition tips, tricks and secrets. Visit the Newsletter Submission / Win Win for All section in our Forum for more information and details.
---
---