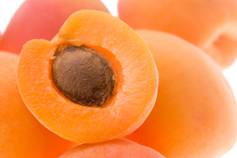 Apricots are such a neat fruit. Their flavor is so unusual, their texture so pleasing, their appearance so attractive (can you believe their color?), and their health value so incredible! This little gem is LOADED with vitamins, minerals, and antioxidants. Yup, God knew what he was doin' when he made the apricot!

I've always thought certain fruits were nature's reward for our heroically enduring winter—apricots being one. And since the season is upon us, I went onto the Internet looking for the best- of-the-best apricot recipes. The Apricot Producers of California site came up first, and over and over again—no surprises there. That state knows how to grow produce and some of the best cooks and cookbooks come from this state as well (OK, I'm throwing my opinion around).
So here are two recipes that have turned out to be family favorites. Try them and let us know what you think. And in the meantime, enjoy this wonderful spring with all the delightful fruits it affords us.
Apricot-Oatmeal Breakfast Bake
Sweet and nutritious with Vitamin A-rich apricots and heart-healthy oats, this California Apricot-Oatmeal Breakfast Cake is a tempting snack for kids and adults.
Prep and cook time: About 1 hour
Makes: one 9-x-13-inch cake, serves 15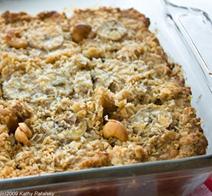 2 cups all-purpose flour
1/2 cup oats, quick or old-fashioned, uncooked
1 teaspoon baking powder
1 teaspoon baking soda
1 teaspoon cinnamon
1/4 teaspoon salt
8 ounces (2 sticks) unsalted butter, softened
1 cup sugar
1/2 cup brown sugar
2 large eggs
1 cup buttermilk
2 (15.25 ounce) cans California apricots, drained well, chopped (approximately 2 cups)
Confectioners' sugar, for sprinkling
Preheat oven to 350°F. Butter a 9-x-13-inch cake pan or coat pan with cooking spray; set aside.
In a medium-sized bowl, mix together the flour, oatmeal, baking powder, baking soda, cinnamon and salt; set aside.
In a large bowl, beat the butter with an electric mixer at medium speed until creamy. Slowly add the white sugar and brown sugar; beat until light and fluffy. Add eggs, one at a time; beat until smooth. Add dry ingredients alternately with the buttermilk, beginning and ending with the dry ingredients. Stir in apricots; do not over-mix. Pour the cake batter into prepared pan.
Bake the cake about 35-45 minutes, until done and golden brown on top. When cool, sprinkle the top of the cake with confectioners' sugar.
Nutrition Facts (per 3.98 oz. serving): Calories 296.45, Calories from Fat 117.75, Fat 13.08 g, Protein 3.72 g, Carbohydrates 41.55 g, Cholesterol 61.60 mg, Dietary Fiber 1.28 g, Calcium 52.05 mg, Iron 1.34 mg, Sodium 181.80 mg

Download this recipe.
California Apricot Pockets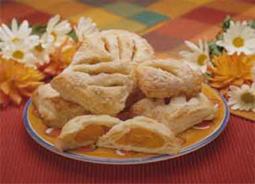 1 package frozen puff pastry sheets (2)
2 jars (26 oz.) California apricot halves, drained
1/2 cup sugar
Preheat oven to 375°F.
Servings: About 16 (can be served warm or cold)
Thaw puff pastry for 30 minutes or according to directions on box. Drain apricots and slice each half into thirds; set aside. When pastry is thawed, put each sheet on a lightly floured surface and roll out to extend each side by approximately 1/2 inch. Cut each sheet into eight rectangles to make 16 total. Fill bottom portion of each rectangle with 4-5 pieces of fruit; moisten sides with a bit of water and pinch closed to form a square. Place pocket on a baking sheet and sprinkle generously with sugar. Cut 3 slits in the top of each for the steam to escape while baking.
Bake at 375°F for 25 minutes or until the pockets are golden brown.
---
Contribute to the Cook'n Club!
DVO would love to publish your article, prose, photography and art as well as your cooking, kitchen and nutrition tips, tricks and secrets. Visit the Newsletter Submission / Win Win for All section in our Forum for more information and details.
---
---