I was visiting a friend in the hospital the other day and spent a few minutes browsing the gift shop. I found a darling little cookbook,
Recipes from the Heart
, that had been created and compiled by the hospital's Medical-Surgery Health Care Team as a fund raiser for a new hospital wing. Cool idea, huh?
So I bought it and started reading right away. Since I have quite a bit of chicken in my freezer, I thought I'd look especially for some good chicken recipes. I found a couple that I'll share here. Now you'll notice in places the instructions are a little vague (some can sizes are missing, for instance), but don't let that deter you—we're experienced enough cooks to figure it out. Finally, don't you just love the idea that you'll be eating something that is not just yummy, but healthy too?
Chicken Puffs
Serves 8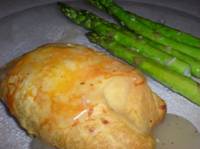 2-3 boneless, skinless chicken breasts, cooked
2 pkg crescent rolls
1 pkg (8 oz) cream cheese
1 Tbsp chives
½ med. Onion, sautéed
1 small can mushrooms (or ½ C fresh, sliced)
1 can (10 ¾ oz) cream of mushroom soup
1 C cream of chicken soup, undiluted
1 can milk
Bread crumbs, optional
Chopped nuts, optional
¼ C butter, melted
½ C sliced olives, optional
Preheat oven to 350 degrees. Blend soups and milk and heat. Keep warm. Shred cooked chicken. Mix with cream cheese, chives, mushrooms, onion, and olives. Wrap heaping spoonfuls of mixture in a rectangle of the crescent dough (do not tear on triangle perforations). Roll in melted butter, then bread crumbs and nuts. Bake for20 min. or until golden. Serve with warm soup mixture poured over them.

Download this recipe.
Fall Apart Chicken
Serves 4-6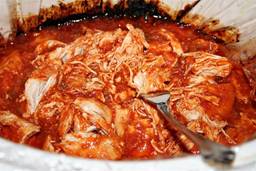 4 boneless, skinless chicken breasts, frozen
2 cans (10 ¾ oz) cream of chicken soup
1 pkg (8 oz) cream cheese, softened (light doesn't hurt this one bit)
1 pkt Italian dressing mix (Good Seasons is a great one)
Place frozen chicken in crock pot. Combine soup, cream cheese and dressing mix; mix until well blended. Pour over chicken. Cook on low all day or high for 4 hours. Serve over rice, mashed potatoes, or pasta. Delicious!

Download this recipe.
---
(If YOU have a smart idea, won't you share it? Life is so much easier and we accomplish so much more when we pool our resources. And after all, we're all in this together. So email
patty@dvo.com
or
alice@dvo.com
with YOUR The Glorious Asparagus Spear!)
---
Contribute to the Cook'n Club!
DVO would love to publish your article, prose, photography and art as well as your cooking, kitchen and nutrition tips, tricks and secrets. Visit the Newsletter Submission / Win Win for All section in our Forum for more information and details.
---