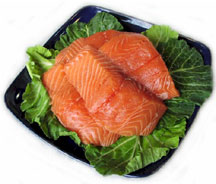 We've been researching salmon in terms of insulin resistance, diabetes, etc., and found this information and excellent recipe on one of our favorite sites, Care2, and thought it worth sharing:
"Nutrition science keeps offering more reasons for eating fish rich in omega-3 fatty acids, particularly salmon. So far, studies indicate these anti-inflammatory, antioxidant substances are good for the heart, may inhibit cancer and appear to benefit blood pressure, the brain, rheumatoid arthritis and other health problems.
"On a practical level, the debate about eating farmed versus wild salmon continues. It centers around questions of the benefits, safety and cost of one versus the other. Safety issues relate to excessive levels of PCB, which is sometimes found in the meal-fed, farmed salmon and occasionally in ocean waters.
"The amount of omega-3s found in salmon depends on what they eat. For farmed fish, omega-3s must be added to the meal, while these substances occur naturally in what wild salmon eat. Some food sources available only to wild salmon, such as deep-sea algae, provide powerful phytochemicals that help protect against many health problems, including cancer. (They also give salmon their distinctive color.)
"For many consumers, price is a key factor in how much as well as what kind of salmon is purchased. Canned salmon is a great choice because most of it is wild fish and costs perhaps one-tenth of what fresh wild salmon does. It is even a good buy compared to fresh farmed fish. All canned salmon from Alaska is wild fish, and most brands specify origin on the label, so you can be sure.
"Today, the big question is whether to use canned salmon with bones or without. Boneless canned salmon, which is being widely introduced now, is neater but lacks the calcium bones provide. It's usually more expensive, and may also be farmed Atlantic, not Alaskan, fish."
For the moist salmon cakes below, we suggest using mild-tasting pink salmon with bones. You can discard the hard backbones and mash up the rest. Mayonnaise, but not too much, is the secret for keeping these tender patties moist. Tangy mustard-dill sauce compliments their flavor nicely.
Salmon Cakes
Serves 4
1/4 cup dried whole-wheat bread crumbs
2 large eggs
3 Tbsp. reduced-fat mayonnaise, divided
1 Tbsp. fresh lemon juice
1 tsp. paprika
Cayenne pepper (optional)
1/3 cup chopped leaves of flat-leaf parsley
1/4 cup chopped scallions, white and green
1 can (15 oz.) wild salmon with skin, hard backbones and cartilage removed
2 Tbsp. plain low-fat yogurt
1 Tbsp. Dijon-style mustard
2 Tbsp. chopped fresh dill
Salt and freshly ground black pepper
1. In a mixing bowl, combine the breadcrumbs, eggs, 1 tablespoon of the mayonnaise, lemon juice, paprika, and dash of cayenne pepper (if using) until well blended. Mix in the parsley and scallions.
2. Add the fish to the breadcrumb mixture, using a fork to break it up well. With your hands, mix the ingredients together until well combined, about 1 minute, being careful not to overwork the mixture so that it becomes too compacted and dense. Form the salmon mixture into 4 patties, pressing firmly.
3. Coat a skillet with cooking spray and set it over medium-high heat. Cook the salmon cakes until browned on the bottom, 5 minutes. Turn and brown on the other side, 4 minutes, reducing the heat if necessary.
4. Meanwhile, for the mustard sauce, in small bowl, combine the remaining mayonnaise, yogurt, mustard, and dill until well combined. Season to taste with salt and pepper.
5. Serve hot salmon cakes accompanied by a dollop of the mustard sauce.
Nutrition Per Serving:
249 calories, 12 g. total fat (3 g. saturated fat), 8 g. carbohydrate, 26 g. protein, 1 g. dietary fiber, 740 mg. sodium.
---
Contribute to the Cook'n Club!
DVO would love to publish your article, prose, photography and art as well as your cooking, kitchen and nutrition tips, tricks and secrets. Visit the Newsletter Submission / Win Win for All section in our Forum for more information and details.
---
---