Sometimes simple salads (say that fast 10 times), are just what the day calls for.
These cool, easy fix recipes are some of our favorites after a long day at work. Let us know what you think.
Asian Chicken Salad
4-6 servings
Giada De Laurentiis

Salad:
1 large carrot, peeled
3 cups shredded napa cabbage, from 1 small cabbage
3 cups shredded romaine lettuce, from 1 small lettuce
1 small red bell pepper, seeded and deveined, thinly sliced
2 tablespoons fresh Thai basil leaves or fresh mint leaves, chopped** see Cook's Note
2 cups thinly sliced store-bought rotisserie chicken (about 2 small chicken breasts)
1/2 cup slivered almonds, toasted** see Cook's note
1 tablespoon toasted white or black sesame seeds*
Dressing:
1/4 cup peanut or vegetable oil
2 tablespoons low-sodium soy sauce
2 tablespoons rice vinegar*
1/2 teaspoon granulated sugar
Kosher salt and freshly ground black pepper, optional
1/2 cup chow mein noodles, for garnish
For the salad:
Using a vegetable peeler, shave the carrot and add to a large salad bowl. Stir in the cabbage, lettuce, pepper, Thai basil, chicken, almonds, and sesame seeds.
For the dressing:
In a small bowl, whisk together the oil, soy sauce, vinegar, and sugar until smooth. Season with salt and pepper, to taste, if using.
Pour the dressing over the salad and toss well. Garnish with the chow mein noodles and serve.
*Cook's Note: can be found in specialty Asian markets
**Cook's Note: To toast the slivered almonds, arrange them in a single layer on a baking sheet. Bake in a preheated 350 degrees F oven for 8 to 10 minutes until lightly golden. Cool completely before using.

Download this recipe.
Chicken Chopped Mediterranean Salad with Feta Vinaigrette
Sandra Lee
Serves 4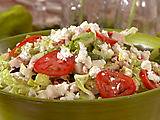 2 precooked chicken breasts, diced
1 (10-ounce) bag romaine hearts
1 English cucumber, sliced
1 cup chopped kalamata olives
1/2 medium red onion, diced
1/2 cup red wine vinaigrette
1 teaspoon Greek seasoning (recommended: Spice Islands)
1/2 cup crumbled feta cheese, plus extra for garnish
3 Roma tomatoes, sliced, for garnish
In a bowl large enough for tossing salad, add diced chicken breast.
Chop the romaine and add to salad bowl. Toss in the cucumber, olives and red onion and set aside.
In a sealable jar or container with a lid, combine red wine vinaigrette, Greek seasoning and crumbled feta cheese. Seal lid and shake vigorously.
Pour dressing over salad and toss to combine. Divide among chilled salad plates and garnish with extra crumbled feta cheese and sliced tomatoes.

Download this recipe.
Kicked Up BLT Chicken Salad With Blue Cheese
Emeril Lagasse
Serves 6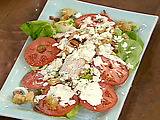 3 cups French bread cubes
7 tablespoons olive oil, divided
4 large cloves garlic, minced, divided
Essence, recipe follows
3 skinless, boneless chicken breasts, about 6 ounces each
3/4 pound diced bacon
1 1/2 cups mayonnaise
10 tablespoons buttermilk
1 1/2 tablespoons fresh lemon juice
2 tablespoons freshly chopped chives
3 teaspoons coarsely ground black pepper
1/2 teaspoon salt
1/8 teaspoon cayenne pepper
2 heads Bibb lettuce, washed, cored, patted dry, and thinly sliced
3/4 pound blue cheese, crumbled (recommended: Maytag)
2 ripe avocados, peeled, pitted, and diced
2 large beefsteak tomatoes, peeled, seeded and chopped
3 large hard-boiled eggs, peeled and thinly sliced
Preheat the oven to 350 degrees F.
In a mixing bowl, combine the bread cubes, 6 tablespoons of the olive oil, 1/3 of the garlic, and season lightly with Essence. Place the bread cubes on a baking sheet in an even layer and bake until golden brown and crisp, 12 to 15 minutes. Remove from the oven and set aside to cool.
Preheat the grill. Drizzle the chicken breasts with the remaining tablespoon of olive oil, then season on both sides with Essence.
Grill the chicken until the juices run clear, about 4 minutes per side. Remove from the grill, cool and dice.
Cook the bacon in a large skillet over medium heat until just crispy, 6 to 8 minutes. Remove from the skillet and drain on paper towels.
In a non-reactive mixing bowl, combine the remaining garlic, mayonnaise, buttermilk, lemon juice, chives, pepper, salt, and cayenne.
Whisk to combine and refrigerate until ready to serve the salads. (Dressing may be made up to 2 days in advance and refrigerated in a non-reactive container until ready to serve the salads.)
To serve, divide the lettuce evenly among 6 entree plates. Divide the diced chicken evenly among the centers of the 6 plates, then place mounds of the croutons, bacon, blue cheese, avocados, diced tomatoes, and hard-boiled eggs around the chicken in a wheel-spoke fashion. Divide the dressing among the centers of the plates, or serve in small cruets for guests to drizzle over their salads, as desired. Serve immediately.

Download this recipe.
---
Contribute to the Cook'n Club!
DVO would love to publish your article, prose, photography and art as well as your cooking, kitchen and nutrition tips, tricks and secrets. Visit the Newsletter Submission / Win Win for All section in our Forum for more information and details.
---