Is there any better season than peach season? We await it impatiently and then simply can't get enough when it finally arrives. And we're not alone. We've been inundated with requests for more peach recipes the last few weeks, so we are excited to oblige! Read on for a tip on how to ripen green peaches (nectarines and plums as well), and for some great recipes using this heavenly fruit.
TIP:
Green peaches can't ripen fast enough. Here's a trick to help nature along: In a brown paper grocery bag, place a layer of peaches (maybe five or six) with an apple. Close the bag and set aside for a couple days. The apple emits a gas that is a natural fruit ripener (which is why you NEVER want to place apples in the same fruit bowl as bananas, unless you want a bunch ripened all at once and very quickly). Be sure to check the peaches each day—it's heart-breaking to find a rotten peach!
Tropical Peach Cobbler
Serves 8
(Courtesy, Bisquick!)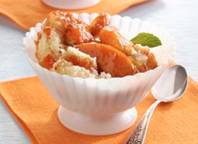 1 bag (1 lb) frozen sliced peaches, thawed, drained
1/2 cup sugar
1 tablespoon cornstarch
1 teaspoon ground cinnamon
1 3/4 cups Original Bisquick® mix
1/2 cup milk
3 tablespoons butter or margarine, melted
2 tablespoons sugar
1/2 cup dried tropical fruit mix
Heat oven to 375°F. Spray bottom and side of 9-inch deep-dish pie plate or 8-inch square (2-quart) glass baking dish with cooking spray.
In medium bowl, mix peaches, 1/2 cup sugar, the cornstarch and cinnamon. Spoon into pie plate.
In same bowl, stir remaining ingredients until dough forms. Drop dough by 8 spoonfuls onto peach mixture.
Bake 35 to 40 minutes or until fruit is bubbly and topping is deep golden brown and thoroughly baked. Spoon into individual serving dishes, peach side up. Serve warm.
High Altitude (3500-6500 ft): Bake 40 to 45 minutes.
Serve with whipped cream and a sprinkle of toasted coconut.
Substitution
Dried cherries or cranberries can be substituted for the tropical fruit.
Nutrition Information:
1 Serving: Calories 300 (Calories from Fat 80); Total Fat 8g (Saturated Fat 4g, Trans Fat 1g); Cholesterol 15mg; Sodium 410mg; Total Carbohydrate 52g (Dietary Fiber 2g, Sugars 35g); Protein 3g Percent Daily Value*: Vitamin A 8%; Vitamin C 45%; Calcium 8%; Iron 8% Exchanges: 1 Starch; 1/2 Fruit; 2 Other Carbohydrate; 0 Vegetable; 1 1/2 Fat Carbohydrate Choices: 3 1/2 *Percent Daily Values are based on a 2,000 calorie diet.

Download this recipe.
"Legal" Peach Soda Pop

2 peaches
1 liter bottle ice-cold mineral water (Calistoga is a good brand—no sodium)
Wash and pit peaches. Whiz peaches in blender (skins too) until nice and creamy. Pour into 2 glasses and add mineral water. Lightly stir. YUMMY!

Download this recipe.
Fresh Peach Coffee Cake
Works great with blueberries also

1-1/2 cups unbleached sifted flour
1 cup sugar
2 tsp. baking powder
1/4 tsp. baking soda
1/4 tsp. salt
2 eggs
1 cup sour cream
1/2 tsp. vanilla
1/4 cup fresh fruit
Topping:
5 tbsp. sugar
2 tbsp. butter (softened - NOT MELTED)
1 tsp. cinnamon
Heat oven to 350. Sift flour with sugar, baking powder, soda and salt. In separate bowl, beat together eggs, sour cream and vanilla. Add to flour mixture and beat until smooth. Spread in oiled 9x9" baking pan. Dot with fresh fruit. Mix topping ingredients together until mixture resembles cornmeal. Sprinkle over batter. Bake for (20-25 min)*. Coffee cake is done when toothpick inserted in center comes out clean. Watch carefully so you don't overbake.

Download this recipe.
Glazed Peach & Almond Coffee Cake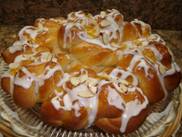 4 oz cream cheese (softened)
1 C ripened, sliced fresh peaches
½ C peach preserves
1 (16 oz) packaged pound cake mix, divided
1 (8 oz) container sour cream
½ C buttermilk
2 lg eggs
1 tsp pure vanilla extract
½ C sliced almonds
Preheat oven to 350°. Spray 13x9 inch pan with nonstick spray; set aside. Mash well the sliced peaches and add peach preserves. Beat cream cheese, peach mixture, and 1 Tbsp cake mix until just blended. Set aside. Beat sour cream, buttermilk, eggs, vanilla, and remaining cake mix with electric mixer at low speed for 30 seconds. Increase speed to medium and beat for about 3 more minutes. Pour the sour cream batter into prepared pan. Drop cream cheese mixture by teaspoonfuls over batter. Swirl batter gently with knife. Sprinkle almonds evenly over top. Bake for 25-28 min. or until golden. Cool on wire rack for 20 min. Drizzle glaze* over slightly warm cake.
Glaze:
1 C powdered sugar
½ tsp vanilla extract
1 to 2 Tbsp milk
Mix all together until smooth (add more milk if necessary). Pour over cake top.

Download this recipe.
"Out-Of-This-World Good" Fresh Peach Smoothie
Serves just me or maybe 2

2-3 C Mountain High vanilla yogurt
2-3 fresh peaches
Wash and pit peaches. Slice (with skins) into blender. Add yogurt. Blend well and drink. This is also delicious frozen and makes fantastic creamsicles for the grandkids (but why would you do that?).

Download this recipe.
---
(If YOU have a smart idea, won't you share it? Life is so much easier and we accomplish so much more when we pool our resources. And after all, we're all in this together. So email
patty@dvo.com
or
alice@dvo.com
with YOUR Smart Ideas!)
---
Contribute to the Cook'n Club!
DVO would love to publish your article, prose, photography and art as well as your cooking, kitchen and nutrition tips, tricks and secrets. Visit the Newsletter Submission / Win Win for All section in our Forum for more information and details.
---