Whether you're pressed for time, tired, or just not in the mood to cook, dinner can still go on, if there's extra rice in the fridge—it's just a really smart idea! Rice is affordable, healthy, freezes well, and the possibilities are endless. So here are a couple recipes that really shows off this versatile food:
Pineapple Fried Rice with Cashews (or Walnuts or Hazelnuts)
4 cups of leftover rice
3 Tbsp of oil (sesame, canola, olive, coconut, or another oil that can withstand high heat)
2 Tbsp of minced garlic
1 Tbsp of minced ginger
3 Tbsp tamari or soy sauce (or Bragg's Liquid Aminos)
1 C frozen, canned (and drained) or fresh pineapple tidbits
1 - 2 C chopped nuts
Veggies - frozen or fresh. Try:
2 carrots - diced into small pieces
1 cup frozen peas
Other great additions: scallions, celery, corn, broccoli, zucchini, mung bean sprouts etc.

Download this recipe.
Rice Pudding
(Some folks believe this is the way God intended for man to eat rice…)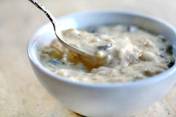 2 1/2 cups of whole milk or plain or vanilla yogurt
1/3 cup of uncooked long or short grain white rice
1/8 teaspoon salt
1 egg
1/4 cup dark brown sugar
1 teaspoon of pure vanilla extract
1/4 teaspoon of ground cinnamon
1/3 cup raisins
In a medium heavy bottomed saucepan, combine milk, rice and salt and bring to a boil over high heat. Reduce heat to low and simmer until the rice is tender, about 20 minutes. Stir frequently to prevent the rice from sticking to the bottom of the pan.
In a small mixing bowl, whisk together egg and brown sugar until well mixed. Add a half cup of the rice mixture - a tablespoon at a time - beating to incorporate.
Add egg mixture back into the saucepan of rice and milk and stir, on low heat, for 10 minutes or so, until thickened. Be careful not to have the mixture come to a boil at this point. Stir in the vanilla. Remove from heat and stir in the raisins and cinnamon.
Serve warm or cold. Serves 2-3.

Download this recipe.
---
Contribute to the Cook'n Club!
DVO would love to publish your article, prose, photography and art as well as your cooking, kitchen and nutrition tips, tricks and secrets. Visit the Newsletter Submission / Win Win for All section in our Forum for more information and details.
---
---