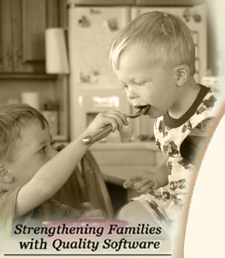 Volume I - February 13, 2009
Going Peanuts?
by Patty Liston
Going Peanuts?

Because we at DVO consider all of you part of our "family", we want to make sure that our family is safe when it comes to food recalls. Peanut products are in much of our food—not just the obvious peanut butter. Many companies have voluntarily recalled all of their products which contain peanuts. Below, thanks to Care2, are the companies that have thus far volunteered.
Abbott Nutrition

ALDI

Allegro Fine Foods, Inc.

Amway Global

Arbonne International LLC

Arico Natural Foods Company

Aspen Hills, Inc.

Atkins Nutritionals, Inc.

Aurora Products, Inc.

Austinuts Wholesale, Inc.

Bass Pro Shops

Bear Naked

Bear Stewart Corporation

Best Brands Corp.

Bindi North America

Blanton's Candies

Blue Ribbon Products Inc.

Boca Grande Foods Inc.

Braum's Ice Cream and Dairy Stores

Brent and Sam's

Broughton Foods

Caribou Coffee Company, Inc.

Casey's General Stores, Inc.

Chef Jay's Food Products

Cherrydale Manufacturing LLC

Clif Bar & Company

Country Life Natural Foods

Country Maid, Inc.

Creative Energy Foods, Inc.

Crown Pacific Fine Foods

CVS/pharmacy

Dinners Ready of Meridian, ID

Dough-To-Go, Inc.

Dutch Valley Food Development, Inc.

Earth Island

East Side Entrees

Eillien's Candies, Inc.

Evening Rise Bread Co.

Falcon Trading Company/SunRidge Farms

Fieldbrook Foods Corp.

Forward Foods LLC

The Galliker Dairy Co.

General Mills

General Nutrition Centers, Inc.

Genisoy Food Company

Georgia Peanut Commission

Giant Food LLC

GKI Foods Inc.

GloryBee Foods, Inc.

Grand Rapids Popcorn

The Hain Celestial Group, Inc.

Harry and David

H-E-B

Hershey Creamery Company

House of Flavors Ice Cream Company

HP Hood LLC

Hudsonville Creamery and Ice Cream Co.

Hy-Vee Inc.

Ice Cream Specialties

Isagenics International LLC

ISS Research, LLC

Jenny Craig, Inc.

Jimmy's Chocolate Chip Cookies, Inc.

Kashi

Kellogg Company

Kemps LLC

Kerry Ingredients & Flavours

The Kroger Company

Landies Candies

LesserEvil Brand Snack Co.

Lovin Oven, LLC

Madelaine Chocolate Novelties, Inc.

Marathon Ventures, Inc.

McKee Foods Corporation

Meijer

Mountain Man Nut & Fruit Company

Nash Finch

Nature's Path Organic Foods

The Nut Bar Company

NutriSystem Inc.

Nutrition Research Group/Advanced Nutrient Science

Ocean Spray

Orchard Valley Harvest

Palmer Candy Company

Parker Products, Inc.

Pecan Deluxe Candy Company

Perry's Ice Cream Company

Pierre's Ice Cream Company

Prairie Farms Dairy

Premier Nutrition, Inc.

PriceRite Supermarkets

Promedis

Publix Supermarkets

Purity Dairies

Rain Creek Baking Corporation

Ralcorp Frozen Bakery Products, Inc.

Ready Pac Foods, Inc.

Rucker's Candy

Sara Lee North American Foodservice

Save-A-Lot Food Stores

Schwan's Global Supply Chain, Inc.

ShopRite Supermarkets

Simbree Energy Foods

SOPAKCO, Inc.

The South Bend Chocolate Company

Standard Candy Company

Stewart's Shops

SUPERVALU INC.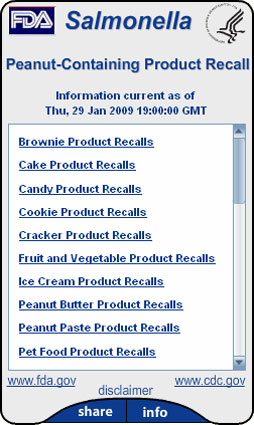 The Stop & Shop Supermarket Company

Supreme Protein, Inc.

Sweet Success Fundraising, Inc.

Thrift Products Co.

Trader Joe's

Tropical Nut and Fruit Company

Turkey Hill Dairy

Umpqua Dairy Products Co.

Uncle Eddies Vegan Cookies

Unilever United States, Inc.

U.S. Army

Velvet Ice Cream

Walgreens

Weaver Popcorn Company

Wegmans Food Markets, Inc.

Weis Markets

Wells Dairy, Inc.

Werner Gourmet Meat Snacks Inc.

Whole Foods Market

WinCo Foods

Wonder Ice Cream Company

Zachary Confections, Inc.

The FDA is also offering this widget (click the image) on their site so you can check for the most up-to-date information:








---
Contribute to the Cook'n Club!
DVO would love to publish your article, prose, photography and art as well as your cooking, kitchen and nutrition tips, tricks and secrets. Visit the Newsletter Submission / Win Win for All section in our Forum for more information and details.
---
---