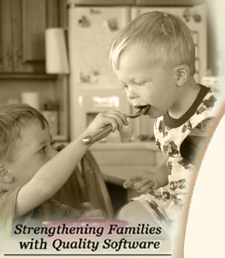 Volume I - January 16, 2009
Saving Money at the Grocery Store
by Patty Liston

We love DVO Cook'n! Along with wonderful recipes, and videos, this web-site enables us all to learn and share great ideas—such as how to save money while shopping. Below are some ideas that may help all of us as we try to be more frugal while still eating healthy.
We all know that shopping when we are hungry equals a shopping card full of non-essential foods. Planning the meals you expect to cook during the week, and making a list, will prevent the purchase of expensive "impulse" foods.


Check your pantry, refrigerator and cabinets to keep from buying too many duplicate items.


Take some time to check out your local supermarket specials and cut out useable coupons. Don't buy lima beans, no matter how cheap they may be, if your family doesn't like them!


Consider sharing the expense of bulk items with a friend. Alice and I are splitting the cost and contents (24 tubes) of a carton of toothpaste which will give each of us 12 tubes—a year's worth of toothpaste for ½ the price!


Remember also that most grocery stores have web-sites that will advertise their specials, and allow you to down-load coupons if you don't get the newspaper.


Compare the cost of convenience foods versus foods made from scratch. Pre-seasoned frozen vegetables, snack-sized packs and bakery sweets save a little time at home, but often cost much more than the ingredients they include.


Homemade soups, for instance, cost a fraction of the canned version and are usually healthier. If you have a little time to invest in the kitchen, you could save big at the supermarket.



Stick to in-season fruits and vegetables and you'll get better prices.


Remember that most supermarkets have a "day-old" cart for breads and bakery products.



If there are specials on meats, consider buying bulk, then dividing into usable portions and freezing, once you are home.


When you make dinner, double the recipe and freeze a portion for another night or use the extras for lunches during the week.


Remember to use the 5 Day Meal Plan listed in the DVO newsletter.



Even tough and fatty cuts of meat, which are cheaper, become tender in a slow cooker!


Vegetarian meals not only cut expenses but are quite tasty and healthy for you as well.








---
Contribute to the Cook'n Club!
DVO would love to publish your article, prose, photography and art as well as your cooking, kitchen and nutrition tips, tricks and secrets. Visit the Newsletter Submission / Win Win for All section in our Forum for more information and details.
---
---