Chicken Roll-Ups Made Even Simpler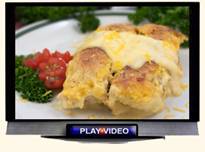 I watched the video of Dan and Kathy making
chicken roll-ups
in our latest monthly newsletter; they looked so good and easy that I decided to make them for our Sunday dinner this past week. And yes sir, they were DELICIOUS. Thank you Dan and Kathy.
But since I'm all about working smarter and not harder, I'm always scrutinizing how things are done to see if they can be done easier. And guess what? I came up with something that makes this simple recipe even simpler: Besides having your cheese already grated and your chicken already cooked and cubed (all stored in the freezer of course), don't flour the counter top when rolling out the biscuits.
Instead, cut two pieces of plastic wrap (maybe 7 or 8 inches big) and roll the biscuits between them. When you're done, just toss the plastic in the trash and you don't need to wipe up the counter. Maybe this only saves a few minutes and a little energy, by hey, it all adds up.
TIME-SAVING TIPS

If you're baking a whole chicken, shorten the baking time by asking your butcher to butterfly the chicken for you.

If wanting browned onions or other root vegetables, don't add any salt until after they are nicely browned and caramelized. Salt slows down the caramelization process.

Buy legumes such as beans, lentils, chickpeas, and split peas when you know you'll be needing them soon - the longer the storage time, the longer the cooking time.

If you like to bake pizza at home, invest in a pizza stone and preheat it in the oven before you start the pizza baking. It takes less time to bake on a hot stone.

Freeze leftover soup in ice cube trays. When frozen, pop out and store in a freezer bag. This way you'll always have individual servings. Be sure to label the bag as to what type soup is being stored.

When removing fat from hot stock, soup, or sauce, pop it into the freezer if there's time, or lay a piece of paper towel on the surface. When you remove the paper towel, much of the fat will be gone. Repeat as needed.

Having a children's birthday party? The day before, scoop ice cream into a muffin pan lined with paper liners. Keep in the freezer till serving time.

Don't fry your bacon, cook it in the oven! Just lay the slices on a cookie sheet and bake at 350 degrees until crisp and done. Easy cleanup, too.
---
(If YOU have a smart idea, won't you share it? Life is so much easier and we accomplish so much more when we pool our resources. And after all, we're all in this together. So email
patty@dvo.com
or
alice@dvo.com
with YOUR Smart Ideas!)
---
Contribute to the Cook'n Club!
DVO would love to publish your article, prose, photography and art as well as your cooking, kitchen and nutrition tips, tricks and secrets. Visit the Newsletter Submission / Win Win for All section in our Forum for more information and details.
---