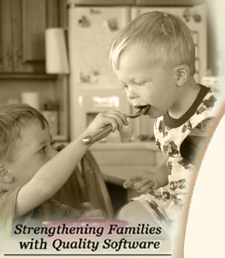 Volume I - January 16, 2009
"Orange Ya Glad to Have Some Orange Recipes?"
by Alice Osborne

This is the time of year when citrus is a good buy in the produce department. So we thought you might enjoy some good orange-oriented recipes. Bon apetit!
Whipped Orange Butter
This lightly sweetened whipped orange butter is wonderful served as a spread for quick bread, muffins, waffles, or pancakes.

6 tablespoons butter, softened
1 tablespoon confectioners' sugar
zest of 1 orange
1 tablespoon fresh orange juice
dash cinnamon, optional
Combine ingredients in a small bowl and beat with a mixer with a whisk attachment or by hand until well blended. Refrigerate until serving time. This is delicious served with quick breads, biscuits, pancakes and waffles, or muffins.
Makes about 1/2 cup.

Download this recipe.
Orange Crumb Cake with Cinnamon Crumb Topping
This is a tasty orange crumb cake with the added flavor of orange and a cinnamon crumb topping. This is a great snack cake for the family, or freeze part of it for another day.

1 cup all-purpose flour
1/2 cup granulated sugar
4 tablespoons butter, room temperature
1 teaspoon ground cinnamon
1 teaspoon baking powder
dash salt
1 egg
1/2 cup orange juice
1 teaspoon finely grated orange zest
Combine flour, sugar, and butter with pastry blender or fork until mixture resembles meal. Measure 1/2 cup of the crumb mixture and move to a separate cup or bowl; blend in the cinnamon then set aside. To the main crumb mixture add baking powder and salt; blend well. Beat egg with the orange juice until well blended; stir with orange zest into the crumb mixture just until dry ingredients are moistened. Pour batter into a greased and floured 8-inch square baking pan. Sprinkle reserved cinnamon-crumb mixture over the batter. Bake at 350° for 25 to 30 minutes, or until a toothpick or cake tester inserted in center comes out clean.

Download this recipe.
Orange Dessert Squares

2/3 cup sugar
1/2 cup butter, softened
2 eggs, separated
2 cups self-rising flour
3/4 cup milk
4 teaspoons finely grated orange peel
Orange Sauce:
2/3 cup sugar
1 tablespoon cornstarch
1/4 teaspoon salt
1 cup boiling water
1 teaspoon butter
4 teaspoons finely grated orange peel
1/2 cup fresh orange juice
In a medium bowl beat sugar, butter, and egg yolks at medium speed until light and fluffy; add flour alternate with milk at low speed, beginning and ending with flour. Beat egg whites until stiff but not dry; fold egg whites and orange rind gently into the batter; pour into greased and floured 13x9x2-inch baking pan. Bake at 375° for 20 to 25 minutes or until golden brown. Cool, cut into squares, and serve with warm orange sauce. Makes about 12 to 18 servings.
Sauce:
In small saucepan mix together sugar, cornstarch, and salt; pour the boiling water over mixture, stirring constantly. Cook over medium heat until mixture boils and thickens. Add butter, orange peel, and orange juice.

Download this recipe.
Orange Julius
Yield: 1 serving
1 C orange juice
1/3 C milk, skim, (non fat) powder
3 tsp sugar
1/4 tsp vanilla extract
4 - 6 ice cubes
Combine all ingredients in blender. Process until thick and frothy.

Download this recipe.
Orange Spice Potpourri

4 Tbsp orange peel
1-2 Tbsp lemon peel
1 tsp anise
6 small cinnamon sticks
1 Tbsp whole allspice
1 tsp whole cloves
1 orange, quartered then quartered again
2-4 drops orange oil
Mix ingredients in 2 cups water and place small slow cooker. Heat on low. Watch closely to prevent water evaporating and contents burning.
---
Contribute to the Cook'n Club!
DVO would love to publish your article, prose, photography and art as well as your cooking, kitchen and nutrition tips, tricks and secrets. Visit the Newsletter Submission / Win Win for All section in our Forum for more information and details.
---
---