Forty miles northwest of Guadalajara, in the arid highlands of western Mexico, lies the town of Tequila. In the hills surrounding the town, the subdued blue of the Agave tequilana plant colors the countryside. The region's farmers grow and harvest acre upon acre of the plant.
They discard the plant's succulent, spiky leaves, despite their beauty, and focus instead on the pineapple-like heart of the plant, which has created a lot of buzz recently, not only for its best-known derivative, tequila, but also for its sweet, health-promoting nectar. Increasing numbers of health connoisseurs have discovered that Agave nectar is an ideal substitute for sugar and artificial sweeteners like NutraSweet and Splenda.
Its appeal stems not only from its super sweetness–varieties of Agave nectar range anywhere from 25 to 45 percent sweeter than sugar–but also from its low ranking on the glycemic index (a chart that measures how much and how quickly a food raises blood sugar). Since the fructose in Agave gets broken down into glucose more slowly in your stomach, it doesn't spike your blood sugar or insulin levels as much. That means you avoid a sugar crash-and the fatigue and hunger that go along with it.

The low-glycemic nature of Agave also helps protect you from diabetes-related problems like insulin resistance and insulin deficiency, both partly caused by dramatic swings in glucose levels.
Isabel H. Clark, RHN, a Washington, DC-based holistic nutrition counselor and founder of Clark Wellness (www.clarkwellness.net), uses Agave nectar instead of honey for this very reason. "Depending on the brand, honey can range from about 62 to 83 on the glycemic index, and Agave usually scores 11 to 19. That's a big difference," she says.
Vegans, too, consider Agave the perfect substitute for honey. You can easily mix it into any warm or cold drink, or substitute it for sugar or honey in many baking recipes.
"Agave works well as a 1-to-1 substitute in any recipe that calls for honey," says Clark. "When using Agave in baked goods calling for sugar, such as cakes or cookies, keep in mind that Agave is a syrup, not a dry sweetener." Adjust for that by using less liquid in the recipe (on average, about 1/4 cup less, though that varies depending on the recipe).
Also, take into account the extra sweetness of the nectar. You may need only 1/3 to 1/2 cup Agave for every cup of sugar.
CHOCOLATE AGAVE MOUSSE
Serves 4 to 6
This vegan classic is made even sweeter (and healthier!) with agave nectar and grain-sweetened chocolate. Your guests will never know this mousse is dairy free and low on the glycemic index.

1 cup grain-sweetened chocolate chips
1/2 cup unsweetened almond milk
1/2 teaspoon pure vanilla extract
1 12.3-ounce package firm or extra-firm silken tofu, blanched, cooled, and crumbled
3 tablespoons agave nectar
seasonal fresh fruit
Combine the chocolate chips and almond milk and melt gently in a double boiler. Stir in vanilla extract. Combine chocolate mixture with tofu and agave nectar in a strong blender or food processor. Process until completely smooth. Transfer to serving dish and refrigerate for at least 1 hour before serving. Serve with seasonal fresh fruit.

Download this recipe.
CINNAMON-CACAO SMOOTHIE
Serves 1 to 2
This delicious, energizing smoothie is better than any cup of coffee. It's smooth, creamy, and sweet, but it's completely dairy- and refined sugar–free. A perfect dessert, afternoon pick-me-up, or breakfast. A high-speed blender is best for this recipe, but a regular blender will work as long as it can crush ice. Raw cacao nibs are seeds from the actual cacao tree. Larger natural foods markets carry them, or you can buy them online at rawfood.com. Agave nectar, a delicious alternative sweetener from the agave cactus, is also available at natural foods stores in the baking section with other sweeteners. Nut milks are available in natural foods stores and many larger grocery stores.
2/3 to 3/4 cup plain hazelnut or almond milk
3 tablespoons cacao nibs
1 to 2 tablespoons agave nectar
pinch sea salt
1/2 teaspoon vanilla extract
1/4 teaspoon ground cinnamon
1/2 a frozen banana
15 to 20 ice cubes
fresh mint and/or whole cinnamon sticks for garnish
Combine nut milk, cacao, agave, sea salt, vanilla, cinnamon, and banana in a blender and process until completely smooth. Taste and adjust ingredients as necessary. Add ice and blend again until smooth and frosty. Pour into glasses and garnish with mint and/or cinnamon sticks. Serve immediately.

Download this recipe.
SWEET COCONUT CREAM
Serves 6 to 8
This versatile and delicious delight is completely dairy free. Enjoy it in a fruit parfait, spoon it over fresh pineapple slices, or dollop it onto warm fruit compote. Chilling ahead of time is optional; this step makes for a creamier, thicker product.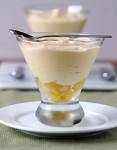 1 15-ounce can organic coconut milk
2 tablespoons agave nectar (or to taste)
Shake the coconut milk can and place in the refrigerator to chill several hours or overnight, if desired. Remove milk from the can and combine with agave nectar to taste.

Download this recipe.
HEALTHIER CARROT CAKE
Adapted from a Debra Lynn Dadd recipe
You don't have to use refined sweeteners to get a quintessential carrot cake that is moist and euphoria-producing. Healthy and scrumptious, this recipe is a total keeper. (It makes three 8-inch layers or one 9-inch by 13-inch pan.)

3/4 cup walnuts
1 1/2 cup peeled, grated carrots (3 or 4 large carrots)
3/4 cup crushed, unsweetened pineapple (fresh or canned in it's own juice)
3/4 cup raisins
1 1/2 cups flour
1 1/2 teaspoons cinnamon
3/4 teaspoon nutmeg
1 1/2 teaspoons baking soda
3/4 cup butter, softened
3/4 cup agave nectar
2 eggs
1 1/2 teaspoons pure vanilla extract
Preheat oven to 350F. Line the bottoms of cake pan or pans with parchment paper. Toast walnuts in preheated oven for about 10 min.; allow to cool. Chop nuts coarsely with knife or in food processor.
Peel and grate carrots to a medium grate. Drain canned pineapple (reserve the juice for another use). Combine chopped nuts, grated carrots, pineapple, and raisins, and set aside.
Sift together the flour, cinnamon, nutmeg, and baking soda into a bowl. In separate bowl, use an electric mixer (medium-high speed) to cream butter and agave nectar together; blend well. Add eggs one at a time, incorporating the first egg before adding the second. Add vanilla extract. On lowest speed, stir in dry ingredients. Fold carrot mixture in by hand with a rubber or silicone spatula.
Bake in preheated oven for 30-40 minutes, depending on pan size. Cake is done when it bounces back when touched lightly in center. Place the pan on wire rack to cool. Make sure it's completely cool before frosting.

Download this recipe.
(Information Courtesy Natural Solutions Magazine)
---
Contribute to the Cook'n Club!
DVO would love to publish your article, prose, photography and art as well as your cooking, kitchen and nutrition tips, tricks and secrets. Visit the Newsletter Submission / Win Win for All section in our Forum for more information and details.
---