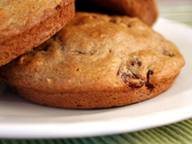 The muffin tops are the best part of the muffin. No wonder everyone wants to make the tops only. Here are some tips to help you along.
1.
Start out with a good muffin top pan (see info. below). It should heat evenly and release easily.
2.
Since muffin tops are a bit fragile—they are large and thin—they must slip from the pan very easily. Grease the tin well—even if your pan is nonstick. Be sure and grease around the edges to accommodate any overflow.
3.
Don't overfill your muffins.
4.
Don't expect high domes. Without having a bulk of dough under the tops, there is just not enough rise to create high domes.
5.
Each muffin top is about equal to a standard muffin, maybe a little larger. So if your recipe or mix makes twelve muffins, expect about ten muffin tops. (Expect to get 12 to 14 muffin tops.)
6.
Consider buying two pans so that you can bake the whole batch at once.
How to Convert a Muffin Recipe to a Muffin Tops Recipe
There are a couple adjustments that you will need to make to your favorite muffin recipe to make tops. Since they are thinner, they bake in less time. Many muffin recipes call for high heat at the beginning of the baking period to create the rise necessary for attractive domes. With muffin tops, that's not necessary. We baked our recipes at 375 degrees and they were done in 15 to 16 minutes.
Eat the best part of the muffin! With a muffin top pan, all you make are tops! Most kitchen specialty shops carry them. Here's what you should look for:

It should be high quality, heavy-gauge, and nonstick.

It should have easy-to-grip handles on both ends.

It should be easy to clean and durable.

It should last for years.

Each muffin top is about the size of a regular muffin. Since most recipes make 12 muffin tops, many bakers use two pans and bake all 12 muffin tops at once.

Cranberry Nut Orange Muffin Tops Recipe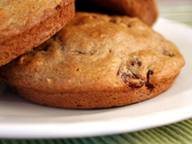 This recipe is absolutely loaded with nuts and cranberries. If this will hold together, any recipe will. It worked perfectly. To make the adaptation, we simply lowered the baking temperature to 375 degrees and baked the muffin tops for 15 minutes.

This is a scrumptious muffin. It is even better as muffin tops.

1 1/4 C flour
3/4 C rye flour, all-purpose flour, or whole wheat flour
3 Tbsp brown sugar
1/4 tsp salt
2 tsp baking powder
1 tsp baking soda
1 tsp cinnamon
1 Tbsp grated orange peel
4 Tbsp cold butter
1/2 C orange juice
1/2 C buttermilk
1 tsp vanilla
2 large eggs
1 C dried cranberries
1/2 C walnut pieces

Preheat oven to 375 degrees. Grease muffin tops pan.

1. In large bowl, stir together flour, brown sugar, salt, baking powder, baking soda, and cinnamon. Stir in grated orange peel.
2. Use pastry knife to cut butter into dry ingredients and continue cutting until mixture is coarse and uniform.
3. In another bowl, stir together orange juice, buttermilk, vanilla extract, and eggs. Form a well in dry ingredients and pour in liquid mixture. Add cranberries and nuts. Stir to combine. (Do not over-stir. Some lumps are acceptable.)
4. Spoon batter into muffin tops tin. Place the muffin tops in oven; bake 15-16 minutes or until tops are lightly browned. Remove pan to cooling rack. After a few minutes, remove muffin tops from tin to completely cool on rack.



Download this recipe.
---
Contribute to the Cook'n Club!
DVO would love to publish your article, prose, photography and art as well as your cooking, kitchen and nutrition tips, tricks and secrets. Visit the Newsletter Submission / Win Win for All section in our Forum for more information and details.
---
---