We seldom see these types of recipes, but with the holidays all around us, it is nice to have something a "little extra" at the table. All recipes are quick, easy, and no-fuss for the cook—which is just the way we like it! We plan to use all three of these recipes ourselves. Happy Holidays!
Stuffed Mushrooms with Artichokes
Recipe from Rachael Ray

24 large (2 1/2 to 3 inches wide) white mushrooms
1/4 cup extra-virgin olive oil, for drizzling
Salt and pepper
2 cans sliced or quartered artichoke hearts
2 cloves minced garlic
1/4 teaspoon freshly grated nutmeg, eyeball it
Pinch dried thyme
Handful grated Parmesan
Handful parsley leaves, finely chopped
1 tub shredded Asiago cheese, 8 ounces
Preheat oven to 400 degrees F.
Place mushrooms in a large plastic food storage bag. Drizzle in just enough extra-virgin olive oil to coat – about 1/4 cup should do it. Shake the mushrooms to coat and scatter out onto a cookie sheet. Roast 10 minutes, round-side-up. Season with salt and pepper and flip over. Toss drained quartered artichokes with a drizzle of extra-virgin olive oil, garlic, nutmeg, thyme, grated cheese, and parsley. Generously fill the mushroom caps, mounding the filling up. Top the artichokes with shredded Asiago cheese and return to oven. Cook mushrooms 5 minutes more to melt cheese and set filling. Serve warm.
Spiced Lemon Apple Cider
Recipe by Paula Deen
1/2 cup lemon juice
1/2 cup orange juice
3 cinnamon sticks
1 tablespoon whole cloves
Combine all ingredients together in a large pot and cook over medium heat for about 20 minutes. Serve warm.
Paula's Cherries Jubiliee
Recipe by Paula Deen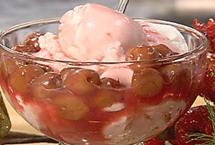 1/2 stick butter
1/4 cup sugar
1 tablespoon cornstarch
1 (16-ounce) can pitted cherries (fresh or frozen)
1/4 cup brandy
Vanilla ice cream
Drain cherries, reserving all the juice. Melt butter in a saute pan. Stir in cornstarch and sugar until smooth. Gradually stir in the reserved cherry juice. The mixture will thicken up. When it boils, pour in the brandy and turn off the heat. Light the brandy in the pan with a lighter or long match. When the flame dies down, stir in the cherries and serve over ice cream.