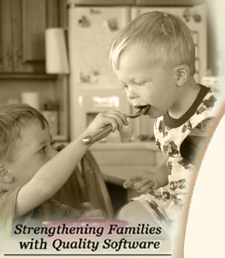 Cook'n Club Home
Subscribe Now!

Cook'n Forum
HomeCook'n Archive
Give-Aways

I have spent the last 2 hours reading your newsletter and wonderful recipes. I have already printed a whole bunch I want to try. I love them because they are using ingredients one has on hand. I love that and just wanted you to know how much we appreciate all your hard work in putting together this newsletter. Thank you very much.

Anna

Volume I - December 24, 2007
Celebrating the
Festival of Lights
by Patty Liston


Donna Levesque of North Carolina, often visited the Independent Village Apartments for Seniors along with her children. The fact that her children knew where all of the "cookie ladies" lived, gave Donna a great idea. Why not have a cookie contest? Thirteen recipes were submitted to the Grandma's Greatest Cookie Contest, and the top three winners and their recipes are listed here. What a wonderful idea! Enjoy the winning entries.

Coconut and Oatmeal Drop Cookies Recipe
Prize-Winning Cookies: Recipe from Grandma's Greatest Cookie Contest second-place winner Jean Schlotfeldt

2 sticks butter
1 cup granulated sugar
1 cup packed light brown sugar
2 eggs
1 tsp. vanilla extract
1 tsp. baking powder
1 tsp. baking soda
2 cups all-purpose flour
2-1/2 cups shredded coconut
1 cup chopped walnuts or pecans
2 cups old-fashioned oatmeal

Heat oven to 350 degrees. Grease 2 large cookie sheets. Cream butter and sugars in mixer until light and fluffy. Add eggs, beat together. Add vanilla, baking powder and baking soda. Then add the flour. Mix until well combined. Stir in coconut and nuts. Mix in oatmeal.

Drop on greased cookie sheets by the tsp., spacing about 1/2 inch apart. Bake 12 to 15 minutes, just until the edges begin to brown. Transfer to a wire rack to cool.

Makes about 48 cookies.

Grandma Crissman's Sugar Cookies
Prize-Winning Cookies: Recipe from Grandma's Greatest Cookie Contest First-Place Winner Lois Todd Be sure to sift the flour before measuring. Todd uses Red Band flour.

1-1/2 sticks margarine, softened
1-1/2 cups confectioner's sugar
1 egg
1-1/2 tsp. vanilla extract
2-1/2 cups sifted all-purpose flour
1 tsp. baking soda
1 tsp. cream of tartar
Granulated sugar for sprinkling

Cream margarine and sugar in mixer, beating well until light and fluffy. Add egg and beat well. Add vanilla until combined.

In a separate bowl, sift flour, baking soda and cream of tartar three times. Add to creamed mixture. Beat until combined. Form dough into a ball, cover and chill at least one hour.

Heat oven to 350 degrees. Place a clean dishcloth on the work surface and lightly flour the cloth. Place dough on cloth and roll thin, 1/4 to 1/8 of an inch. Cut into circles or other desired shapes.

Carefully transfer cookies to baking sheet. Sprinkle with sugar. (Will need to bake in several batches.) Bake 7 to 10 minutes or just until brown around the edges. Cool a few minutes on baking sheet, then remove to rack to cool completely.

Makes about 48 cookies.

Lace Cookies
Prize-Winning Cookies: Recipe from Grandma's Greatest Cookie Contest third-place winner Margie Marion

1 egg
3 cups brown sugar
2 cups quick-cooking oats
1 cup melted butter
1 tsp. vanilla extract
Pinch of salt
1/2 cup chopped pecans or other nuts

Heat oven to 350 degrees. Mix all ingredients in a bowl until well combined.

Line baking sheets with parchment paper or no-stick aluminum foil. Drop batter 3/4-tsp. at a time on baking sheet, leaving plenty of space between each. Cookies will spread to 4 or 5 inches in diameter when baked.

Bake 10 to 12 minutes, until thin and golden. Check early to make sure they don't overbrown.

Line a wire rack with wax paper. Carefully remove cookies from baking sheet. They will be sticky, and a thin, metal spatula works best. Gently transfer to wax paper on wire rack and let cool.







---
Contribute to the Cook'n Club!
DVO would love to publish your article, prose, photography and art as well as your cooking, kitchen and nutrition tips, tricks and secrets. Visit the Newsletter Submission / Win Win for All section in our Forum for more information and details.
---
---