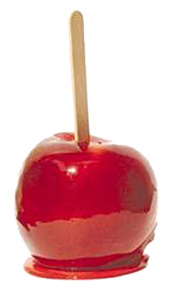 Most recipes will tell you to use a tart apple such as a Granny Smith. This makes for a nice contrast with the sweet coating, but there isnít anything in the rule book that says you canít use any kind of apple you like. Just make sure they are fresh and crisp. After you clean the apple, make sure it is completely dry before you start dipping.
Red Hot Candy Apples
1/3 cup ďRed HotsĒ candy
2 cups of sugar
2 cups corn sugar
1 cup water
1/2 Teaspoon vanilla
Red food coloring
6 medium apples
Wood skewers
Prepare a cookie sheet sprayed with cooking oil or use parchment paper.
Clean the apples. Insert skewer in the center top of each apple and set aside. Combine the sugar, corn syrup, water and red hot candies in a medium sauce pan. Cook on medium heat until the candy has dissolved but not boiled, stirring constantly. Mix in the vanilla and red food coloring.
Let the mixture come to a boil using a candy thermometer until the temperature reaches 300 degrees. Do not stir during this cooking time. Remove from heat and quickly dip each apple, one at a time. Set on prepared cookie sheet and let harden.
Chocolate Dipped Apples
6 medium apples
1/2 cup of candy- coating chocolate
6 wood skewers
16 ounces of semisweet chocolate (Chopped)
3/4 cup finely chopped nuts of your choosing, or finely crushed Butterfinger, Toffee bars or Chico-Stick candy
Using some candy coating chocolate helps make this recipe easy to dip because the candy coating has some fat incorporated into it. If you are using straight chocolate to dip the apples, itís a good idea to add a teaspoon or so of shortening to thin the chocolate down to make an easier dipping consistency. Roll apple in topping of choice.
Easy Caramel Apples
Although I love homemade caramel, I think that this recipe is the easiest and fastest way to enjoy a caramel apple. Apples dip better in caramel if they are cold.
1 pound package of store bought caramels
4 medium/large apples
1/2 cup chopped peanuts
2 Tablespoons water
Wood skewers
Skewer the apples in the middle where the stem use to be. Set apples a side. In a double boiler, add the caramels and water and stir until melted. Dip each apple in the caramel and roll bottom half in the chopped peanuts. Let set on Parchment or wax paper until the caramel is firm.
---
* DVO welcomes your kitchen hints and cooking or nutrition questions! Email us and we'll post your hints and Q/A's in upcoming newsletters! *