Blessed with a bumper crop of zucchini but what you really crave is a slice of apple pie? Here are some recipes that will help you mix it up a little in the kitchen. Don't be afraid to try these unusual substitutes. Unless you give it away, no one will ever guess that the coconut pie is made with veggies or that the apple pie is completely fruitless!
Mock Apple Pie
(featuring Zucchini)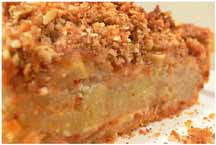 1 pastry for a 9-inch pie, unbaked
5 cups sliced zucchini, peeled and seeds removed
¾ cup sugar
1 teaspoon cinnamon
¼ cup real lemon juice
½ cup water
Crumb Topping:
1 cup flour
½ cup brown sugar
6 Tablespoons butter
¼ teaspoon salt
Preheat oven to 325 degrees F.
In a medium saucepan, combine zucchini, sugar, cinnamon, lemon juice, and water; simmer until zucchini is barely tender. Pour into unbaked pie shell;
In a medium bowl, combine flour, brown sugar, butter, and salt. Combine well with a pastry cutter or fork. Pat crumb topping over mock apples and bake for 25 to 20 minutes.
Serves 8
Mock Coconut Pie
(featuring spaghetti squash)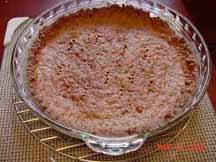 1 cup white sugar
3 eggs
¼ cup butter, melted
1 tablespoon fresh lemon juice
1 teaspoon vanilla extract
3 cups cooked, shredded spaghetti squash
1 9 – inch pie shell, baked
¼ teaspoon ground nutmeg
¼ teaspoon ground cinnamon
1-1 ½ cups whipped cream for garnish
Preheat oven to 350 degrees F.
Beat the sugar and eggs together in a mixing bowl until light and frothy. Beat in the butter, lemon juice, and vanilla until well blended. Stir in the spaghetti squash. Pour the mixture into the pre -baked pie shell. Dust the top with nutmeg and cinnamon.
Bake the pie in preheated oven until a knife inserted in the center comes out clean, 40 to 45 minutes. Cool on a rack before serving. Garnish with whipped cream, if desired.
Serves 8
Mock Pumpkin Pie
(featuring pinto beans)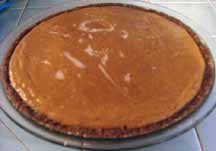 1 pastry for a 9-inch pie, unbaked
2 cups cooked pinto beans, well rinsed
1/4 to 1/2 cup water
3 eggs, well beaten
1 13-oz can evaporated milk
1 cup sugar
3/4 teaspoon salt
1 teaspoon ground cinnamon
1 teaspoon ground ginger
1/4 teaspoon ground cloves
1/4 teaspoon ground nutmeg
Puree beans and water in blender
Mix beans and other ingredients well.
Pour into an unbaked 9-inch pie crust.
Bake at 425 degrees for 15 minutes. Reduce heat to 350 degrees and continue baking for 45 minutes or until knife inserted in center of pie comes out clean
Serves 8
Surprise yourself by trying something new. These alternative pie recipes will leave you wanting one more slice!
---
If you have any additional tips that you'd like to add, please post them on the
Cook'n Club Forum
(if you're a
Cook'n Club Member
)...or e-mail them to
Dan@dvo.com
.
---
Join the Cook'n Club!An unbeatable value with exclusive benefits for members only.
Enjoy articles like this and many other benefits when you join the Cook'n Club.
---