Cut the bottom 3/4 of a hot dog into 8ths (using vertical cuts). Leave the top 1/4 intact.
Boil as normally would.
1 package flour Tortillas
1 package shredded Mexican or Taco cheese blend
Sour Cream
Cooking oil spray
Toppings- any combination of:
Salsa
Black Olives, sliced
Sweet peppers- green, red, or orange.
Jalapenos
Chives or green onions, chopped
1. Pre-heat oven to 350 degrees. Or, pre-heat Quesadilla maker if you have one.
2. If using oven, line a cookie sheet with aluminum foil.
3. Lightly spray the bottom of one flour tortilla and place it on the cookie sheet.
4. Add shredded Mexican or Taco cheese blend on top of the tortilla.
5. Place a second tortilla on top of the cheese.
6. Lightly spray the top of the tortilla with cooking oil spray.
7. Bake in oven for about 3 minutes.
8. Quesadilla is done when the cheese is melted, and the tortilla begins to turn a light brown.
Topping/Decorating the Quesadilla... this is the fun part. Use your imagination and "artistic" talent!
1. Use a pizza cutter to cut quesadilla into six slices, but do not separate them.
2. Use a spatula to spread some sour cream on the quesadilla.
3. Add splotches of salsa to represent blood.
4. Use black olives or Jalapenos to represent eyes.
5. Cut green pepper into a nose shape.
6. Use red or orange peppers for the mouth.
7. Use long slices or chopped green onion or chives for eyebrows and hair.
Tuna Spook Sandwiches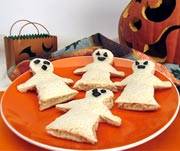 1 (8 ounce) can solid white tuna fish, packed in water
3 tablespoons mayonnaise
1 tablespoon fresh lemon juice
1 celery stalk, finely diced
14 slices white sandwich bread
14 raisins
Drain water from tuna and place in small mixing bowl; break the tuna into small pieces with a fork. Mix in the mayonnaise, lemon juice, and celery.
Cut the bread slices with a cookie cutter into the shape of a ghost. Spread 7 slices with the tuna mixture and cover each with a second slice of bread. Use the raisins to make the eyes on each sandwich. Serve with celery and carrot sticks.
---
* DVO welcomes your kitchen hints and cooking or nutrition questions! Email us and we'll post your hints and Q/A's in upcoming newsletters! *