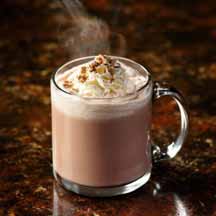 I asked our friend, John, what foods he enjoyed the most during the fall season. Without any hesitation he replied "Hot Chocolate."
I grew up on homemade hot chocolate, so for me it is very easy to whip up a batch. I am aware that you can by some fabulous cocoa mixes at many store and shops, but nothing is superior to hot chocolate made with real milk, cocoa powder or fine chocolate and pure vanilla. It's just an experience you can't duplicate.
The top secret, which really isn't a secret at all, is completely about the type of chocolate you use. If you use a rich Dutch or Belgium chocolate you are going to get the decadent taste that makes drinking hot chocolate a heavenly experience. Using real vanilla is a must for me and I find the taste of Mexican vanilla brings out the flavor of the chocolate better than any other.
Just because we are talking about chocolate doesn't mean it has to be high calorie and remember a little dark chocolate is good for you. On the other hand, you can make it as decadent as you want. You will see the difference in the recipes. This first recipe is low calorie.
Delicious Low Calorie Hot Chocolate
1 cup of low fat milk
2 Teaspoons Dutch cocoa
Artificial sweetener to taste
1/8 teaspoon Mexican or real vanilla
Warm the milk in a sauce pan and whisk in the Dutch Cocoa. Add artificial sweetener a little at a time until it's the sweetness you want and then add vanilla. Whisk to get a little froth and enjoy. No guilt!
Decadent Hot Chocolate
1/2 cup milk
1/2 cup half & half
2 Tablespoons sugar
2 ounces semisweet chocolate bar, chopped
1/2 Teaspoon vanilla
Whipped cream for topping
Warm the milk and half & half in a sauce pan and add chopped chocolate bar and whisk until melted. Add sugar and vanilla. Whisk and serve with whipped cream.
Mexican Hot Chocolate
2 ounces unsweetened chocolate bar
2 cups milk
1/4 cup sugar
1/2 Teaspoon ground cinnamon
1/4 Teaspoon Mexican vanilla
Whipped cream for topping
Warm the milk in a sauce pan and add the unsweetened chocolate bar chopped in small pieces, stirring until chocolate is melted. Add sugar, cinnamon and vanilla. Whisk and serve with whipped cream.
Aztec Chili Hot Chocolate
1 1/2 cup milk
1/2 vanilla bean split lengthwise
1/4 teaspoon cinnamon
1 1/2 ounces of bitter sweet chocolate (grated)
1 red chili pepper, with seeds removed
Simmer milk in sauce pan with vanilla bean, and red chili for about 2 minutes. Whisk in grated chocolate and cinnamon. Cover pan and let steep for 5 – 10 minutes. Strain out spices and peppers. Whisk and serve.
Mexican Hot Chocolate with Marshmallows
3 - 1 ounce squares unsweetened chocolate
4 cups hot milk
1/2 cup of sugar
1/8 Teaspoon salt
1 1/2 Teaspoons Mexican vanilla
2 Teaspoons cinnamon
Marshmallows
In a sauce pan heat the milk, chocolate squares and sugar. Stirring until the chocolate is completely melted. Add vanilla, salt and cinnamon. Serve with marshmallows.
White Hot Chocolate
1/2 cup white chocolate chips
2 cups whole milk
1/2 cup heavy cream
1/2 - 1 Teaspoon real vanilla
In a medium sauce pan over medium heat, heat the heavy cream and white chocolate chips. Stir until the white chocolate chips are melted. Stir in milk and vanilla extract. Peppermint flakes can be added for variety.
Spiced Cocoa Mix
2 cups powdered milk
1 cup sugar
1/2 cup Dutch Cocoa powder
1/2 cup of non-dairy creamer
1/4 Teaspoon cinnamon
1/4 Teaspoon Cardamom
1/4 Teaspoon nutmeg
1/8 Teaspoon cloves
Mix all the above ingredients and store in an airtight container. To make a cup of this delicious cocoa add ¼ cup of spiced cocoa mix with ¾ cup of water. This mix makes a great gift!
---
If you have any additional tips that you'd like to add, please post them on the
Cook'n Club Forum
(if you're a
Cook'n Club Member
)...or e-mail them to
Dan@dvo.com
.
---
Join the Cook'n Club!An unbeatable value with exclusive benefits for members only.
Enjoy articles like this and many other benefits when you join the Cook'n Club.