These are some great ideas for using leftover Halloween candy to create different treats!
1 1/4 cup(s) flour
1/2 teaspoon(s) salt
3/4 cup(s) (1 1/2 sticks) unsalted butter
4 (4 oz.) squares unsweetened chocolate, chopped
4 (4 oz.) squares semisweet chocolate, chopped
2 cup(s) sugar
1 tablespoon(s) vanilla extract
5 large eggs, beaten
24 small (such as York) peppermint patties
1. Preheat oven to 350 degrees F. Grease a 9" x 13" baking pan. In a small bowl, whisk flour and salt.
2. In a heavy 4-quart saucepan, melt butter with unsweetened and semisweet chocolates over low heat, stirring frequently, until smooth. Remove from heat. With wooden spoon, stir in sugar and vanilla. Add eggs; stir until well mixed. Stir flour mixture into chocolate mixture just until blended.
3. Spread half of brownie batter into prepared pan. Arrange peppermint candies in a single layer over batter, about 1/2 inch apart. Spread remaining batter over top.
4. Bake about 30 minutes, or until toothpick inserted 1 inch from edges comes out clean. Cool brownies completely in pan on wire rack before slicing.
Makes 36 brownies.
Peanut Butter Cookie Pizza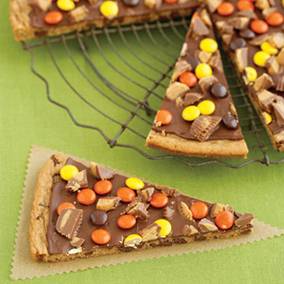 1 package(s) (16 1/2-oz.) refrigerated chocolate chip cookie dough
1/2 cup(s) chocolate chips
1/2 cup(s) (such as Reese's) chopped chocolate peanut butter cups
1/2 cup(s) (such as Reese's) candy-coated peanut butter pieces
1. Preheat oven to 350 degrees F. Break up cookie dough and press evenly over the bottom of an ungreased 12-inch pizza pan or 9" x 13" baking pan.
2. Bake cookie 12 to 18 minutes, or until golden brown. Remove from oven and immediately sprinkle chocolate chips on top. Let stand to soften chips, then spread evenly over crust.
3. Let cool slightly, then sprinkle candies evenly over crust. Cut into wedges; serve warm or at room temperature.
Serves 12.
Apple Snickers Salad
6 apples, chopped
6 regular size Snickers Bars, chopped
12 ounces cool whip, thawed
Combine the apples and chopped candy bars in a bowl. Fold in cool whip. A sneaky way to get the kids to eat some fruit!
Serves 4.
Baby Ruth Cookies
1/2 cup Butter, softened
3/4 cup Peanut butter, smooth
1 1/2 cup Sugar
2 Eggs, beaten
1 1/4 teaspoon Vanilla
3 cups Flour, sifted
1 teaspoon Baking powder
1/2 teaspoon Salt
2/3 cup Milk
5 Baby Ruth bars, (1.9 oz ea), Cut up
Cream butter, peanut butter and sugar until light and fluffy; beat in beaten eggs ad mix well; add vanilla. Sift dry ingredients together and add alternately with the milk. Stir in the cut-up Baby Ruth pieces. Drop from teaspoon on buttered cookie sheets. Bake in preheated 375~F oven until golden brown, about 12-15 minutes.
Serves 18.
Other simple fixes for your leftovers!
1.
Melt bite-size candy bars (such as mini Snickers or Mounds) and drizzle on top of ice cream or sliced strawberries.
2.
Stir mini candies (try Skittles or M&M's) into Rice Krispie treats before pressing the mixture into the pan.
3.
Make chocolate chip cookies with chopped-up chocolate candy in place of the chips.
4.
Dip pretzel rods in melted chocolate and roll in crushed candy -- toffee works well.
5.
Combine ice cream, milk and your favorite chopped-up candy bar in the blender for a serious shake.
---
Join the Cook'n Club!An unbeatable value with exclusive benefits for members only.
Enjoy articles like this and many other benefits when you join the Cook'n Club.