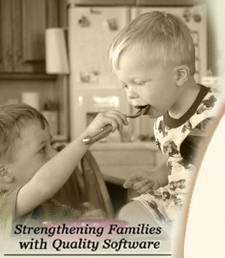 ---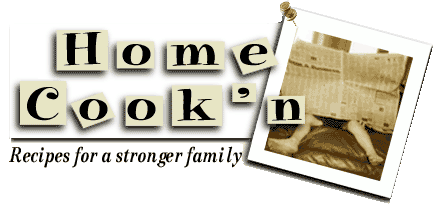 Snack Attack!
By Camille Rhoades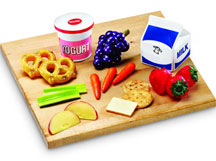 You weren't expecting that title while you read a newsletter about being healthy now were you? The truth is, that snacks are a very important part of a healthy diet. Moms everywhere have uttered the words, "Don't fill up on that or you won't have room for your dinner" but the truth is that healthy snacking will help far more than it will hurt. So, why is snacking so important?
1.
Snacking helps control your appetite so you are less likely to overeat at mealtime.
2.
Snacking provides a source of frequent energy.
3.
Snacking is a wonderful way to add in extra servings of fruit, vegetables, and proteins that meals might not be supplying. Trying to fit all the recommended servings of the Food Pyramid in to three meals can be daunting, but healthy snacking can help you fit them in.
4.
Snacking provides more opportunity for variety in your diet and can really make eating more enjoyable.
All that being said, there are obviously some snacks that are healthy and some that are not. I know, there are many compelling arguments for how chocolate and chips may fit in to the Food Pyramid, but I think it is fair to say that when we are speaking of "healthy snacking" we are leaning away from the "Fritos and Coke" way of thinking. There is a simple equation for getting the best out of our snacking.
Balance + Variety + Moderation = Healthy Snacking
When snacking, make choices that provide the nutrients you need to stay balanced and healthy. Snack on a wide variety of foods to make it exciting and delicious. And, just as everything else, exercise moderation! Carrots may be very healthy, but if that is all you ever eat you will be unhappy, unhealthy, and lets not forget orange!
A little chocolate on a frozen banana is a fantastic snack that can fill a craving and provide nutrients. A small handful of nuts is an excellent source of protein, while the entire can may be a little over the top. Stay balanced, eat things in moderation, and make sure you are getting a variety of textures, flavors, and nutrients and your snacking will really enhance your diet.
Planning Your Snacks
Having a plan and preparing for it will save you money, time, and calories when you get a snack attack. Just like everything else, a little effort up front makes good results much more realistic and if you have healthy snacks ready to grab and go you will be much less likely to fall for the vending machine trap. Here are some ideas for planning and preparation:
In the Cupboard
Keep ready-to-eat-cereal, whole grain cereals, pretzels, nonfat crackers, low fat bagels, canned/dried fruits, air-popped/microwave light popcorn, baked tortilla chips

In the Refrigerator

Keep washed fresh fruits, pre-cut vegetables, yogurt, lean ham, turkey breast meat, skim or 1% milk, lower fat cheeses, salsa

In the Freezer

Keep strawberries, grapes, bananas, fruit bars, low fat or nonfat frozen yogurt

At the Mall

Choose soft pretzels, nonfat frozen yogurt cone, jelly beans, salads with light dressings

At Work

Choose fresh/canned/dried fruit, bagels, pretzels, popcorn, water packed tuna

Whole grain or low fat crackers, low fat yogurt, crackers with peanut butter, low fat cheese

Other examples of Smart Snacking may include: (notice the moderate portion sizes!)

Bread

Graham crackers (3 squares)

Ginger snaps (2 small)

Reduced fat crackers (5-6 crackers)

Pretzels (1 oz)

Ready-to-eat- cereal (1 oz)

Popcorn (3 cups)

Fig cookie (1)

Toast

Fruit (1/2 cup, 1 medium piece)

Apple

Pear

Peach

Banana

Orange

Grapefruit (1/2) - melon

Strawberries / Blueberries

Raspberries
*a little chocolate is a great way to add some spunk to fruit snacks every now and then – in moderation!

Vegetables (1/2 cup cooked, 1 cup raw)

Carrot sticks

Celery stalks

Cucumber sticks

Cauliflower

Broccoli

Baked potato

Milk

Low fat, no added sugar yogurt (1 c.)

Skim or 1% milk (1 c.)

Cottage cheese (1/2 cup)

String cheese

Meat

Lean ham (1-oz)

Skinless turkey breast (1-oz)

Peanut butter (I Tbsp)

Fat free refried or black bean spread

Peanuts/rnixed nuts (2 Tbsp)

Sunflower seeds (1-oz)

Snack Combinations
(these add flavor and extra nutrients)


Crackers with peanut butter or cheese


Ready-to-eat Cereal with nonfat milk and/or fruit


Toast with fruit spread or peanut butter


Bagel (1/2) with low fat cheese or peanut butter


Raw Vegetables with fat-free plain yogurt or fat-free ranch dressing


Fresh Fruit with fat-free vanilla yogurt or cooked oatmeal


Tortilla with fat-free beans or vegetables

The options for healthy snacking are endless and can really help boost your healthy eating habits so try some new snack ideas and share your favorites with your friends!





---
If you have any additional tips that you'd like to add, please post them on the
Cook'n Club Forum
(if you're a
Cook'n Club Member
)...or e-mail them to
Dan@dvo.com
.
---
Join the Cook'n Club!An unbeatable value with exclusive benefits for members only.
Enjoy articles like this and many other benefits when you join the Cook'n Club.
---