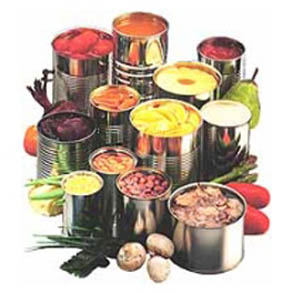 Every now and then we get in a dilemma. What in the world can I fix for dinner and how can I get it done pronto? This is the time to have a few recipes for meals that can be prepared in minutes from cans already sitting on the pantry self.
It's almost mind boggling to me that toting up a few cans of food will generate a darn good meal. I asked family and friends for their favorites and was flabbergasted at how resourceful people can be with the meals that they create mostly from cans. I was even more impressed with how tasty they are. It stands to reason that even if you don't like or feel like cooking you really "Can" Cook!
Coconut Chicken Curry
2 (13 ounce) cans white chicken breast
1 teaspoon salt
1 teaspoon pepper
1 ½ Tablespoons canola oil
2 Tablespoons curry powder
1 ½ teaspoons paprika
½ medium Onion thinly sliced
2 garlic cloves, crushed
2 red potatoes cut into small chunks
1 (14 ounce) can coconut milk
1 (14 ounce) canned diced tomatoes
1 (8 ounce) can tomato sauce
3 Tablespoons sugar
2 cups Jasmine rice (cooked)
Heat oil, curry powder, and paprika in a large skillet over medium-low heat for two minutes, until fragrant (but don't let it burn). Turn the heat up to medium and stir in the onions and garlic and cook for ten minutes more or until onions are clear. Add the chicken, tossing lightly to coat with the curry oil and cook for 5 minutes. Add potatoes, then add coconut milk, tomatoes, tomato sauce, and sugar into the pan, and stir to combine. Cover and simmer. Stir occasionally for about 30 minutes or until the sauce thickens. Serve on hot rice. If the sauce is too thick thin a little with chicken broth or water.
Bruce's Favorite Totally Canned Tortilla Soup
1 (13 ounce) can chicken breast (drain off juice)
3 cans cream of chicken soup
2 (14.5 ounce) cans of chicken broth
2 (4 ounce) cans chopped green chilies
1 (10 ¾ ounce) can cream of cheese soup
2 (6ounce) cans Rotelle (spiced, diced tomato)
1 Large jar of Nacho Cheese or Salsa Con Questa (whichever you like)
Mix and heat in a large sauce pan. Stir often so it won't burn. Serve with tortilla chips. Uncle Bruce asked for this one a lot!
Chewy Chili, Cheese Casserole
(Microwavable)
This recipe was given to me when I was first married. It literally takes 5 minutes to make. The hominy gives this casserole a nice chewy texture. This is great served with biscuits and a salad. My children all love this one.
3 (15 ounce) cans of Chili
1 (15 ounce) can white hominy
¾ cup of shredded cheddar cheese
Open cans of chili into a glass baking dish. Open can of hominy, drain and rinse, then add to chili and stir. Cover top of casserole with cheese and bake in microwave until bubbly and heated through. Microwaves heating time varying by microwave but it should be in the 3 – 5 minute range.
Black Bean Salsa Soup
This recipe is unbelievably quick and yummy!
2 (15 ounce) cans black beans (drained and rinsed)
1 ½ cups vegetable broth
¼ cup thinly sliced green onions
1 cup chunky salsa
1 teaspoon cumin
6 Tablespoons sour cream
In a blender, combine beans, broth, salsa and cumin until fairly smooth. Heat the bean mixture over medium heat until thoroughly heated. Serve with sour cream and green onions.
Cherrie Cherry Salad
Sometimes you need just one more thing to pull of a great meal. This is it; fast, easy and a crowd pleaser.
1 small can cherry pie filling
1 can crushed pineapple (drained)
1 8 ounce cool whip
1 ½ cups miniature marshmallows
1 can sweetened condensed milk
Mix cherry pie filling and drained pineapple in a large bowl. Add milk and cool whip. Fold in marshmallows.
High Protein Low Calorie Chili
As you can see, this chili is loaded with protein and good carbohydrates. I've had this chili and it's amazing. Don't let the cottage cheese catch you off guard.
1 lb lean ground turkey
1 cup no-sugar added pasta sauce
1 cans red kidney beans
¾ cup salsa
½ cup 2% cottage cheese
½ cup water
½ cup green pepper
½ cup onion
½ cup mushrooms
2 Tablespoon Chile powder
¼ - ½ teaspoon cumin
hot sauce to taste
Heat frying pan to medium heat, cook turkey until brown throughout.
In a large pot, combine salsa, beans, peppers, onion, mushrooms, cottage cheese, pasta sauce and water. Stir occasionally until heated.
Add cooked turkey, Chile powder, cumin and hot sauce to pot and stir. Simmer for 30-40 minutes stirring occasionally.
Thai Coconut Chicken Soup
1 Tablespoons vegetable oil
2 Tablespoons grated ginger
4 – 6 teaspoons Thai red curry paste
6 cups chicken broth
3 Tablespoons fish sauce or soy sauce
1 Tablespoons light brown sugar
2 (14 oz.) cans coconut milk. (NOT cream of coconut which is sweetened!)
1 lb boneless, skinless chicken breast (trimmed and sliced thin into 1-inch strips
½ lb white mushrooms, trimmed and sliced thin
3 Tablespoons fresh lime juice
½ cup whole fresh cilantro leaves
Heat the oil in a large Dutch oven over medium heat until shimmering. Stir in the ginger and curry paste and cook for 1 minute. Add ½ cup of the broth and stir until the curry paste dissolves. Stir in the remaining broth, the fish sauce, and brown sugar. Bring to a simmer and cook, partially covered for 15 minutes.
Stir in the coconut milk, chicken, and mushrooms. Simmer until the chicken is cooked, about 15 minutes. Stir in the lime juice and season with salt. Sprinkle the bowls of soup with cilantro leaves before serving.
This soup can be cooled, covered and refrigerated for up to 2 days. It cannot be frozen, due to the coconut milk. Reheat over low heat, taking care not to let it boil.
It's comforting when life just feels so much bigger than you are to have something quick that your family will enjoy.
---
If you have any additional tips that you'd like to add, please post them on the
Cook'n Club Forum
(if you're a
Cook'n Club Member
)...or e-mail them to
Dan@dvo.com
.
---
Join the Cook'n Club!An unbeatable value with exclusive benefits for members only.
Enjoy articles like this and many other benefits when you join the Cook'n Club.