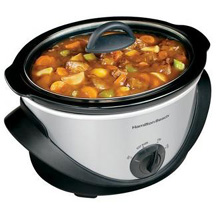 The Super Bowl is coming and you don't want to spend the whole day in the kitchen while everyone else watches the game (and those great commercials). But if you are watching the game who would cook those wonderfully indulgent snacks we have all come to expect and love? Well…the Crock Pot, that is who!
Enjoy a great party and feed your guests these wonderful snacks without spending the whole game in the kitchen. Get it started and let the slow cooker take over!
Easy Super Bowl Snacks: Crock Pot Nacho Dip
1 pound browned and drained ground beef or turkey
1 pound mild cheese melt (I.e. Velveeta)
1 pound medium cheese melt
1 can rotel tomatoes
Put the ingredients into your crock pot.
Turn crock pot on medium until melted, stir together then reduce heat to keep warm. Serve with corn chips.
Serves 6.
Easy Slow Cooker French Dip
4 pounds rump roast
1 (10.5 ounce) can beef broth
1 (10.5 ounce) can condensed French onion soup
1 (12 fluid ounce) can or bottle beer
6 French rolls
2 tablespoons butter
1. Trim excess fat from the rump roast, and place in a slow cooker. Add the beef broth, onion soup and beer. Cook on Low setting for 7 hours.
2. Preheat oven to 350 degrees F (175 degrees C).
3. Split French rolls, and spread with butter. Bake 10 minutes, or until heated through.
4. Slice the meat on the diagonal, and place on the rolls. Serve the sauce for dipping.
Serves 9.
Amazing Ribs
6 pounds pork baby back ribs
1 pinch black pepper
1 pinch salt
1 pinch crushed red pepper
4 cups barbecue sauce
2 (12 ounce) bottles porter beer, room temperature
1. Cut ribs into small portions of 2 or 3 bones each. Bring a large pot of water to a boil. Season water a pinch each of salt, black pepper, and crushed red pepper to the water. Boil ribs in seasoned water for 20 minutes. Drain, and let the ribs sit for about a half an hour.
2. Meanwhile, preheat an outdoor grill for high heat.
3. Lightly coat the ribs with barbecue sauce. Cook the ribs over high heat for a 5 to 10 minutes on each side to get a nice grilled look to them.
4. Place grilled ribs in a slow cooker. Pour remaining barbecue sauce and one bottle of beer over the ribs; this should cover at least half of the ribs. Cover, and cook on High for 3 hours. Check ribs every hour or so, and add more beer if needed to dilute sauce. Stir to get the ribs on top into the sauce. The ribs are done when the meat is falling off the bone.
Serves 12.
Bavarian Style Meatballs
12 fluid ounces tomato-based chili sauce
1 (16 ounce) can whole cranberry sauce
27 ounces Bavarian-style sauerkraut, undrained
1 cup water
1 cup packed brown sugar
1 (16 ounce) package frozen meatballs
1. In a medium size mixing bowl, combine chili sauce, cranberry sauce, sauerkraut, water, and brown sugar. Mix well. Pour sauce and meatballs in a slow cooker, stir.
2. Cook, covered, at a medium temperature for 4 hours. Stir occasionally to coat meatballs.
Serves 7
Barbecued Beef
1 1/2 cups ketchup
1/4 cup packed brown sugar
1/4 cup red wine vinegar
2 tablespoons prepared Dijon-style mustard
2 tablespoons Worcestershire sauce
1 teaspoon liquid smoke flavoring
1/2 teaspoon salt
1/4 teaspoon ground black pepper
1/4 teaspoon garlic powder
1 (4 pound) boneless chuck roast
1. In a large bowl, combine ketchup, brown sugar, red wine vinegar, Dijon-style mustard, Worcestershire sauce, and liquid smoke. Stir in salt, pepper, and garlic powder.
2. Place chuck roast in a slow cooker. Pour ketchup mixture over chuck roast. Cover, and cook on Low for 8 to 10 hours. 3. Remove chuck roast from slow cooker, shred with a fork, and return to the slow cooker. Stir meat to evenly coat with sauce. Continue cooking approximately 1 hour.
Serves 12
Kalua Pig In a Slow Cooker
1 (6 pound) pork butt roast
1 1/2 tablespoons Hawaiian sea salt
1 tablespoon liquid smoke flavoring
1. Pierce pork all over with a carving fork. Rub salt then liquid smoke over meat. Place roast in a slow cooker.
2. Cover, and cook on Low for 16 to 20 hours, turning once during cooking time.
3. Remove meat from slow cooker, and shred, adding drippings as needed to moisten.
Serves 12.
---
* DVO welcomes your kitchen hints and cooking or nutrition questions! Email us and we'll post your hints and Q/A's in upcoming newsletters! *