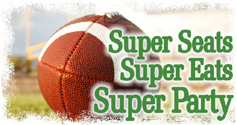 During the football playoffs many fans don't want to take time to go to the refrigerator to find something to eat. And, we certainly don't want to miss those great commercials that are produced to be especially entertaining during this time of year.
Whether your team wins or loses, the commercials are often topics of conversation for days to come. Some of you whoop-it-up people will be having good friends and family over for the event as well. So the question is how can you, the referee of the chow, keep the masses happy and still be able to cheer on your favorite team? The answer is to keep the food simple, filling and easy to access.
The Bowl game will be a double hit if you put out some favorite finger foods. And, if its an early Bowl game, it's a great time to use up the cheese balls and crackers along with the other holiday snack items that haven't been used up yet. A plate of fresh cooked shrimp with some cocktail sauce always gives a party a little extra flare as well. I hope these ideas help and I hope your team wins … as long as it's my favorite team too!
Touch Down!
Pulled Chicken Sandwich
4 boneless chicken breasts (abt 2 lbs)
½ cup apple cider vinegar
Hot pepper sauce
1 onion
Salt and pepper
4 cloves garlic
1 a cup barbeque sauce (I like the darker sauces)
Place chicken in a heavy pot and season with salt and pepper. Add the onion, garlic and just enough water (about 1 ½ cups) to cover the chicken. Add the BBQ sauce, vinegar, hot pepper sauce and bring to a boil. Reduce the heat and simmer until cooked (about 15 minutes). Remove chicken from the sauce and shred with two forks. Boil the sauce, skimming occasionally, until reduced by half (about 15 minutes). Season with salt and pepper. Add the shredded chicken and heat thoroughly. Spoon onto toasted rolls and top with cheese.
Serves: 8
Plus One!
Spicy Potato Salad
3 pounds of red, or yellow potatoes
1 cup canola oil
¼ cup apple cider vinegar
3 teaspoons sugar
3 teaspoons taco seasoning
Dash of hot pepper sauce
3 teaspoons salt
1 small red onion (finely diced)
¼ teaspoon cumin
2 chopped, seeded jalapeno peppers
1 can whole kernel corn (drained)
½ cup minced fresh cilantro
Cut potatoes into cubes and place in a large sauce pan. Cover with water, add 1 teaspoon of salt and bring to a boil. Cook until tender which will be about 20 – 25 minutes. Drain and place in a large bowl. Let cool.
In a blender or with a wire whisk, mix the oil, vinegar, sugar, taco seasoning, hot sauce, remaining salt and cumin. Pour over potatoes and toss. Add the onion, corn, cilantro and jalapeno peppers. Toss and refrigerate until cold.
Touch Down!
French Dip Sandwich
3 cups of water
3 cubes beef bouillon
1 Tablespoon dried basil
2 Tablespoons Worchester sauce
½ teaspoon garlic powder
1 pound thinly sliced roast beef
½ pound of provolone or Swiss cheese
I like to use the Italian roast beef. In a crock pot, add the water, bouillon cubes, Worchester sauce and garlic powder. Give a quick stir and add the roast beef. Let simmer for 2 – 6 hours and serve on a toasted buns with cheese melted on it. Serve with sautéed mushrooms, onions and green pepper for those who like them. Have small bowls for those who enjoy dipping the sandwich into the flavored bouillon.
Plus One!
Honey Mustard Salad
Spinach leaves
Apples, grapes or grapefruit sections
Dressing:
2/3 cup of mayonnaise
¼ cup of honey
2 Tablespoons of Dijon mustard
1 teaspoon apple cider vinegar
1/8 teaspoon paprika
¼ teaspoon salt
Whisk the above ingredients in a medium bowl or in a blender until combined. Serve over spinach salad. Add fruit and sprinkle with chopped pecans.
Touch Down!
Shredded Pork Taco Salad
4 pounds of pork roast
1 cup diced onion
2 cloves of minced garlic
2 Tablespoons brown sugar
2 teaspoons cumin
1 ½ cups of chicken stock
2 small can green diced chilies
2 teaspoons paprika
1 can of coke
Add all of the ingredients in a crock pot set at a low setting. Cook for 8 hours. Shred meat and store in a container with some of the juice. Warm meat and serve over taco salad.
Use any ingredients that you like on a taco salad. For example: Romaine lettuce, corn chips, tomatoes, onions, black olives, and grated cheddar cheese. Make sure you have salsa, sour cream, guacamole, and some ranch dressing.
Plus One!
Cha' Cha' Cha' Rice and Red Bean Salad
2 cans of small red beans (pinquinto) (drained and rinsed)
1 bunch of finely chopped green onions
1 small package of frozen petite white corn
2 cups of cooked white rice
Mix all the above ingredients in a large bowl and mix with a spoon.
Dressing:
a cup of canola oil
2 - 4 jalapenos peppers (Finely chopped)
¼ lime juice
2 Tablespoons grape jelly
2 Tablespoons cider vinegar
1 teaspoon salt
1 teaspoon cumin
1 cup of water
2 teaspoons chili powder
1 cup of water
Mix all of the dressing ingredients into a blender and mix until smooth. Pour over the rice, bean and corn mixture, stir well and refrigerate for at least 3 – 4 hours before serving.
---
If you have any additional tips that you'd like to add, please post them on the
Cook'n Club Forum
(if you're a
Cook'n Club Member
)...or e-mail them to
Dan@dvo.com
.
---
Join the Cook'n Club!An unbeatable value with exclusive benefits for members only.
Enjoy articles like this and many other benefits when you join the Cook'n Club.