Soup Du Jour
By Camille Rhoades
On a cold day there is little better than a bowl of hot soup to warm the body and the soul, but the trick is picking which soup will feed the craving. There are as many soups out there as there are cooks preparing them!

There are classics like Chicken Noodle and chowders like New England Clam Chowder, hot and spicy chilies, and hearty meat stews. They all fall under the soup umbrella, but they are as different as can be.

Here are five different soup categories with short descriptions to explain what makes each group special, and followed by some examples of each.


Broth/Stock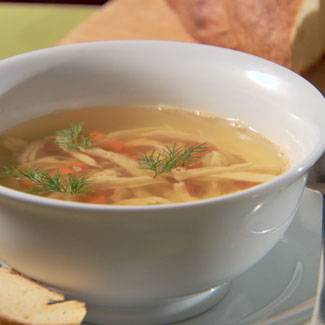 1. Broth or stock soups are clear, yellow or brown in color. Poultry, meat or fish are the main ingredients in this type of soup. It will also usually contain vegetables, herbs and/ or noodles and beans. Bird's nest soup is a delicacy in Chinese cuisine.

Beef noodle soup
Chicken Noodle Soup
Fuhn, Chinese rice noodles in broth, usually beef, chicken or custom broth
Egg drop soup
Ramen, Japanese fresh or dried noodles in broth
Pasta Fagioli
Chicken noodle soup
French onion soup
Panada: bread soup made with leftover bread, eggs, beef broth and Parmigiano-Reggiano Cheese.


Chowder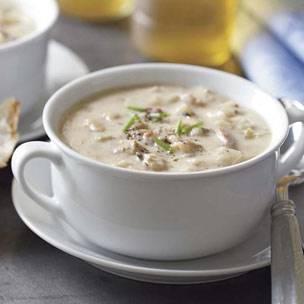 2. Usually made with fish or seafood, this soup today is made with milk or cream. This chunky soup often contains potatoes and broth as well, adding to the thickness.

Clam chowder
Corn chowder
Callaloo - A thick, creamy soup made with okra and, often, crab meat from Trinidad and Tobago
New England Clam Chowder
Manhattan Clam Chowder - made with a tomato base.
Maryland Crab Soup
She-crab soup - from Charleston, South Carolina, a creamy soup made with blue crab meat and crab roe.


Bisque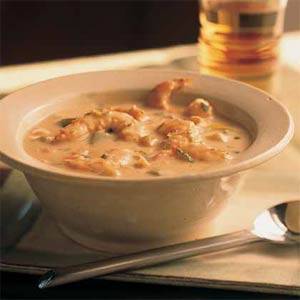 3. Made with lobster, crab or other type of shellfish, this is a creamy, thick soup. Pureed vegetables may also be added to the soup.

Lobster bisque
Crab bisque
Tomato bisque
Chestnut bisque
Squash bisque
Cream of Crab Soup
Lobster Stew


Chilled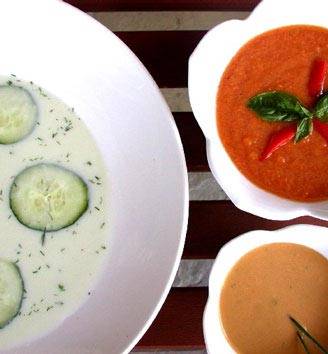 4. This type of soup is served cold and may come from vegetables such as potatoes or fruit such as watermelon. The ingredients in this soup may or may not be cooked before hand.

Fruit Soups
Cold borscht – There are two borscht, hot and cold. Both are based on beets, but are otherwise prepared and served differently.
Cucumber soups
Gazpacho – (Spanish) pureed tomato and vegetable soup.
Sour cherry soup – A cream-based Hungarian soup.
Tarator – A Bulgarian cold soup made from yogurt and cucumbers.
Vichyssoise – (French-American) creamy potato and leek soup, served with chives.
Sayur Asem - An Indonesian soup that tastes sour and spicy.


Main Course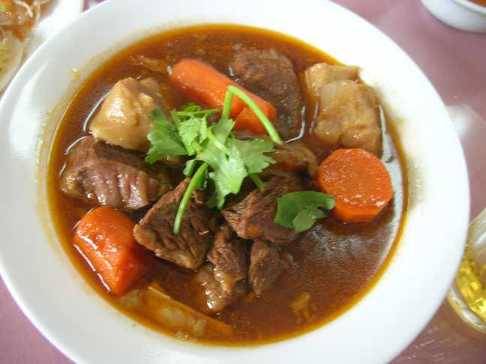 5.
This type of soup is complex enough to be served as a main meal. Some examples of a main course soup are chili and stews.
Goulash soup- A Hungarian variety of Goulas, made as a soup, with beef, pork, paprika, peppers, tomato, potato and onion
Gumbo - A traditional Creole soup from the American South, thickened with okra pods.
Split Pea Soup
Chili
Chicken Chilis
Meat Stew
Whatever your favorite soup is I hope this will inspire you to try something a little different this year!
---
Join the Cook'n Club!An unbeatable value with exclusive benefits for members only.
Enjoy articles like this and many other benefits when you join the Cook'n Club.